7 Day Family Itinerary
Combine quality family time together with fun and make some unforgettable memories! This itinerary is especially created with family based activities in mind. It is ideal for travellers with children that are looking for some stress free time connecting with their family whilst exploring the island. The itinerary is by no means exhaustive so check out other things to see and do from my pages.
Choose your accommodation, according to your budget and tastes from our menu.
________________________________________
Day 1.
Familiarise yourselves with the Sami region by starting your day in the underground magical world of Drogarati Cave. At the end of your visit to the cave go horse riding in the mountains or in the sea, take a donkey trek, or head off to the stunning Melissani Lake for a short boat tour – the best time of day to visit is around midday as the light comes through the open hole of the cave. Visit Odysseus Zoo Land and explore some Greek myths, and the Nautical Musuem of Sami home to twenty two hand made wooden model vessels, spanning a history of 3,500 years!
Walk, or hire bicycles and cycle the off road seaside path from Sami to Karavomylos, it takes about 30 minutes. Have a dip into the sea. or stop at Karavomylos Lake to feed the ducks and then walk another 500 metres to the Casa-House Museum to have a glimpse into the past. You might also spot some tortoise in their traditional garden.
The family can enjoy a variety of watersport activities, like Jet Ski, Wakeboard / Kneeboard, Water Ski, Tubes / Sliders, Banana Boat, Crazy Sofa, S.U.P, Windsurfing, Snorkeling, Canoe, or Pedal Boat on Antisamos Beach. Relax on the sunbeds by the sea and enjoy a snack, have a massage or a drink at one of the bars or tavernas on the beach. The sea here is beautifully clear and great fro snorkelling.
On your way back, drive up to Ancient Sami to view the ruins and imagine what the old city would look like. If you like walking check out the Ancient Sami Trail, it offers great views of Sami port, the gulf and the mountainsides. Call into IN Gallery to shop for fine art and tasteful gifts, just off the main square, or Annikas Greek Handicrafts for locally turned wooden gifts. Finish your day with a traditional dinner, snack or drink at one of the tavernas, restaurants, cafes or bars – they often have live music.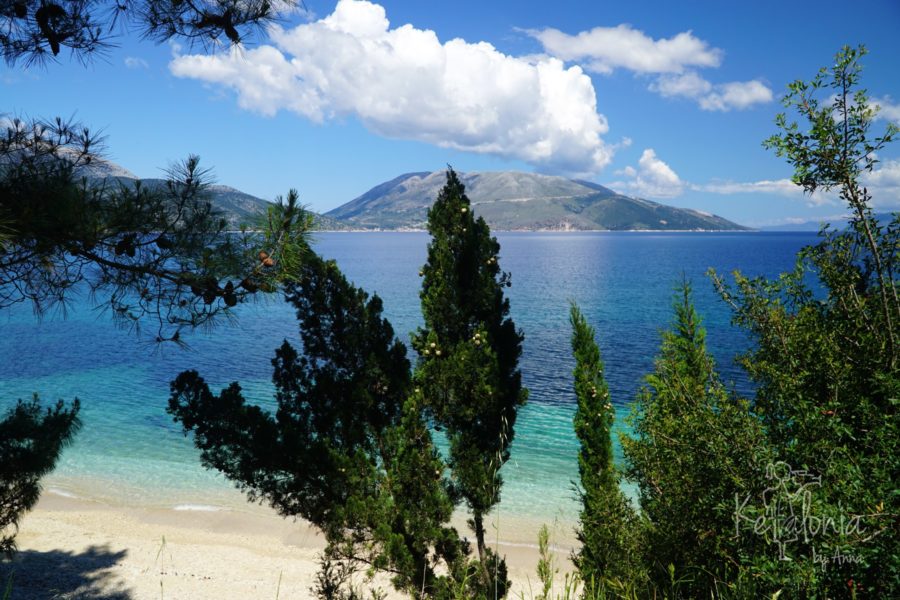 Day 2.
Wake up early, and take a stroll along Agia Efimia's beautiful harbour to admire the sunrise. You can arrange to get a diving lesson at Agia Efimia with Makis at Aquatic Scuba Diving Club, he offers activities for children from 8 years old. If you want to explore the coast, you can rent a boat, and be your own captain for the day, from one of the boat rental companies – I suggest taking a picnic and stopping at the isolated beaches of Agia Sofia and Horgota.
Alternatively spend a few hours at the stunning Myrtos Beach (note that the sea can be dangerous when windy). Stop at one of the viewing points before driving or walking down – the views are breathtaking. There is a cave at one end to explore, and plenty of rocky outcrops to clamber over, or just play in the sand. If there is time spare before returning to Myrtos for the exceptional sunset, you can drive up to the Monastery of Themata to see the lamas, woodland and admire the stunning views of Agia Efimia bay.
Have dinner, snacks or drinks at the one of the restaurants, tavernas or bars in the region. Join the local kids and jump from the white rocks into the sea, or continue your adventure and go star gazing on Agia Dinati Mountain.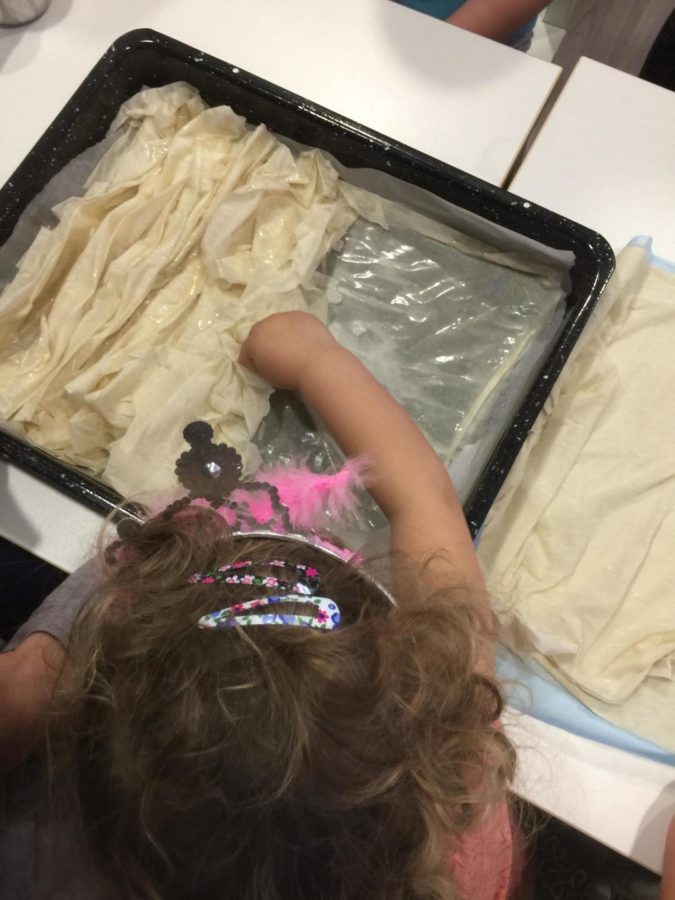 Day 3.
Explore Paliki peninsula, first visiting Xi Beach with it's great red sand. Xi an ideal place to spend a few hours with your kids as it also has facilities for snacks and lunch as well as watersports. Alternatively visit the water park that also has kids activities and refreshments. Grab your binoculars and bird watch at Livadi Marshes, or have your lunch and swim at the sandy, shallow and safe beaches of Lepeda, Lagadakia, Vatsa.
You'll not want miss Petani beach. It has some sandy areas, plenty of rock pools and rocky shoreline to explore, it's dramatic and wild! If you are looking for an organised boat tour the best on the island is with Melissa Fishing Boat Tour departing from Agia Kyriaki. They take you to explore the beautiful remote Fteri and Amidi beaches, and you can try your hand at fishing. End your day at Porto Atheras and have dinner by the beach in the bay, or have dinner in Damoulianata village.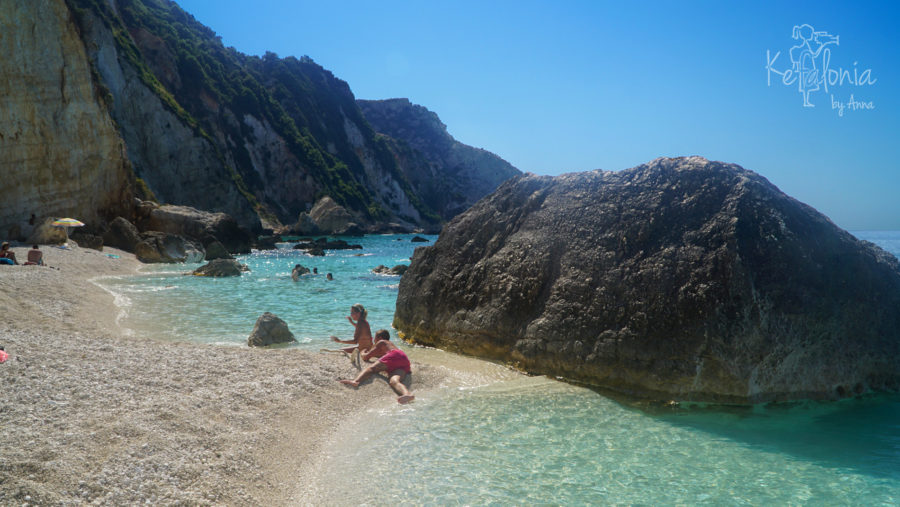 Day 4.
Erissos is my favourite region of Kefalonia. You can spend the majority of the day at the stunning Assos village and the Venetian castle. Take the footpath and climb up to Assos Castle and explore the old walls, the rocks and wild nature (this is one of the best walks on the island). It is a fabulous route where you can get amazing views of the castle and village as well as a breath taking sunset. Return from your walk and take a cooling swim in the peaceful bay which is calm and very safe for children. Call into The Lemon Tree for some tasteful souvenirs.
The afternoon is another opportunity to visit Myrtos Beach, or head up further north from Assos and stop at Alaties Beach where there are some interesting rock formations you can climb to find the salt holes, there's a small bay to swim in. Or drive a little further to Agia Jerousalem beach and eat by the sea at Odysseas Taverna – there's no menu, just an invitation to go inside and see what Mama made!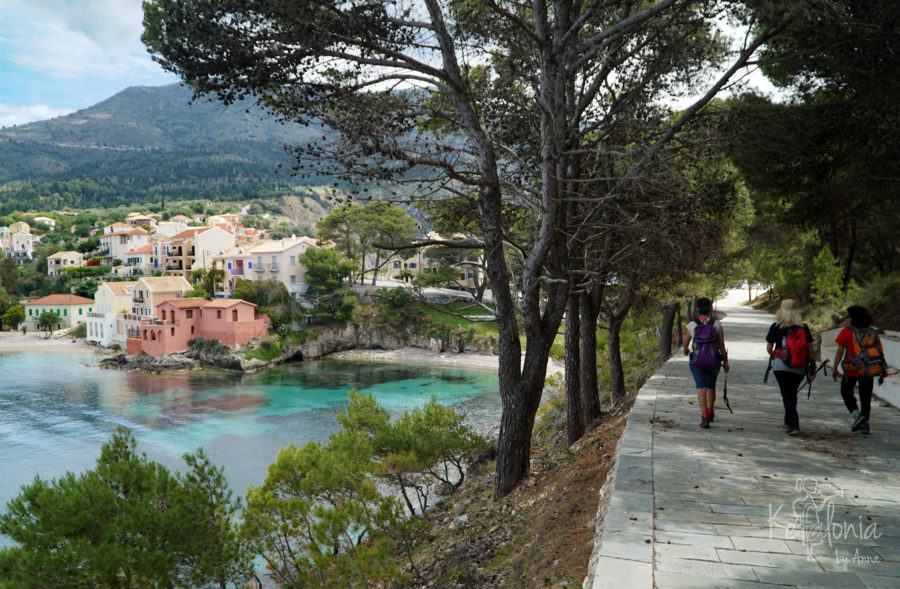 Day 5.
Continue exploring Erissos today. Begin your day at the cosmopolitan, picturesque village of Fiskardo. Fiskardo has many signposted walking trails to choose from; an easy, beautiful route is the walk to the lighthouse that you can see on the opposite side of the bay, there are also longer and more active routes to choose. Explore the Roman Cemetery which was only discovered in 2006. There are many beautiful beaches to take a cooling swim at, such as Foki beach, Emblissi, or take a 1km or so walk along a dreamy path to Dafnoudi beach. An alternative way to explore the beaches and coastline is by renting a motor boat from Reginas Boats or hiring a kayak from Fiskardo Kayaking, who also run organised tours. If you are interested in marine life book a tour with Ionian Discoveries Marine Experience for the day in their traditional wooden boat. Fiskardo is great for a lazy evening stroll, which you could combine with some shopping. Stop and have a look at the fish and the giant frog in the pond by the square. Go for a soft drink, cold beer or cocktail at The Fishbone Bar (they often have live music, and facilities for spontaneous jamming sessions too) and watch the world go by.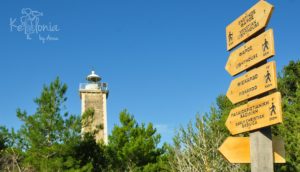 Day 6.
Head to the islands capital of Argostoli and have some fun at the Koutavos Lagoon; feed the ducks and swans, or take a pedal boat, hydro bike or motor boat out onto the water with Argostoli Lagoon Activities. Take a stroll over the De Bosset Bridge, see if you can spot the turtles (often in the fishing harbour), and then cut back into town and take a stroll down the paved street of Lithostroto – there are lots of shops offering gifts and jewellery. You could rent bicycles from Ainos Bikes and take a picnic to Fanari Lighthouse, but on the way make sure to stop at one of nature's rare phenomena at the Katavothres sink holes. The statue of Nikos Kavadias, a famous Greek poet, can be found gazing out to see at the harbour, which is quite apt as he was known as "The Poet of the Sea". There are also three little beaches very nearby. The Kotsanas Museum Of Ancient Greek Technology is also an interesting place to visit. Back in town the Corgialenios Museum of Folklore and Cultural History is a really interesting place to visit, as so are the Botanical Gardens – both places run children's activities during summer. Leaving the city centre follow the signs to the Monastery of Saint Gerasimos, stopping on the way to explore the Venetian Castle of Saint George at Kastro and have lunch at Il Borgo (also good for dinner and watching the sunset). If you don't have a car, or want a more relaxing day, take a cruise onboard the Lady O with Kefalonia Cruises – Lady O who offer four different day trips all embarking from Argostoli port. Spend some time at Elitiko and learn how to make soap and wax ointments and hear all about their small holding, you can buy their goods to take home too. In the evening visit the large square which is great for running around and there is a play park at the edge.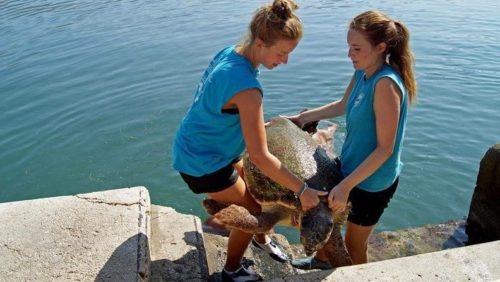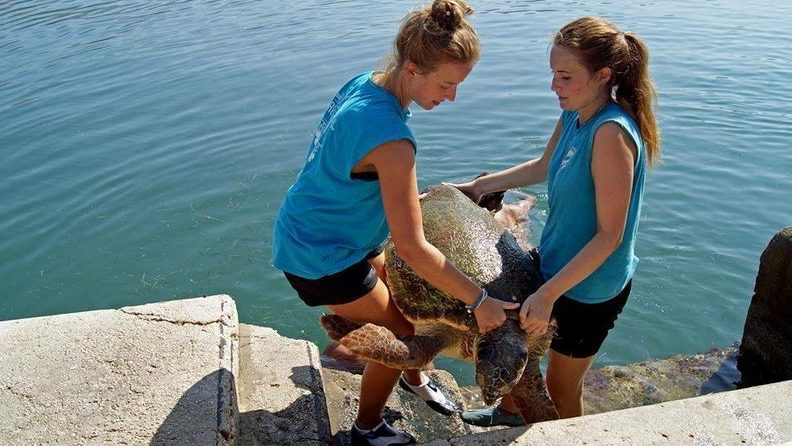 Day 7.
Explore the south/south east of Kefalonia, beginning with a walk along the front at Poros, or by visiting some of the nearby archaeological sites. Drive along the coastal road towards Skala and you will see some strange mushroom shaped rocks in the sea – this is a good time to stop for a swim, a climb and a snorkel. If you are here before the end of Spring the Potisti and Gradou waterfalls are definitely worth walking too but bear in mind they are only active depending on rainfall.
Skala village has a long sandy beach where you can try some watersports, swim in the shallow beaches or take a day trip on a boat with Captain Vangeli's Special Cruises. If you prefer a more tranquil destination visit Katelios village and Katelios Group to learn about endangered loggerhead turtles. The beaches of Koroni , Avithos and St Thomas are ideal for kids too, at Sesto bar, Koroni Hill feast on freshly prepared dishes or have a drink – try to return here to watch one of the best sunsets on the Island!
Moving along the coastline and explore more beaches at Ammes, Trapezaki and Lourdas. These beaches are very shallow, safe and warm so great for kids!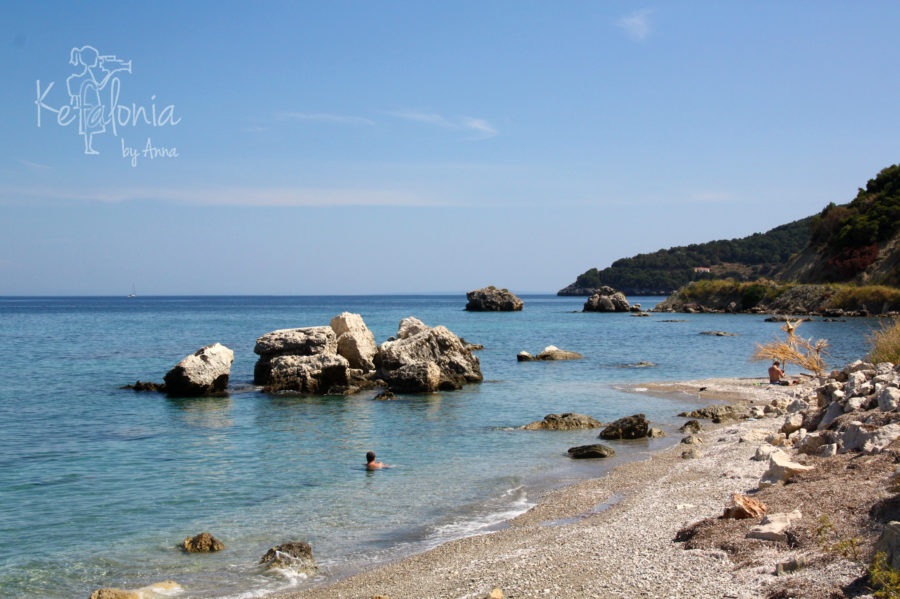 Depending on your travel dates, it would be great for your family to take part in one of the religious or local celebrations or festivals organised in different locations every summer! (check our list and check closer to the dates for upcoming events)
The following services can be included on your plan, just contact us: grocery shopping, private chef, butler, masseuse, daily maid, child minding, yoga, wine tasting, delivery of organic products, taxi, water taxi and of course any activity from our site menu!