This is a charming beach in a unique setting!
Stretching 2 km south of Lixouri this beach has an impressive rock that welcomes you upon arrival creating a stunning natural background to the beautiful beach and the little lake created by the sea entering from the side. Reddish brown sand with shallow clear waters ideal for families with young and older children and friends wanting to have fun and play.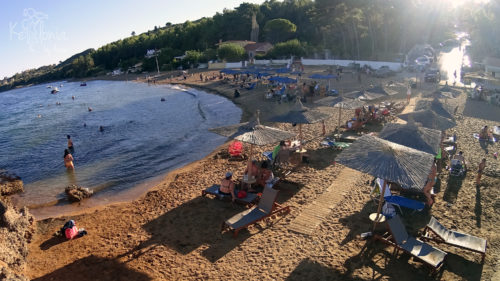 Organised with umbrellas, sunbeds, a taverna/cafe and many happy childrens voices, it can be quite crowded during the day. If you like that, come here with your family to spend the whole day! If you want just to enjoy the romantic setting and the atmosphere of this place, come here to watch the sun rise giving an orange colour everywhere or end up here after a long day exploring the Paliki Peninsula (Kipouria Monastery, Vatsa beach, Lixouri town, Petani or Xi beaches). Take your last swim and enjoy the views while the children play safely in the peaceful little bay. If you are lucky enough to visit on a full moon you will be impressed by the colours – this special place changes from the moment the sun sets to the magic moment that the moon rises behind the impressive rock formations! From far you can enjoy as well the pretty view of the bay of Argostoli, the Agioi Theodoroi Lighthouse and Mount Ainos.