Experiencing the local culture through its flavours, cooking techniques and presentation is exciting and can be as adventurous as you please! From trying a simple local tomato, or local wine or soft drink to a full celebratory spit roast and everything in between! You can discover a lot about a place by its local products, so we will try to assist you to have a great gastronomic experience during your stay.
Tastes and opinions of food are very subjective, chefs are changing, quality is not always the same – what one person likes another may not, so choosing a place is a very difficult task. We have selected some special spots, no two are the same and each one is chosen for its own reason; authentic dishes, traditional atmosphere, personal service, great views and locations, and uniqueness of character…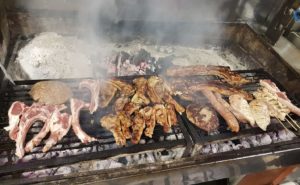 Argostoli (Central)
Try a large selection of craft beer from Greece and the rest of the world, great burgers and grilled dishes (vegetarian burger available!) at Draught Grill & Beer House just off the main square. Close by you will find Beverinos where you can stop for a drink and meze in a lively and friendly atmosphere, with indoor and outdoor seating, try to catch a live music night. Libretto is a contemporary café/bar with live music nights, good snacks and is located just off Kabana Square on the Lithostroto. For great views of the De Bosset Bridge and monument, and a good variety of fish dishes, take a break at Aristofanis Argostoli. Have lunch in the company of the locals at Tzivras Restaurant 1933 who prepare traditional Greek dishes at very reasonable prices. If you're looking for a modern café-bar with industrial style and live music drop into K63. For an extensive wine list with a large choice of Kefalonian and Greek wines, well-presented dishes in a lively modern bar try Oinops Wine Bar & Restaurant. If you are looking for a vitamin boost and a healthy snack try Farm Out Shop and Vitamin Bar on the sea front, there health food store is stocked with their own produce and other products. Just outside of the city try En Kefallinia it's  located on a organic farm in Lakithra and uses locally sourced products.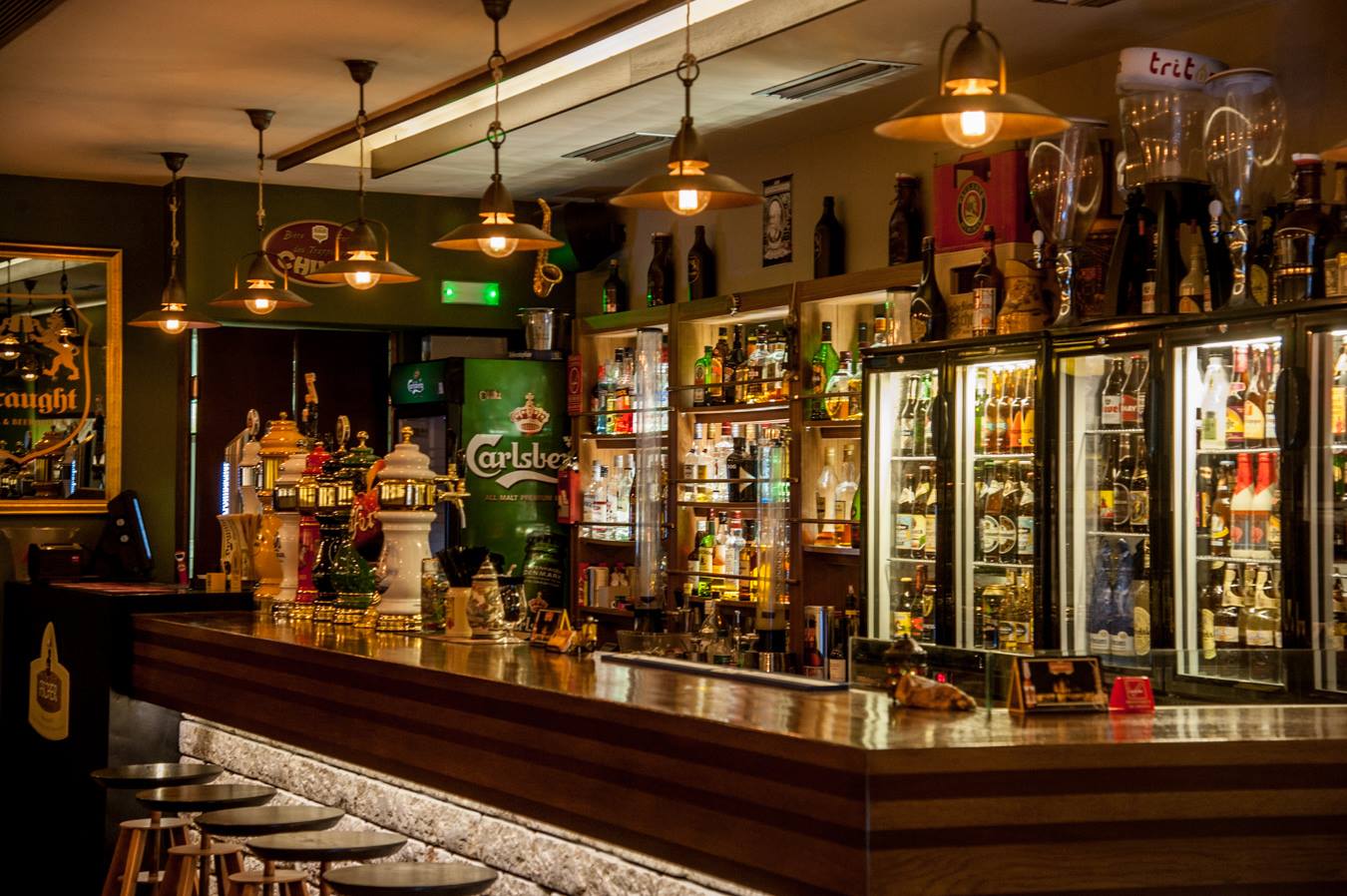 On the main road towards Saint Georges Castle pop into Kafepoleion – it has unusual but funky décor, and is excellent stop for good coffee when supermarket shopping. They serve foreign and domestic beers, cakes, breakfast and snacks. At the foot of Saint George's castle you will find Kastro Café serving freshly prepared meals in their beautiful garden its family run and has great homemade desserts. For a special night out visit Il Borgo Restaurant it has a fabulous view and beautifully presented homemade food, it's an ideal end to a walk at St George's Castle or Castro village.
At Peratata (the village on the main road below the castle) Maria and Andreas will give you a warm welcome to Stis Marias. A family environment with a variety of freshly prepared traditional Greek dishes, with good vegetarian choices.
To Diava is a family run, friendly grill house with great homemade tzatziki, grilled meats and excellent gyros. It's popular with workers, students, and visitors and is just outside of Argostoli towards the police station.
Paliki (West)
Tuck into meatballs, fried tomatoes and little fried fish with beer on the sand, at the rustic Lepeda Taverna, it's ideal for relaxing after a swim at Lepeda Beach, great for kids and in the evening you can watch a beautiful moon rise! On Petani beach you can eat freshly prepared dishes at the laid back open-air Erasmias – it is especially good for fish and seafood. A great place to stop after visiting Petani or Agia Eleni beaches is the interesting Ladokola stin Plagia Restaurant at Damoulisnata where you will find traditional food made by the mother of friendly and humorous twin brothers served in a nicely decorated place.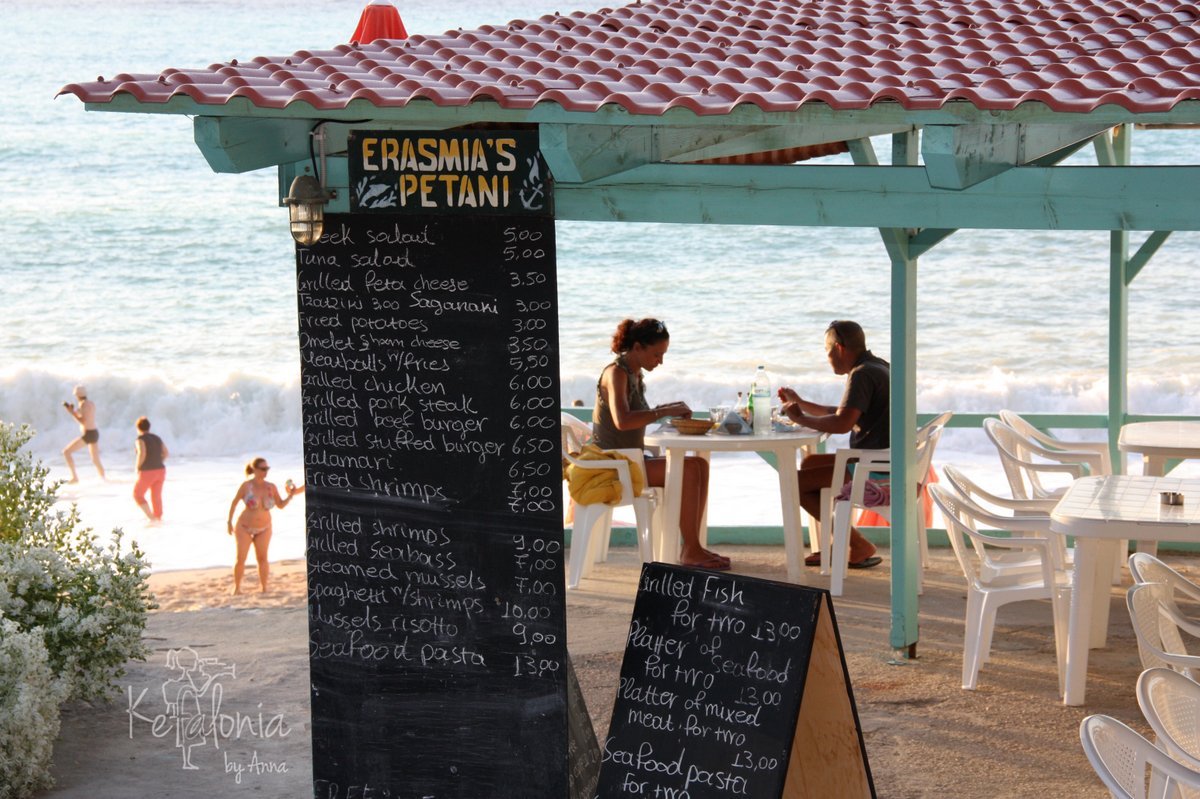 Kaliva tou Psara (Fishermans Hut) is a traditional fish taverna at the port of Agia Kyriaki, serving fresh fish, chips and Greek salad, it has fabulous sea views but you need to book large fish in advance. Located on the sandy shores of Porto Atheras beach is Taverna Drosos,  ideal for families with kids and offers great local homemade dishes in a laid back atmosphere with beautiful sea views. Captain Nikos Vatsa Taverna, a cosy family taverna is located just before you get to Vatsa beach, perfect for lunch and early evening you will find homemade, freshly prepared food. Last but not least is Spiaggia Taverna, Vatsa serves fresh fish right on the sand at unique Vatsa beach!
Livathos (South)
At Isalos Taverna you can eat fresh fish that has been caught aboard their own vessel, homemade, freshly cooked, traditional Greek dishes all served in a cosy and enjoyable environment with friendly service. Waterway Restaurant and Café Bar is a fish restaurant and beach bar overlooking the pristine Klimatsias beach at Spartia, watch the sunset from here.
Taverna Galini located just above St Thomas beach is a balcony with amazing views and nice homemade food.
Pylaros (North-Central)
Combine a visit with swimming from the rocks below or the beaches in Agia Efimia with a laid back lunch or coffee, or a special dinner at Sea Rock ws. It mixes the traditional and the contemporary, offering a twist on Greek fare served in a beautiful garden, with great sea views. Try to visit on a full moon – the night views can be awesome too! Close by is Amalia, a family run taverna, with tasty local homemade food and amazing sea views.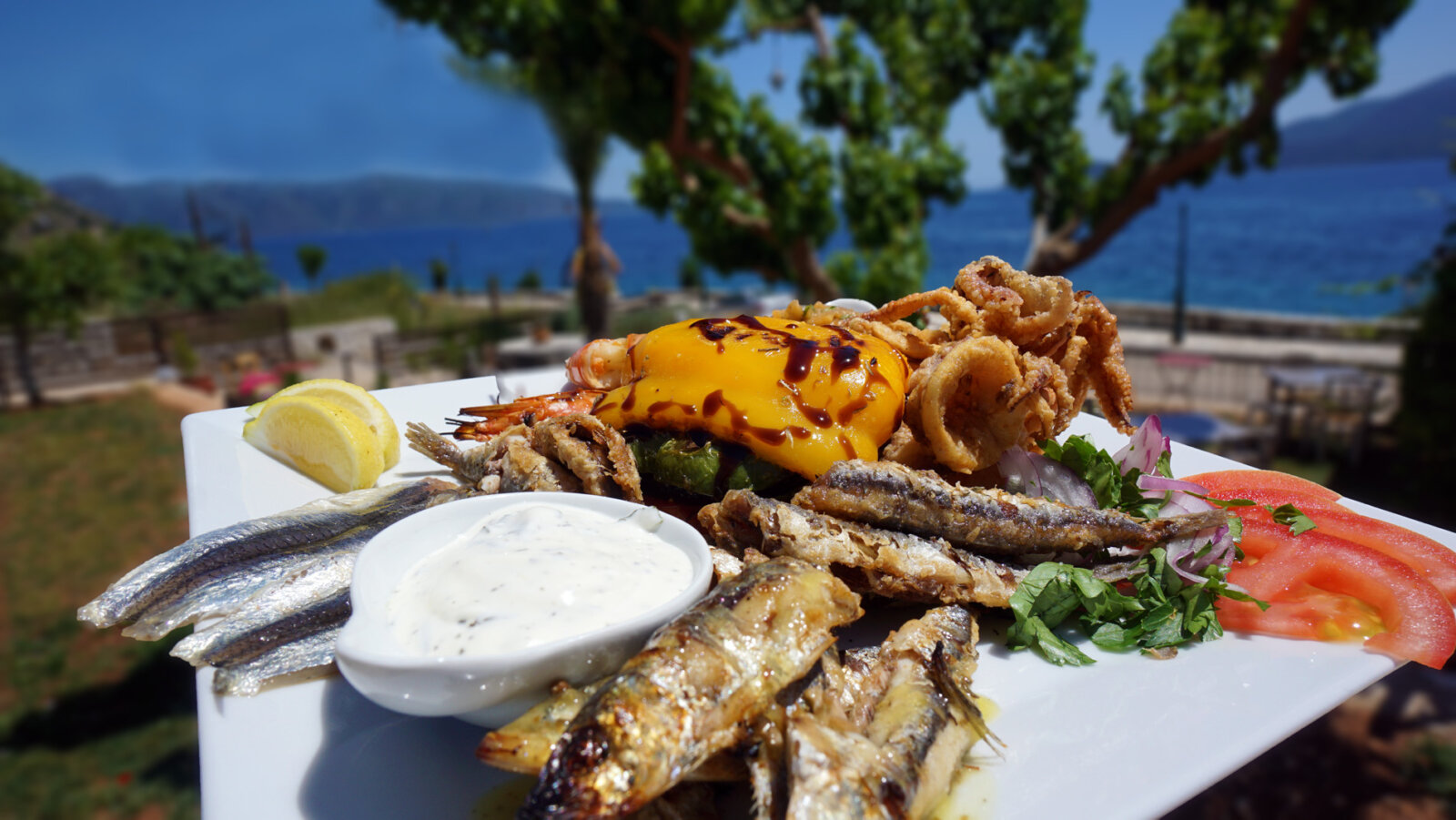 Open for breakfast lunch and dinner and on some night's traditional acoustic music and singing takes place. Next to the harbor is the popular contemporary bar and restaurant Carena – they serve snacks, meals and a wide variety of drinks, cocktails, teas, and coffees. A cool hang out for locals and visitors alike, with some live music nights. Have lunch or dinner at The Black Sheep Grill House located just off the main road between Agia Efimia and Myrtos Beach. It's a family taverna serving traditional meat dishes – the meat is organic.
Sami (East)
Dine right at the sea's edge under eucalyptus trees at Karnagio Taverna. They serve traditional, homemade fare – it's well known for its casseroles – and it's exactly what comes to mind when you think of an idyllic Greek tavern right down to the blue chairs!  Taverna O Robolis  is located in the small village of Poulata and serves meat from goat, pigs and sheep raised in the village, it's a very traditional place to experience.
For a snack or lunch visit Mangiare in the square at Sami; they serve great souvlaki, gyros, snacks and drinks by the sea-side. A perfect location for people watching and boat watching, it's popular with locals and visitors alike. In the back streets of Sami find Stoa Handmade Pies & Coffee, a bijou café selling traditional hand-made sweet and savoury pies and great coffee – watch Anastasia make the pies from scratch in the kitchen. Vegetarian friendly. Kraken is a small, colourful bar in the backstreet of Sami which has great live music, attracting locals and visitors alike. Sit outside by the sea and enjoy a wide range of drinks at Manifiko bar, or sit inside in winter by the roaring fire, popular with locals and visitors.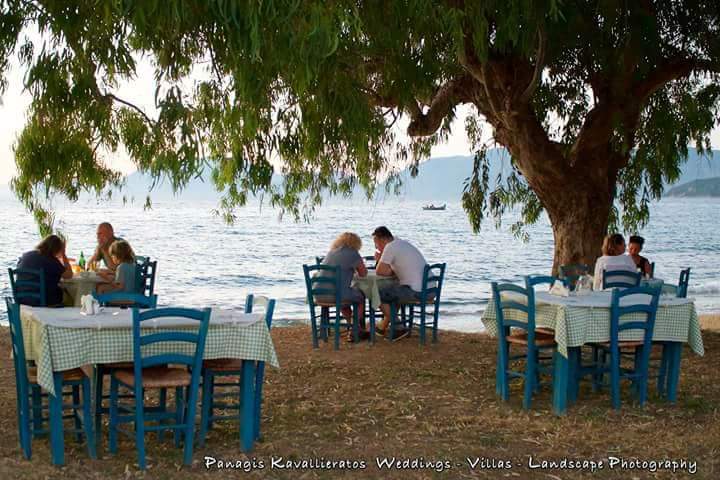 Elios-Pronnoi (South-East)
Sesto Koroni is a magical spot with brilliant sunsets, nice snacks and cocktails, ideal to visit after swimming at Koroni beach. Overlooking the beach at Skala is Waves Beach Bar-Cafe a nicely decorated cocktail bar serving food and drinks all day. Also overlooking the beach at Skala, with great sea views, is Old Time/Opos Palia Restaurant. It serves local dishes, good seafood and is vegetarian friendly. Situated on an elevated position in Old Skala Kelari Taverna offers great views, Greek cuisine and live music nights. From Agrapidos Taverna you can see beautiful views of Poros harbor whilst eating traditional dishes served on the covered outdoor terrace.
Erissos (North)
Alati all Day Bar Restaurant is situated in an idylic spot at the top of Alaties beach. Friendly staff serve drinks and food and they have daily specials. Enjoy amazing sunsets with a cocktail, they also organise parties! At Odysseus Taverna, right on the beach at Agia Jerousalem, Odysseus and his mum make homemade dishes – mainly serving lunch after a morning swim. It's a very friendly, laid back place. Tasos Cafe is a traditional Greek coffee shop in the tranquil village of Komitata – a nice stop on the way to Fiskardo. Fabulous views of Ithaka from the village. Pop into Rosie's  Kitchen Bar-Café located in the village of Karia – and ideal stop between Assos and Fiskardo – for a range of teas, coffees, drinks, snacks and buy local products from her shop. Vegetarian and vegan options available.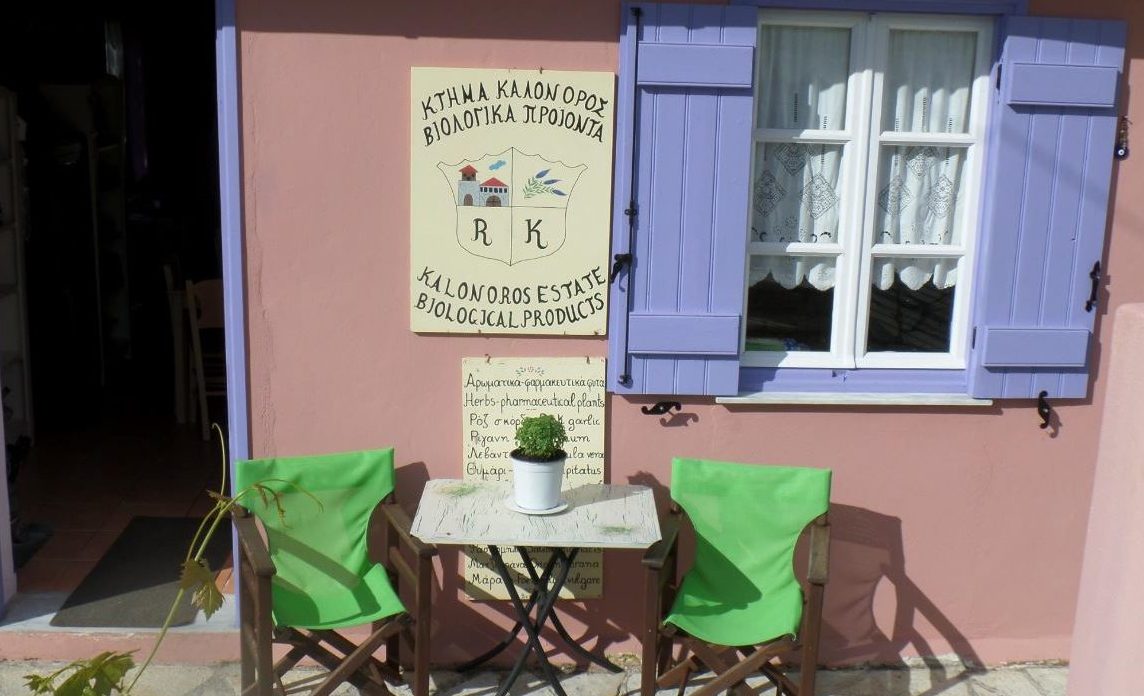 For an excellent live music venue in a traditional village building visit Danny at The Fishbone Bar in Fiskardo. They have facilities for jamming sessions and they are also a televised sports venue. They serve coffees, cocktails, drinks and snacks. To Kapilio is excellent for homemade authentic food, in a nice atmosphere with great views and good prices.
World Cuisine
Mescalero in Lakithra serves up Mexican food and and Mexican atmosphere, offering regular live music nights with lovely owners called Stratos and Anna.  Located in Argostoli Japanese inspired fresh noodle dishes, fish & vegetarian Sushi, are beautifully presented in Sepia Sushi Restaurants' contemporary setting. On the edge of the main square in Argostoli you can eat Chinese food in Chinese Dragon's Restaurant, outside on the patio or order to takeaway. Lord Falcon (Elephant) Thai in Fiskardo serves authentic Thai dishes in a charming building with courtyard seating. Buffet nights are also held here.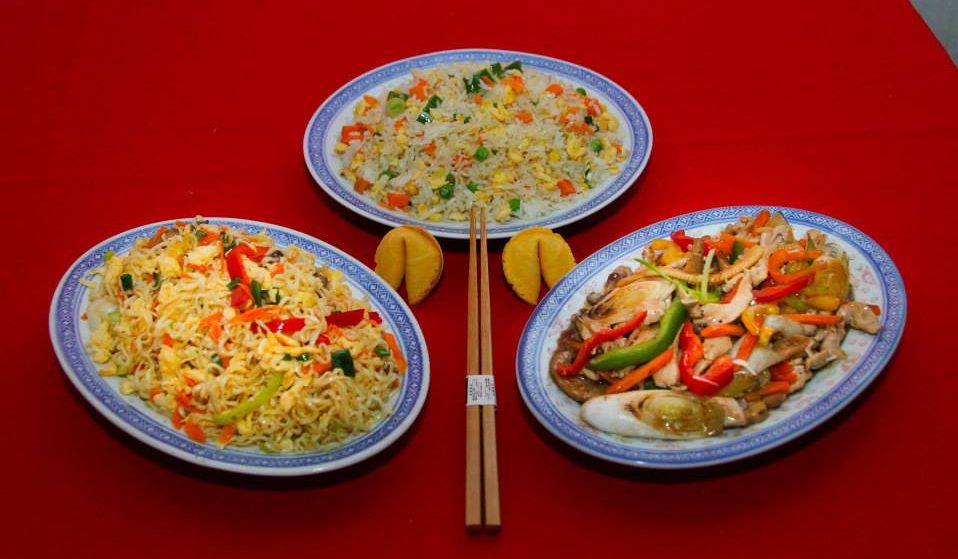 ---