En Kefallinia restaurant is located on a beautiful organic farm in Lakithra full of olive, orange and lemon trees. Georgia and Michael, the owners use locally sourced products including their own organic, extra virgin olive oil, organic fruits, vegetables and aromatic herbs. They also make jams and sweets.
Farm visits and cooking lessons are organised daily, contact us to book one. The restaurant is open for lunch and the visits are held in the mornings. Art events are occasionally hosted.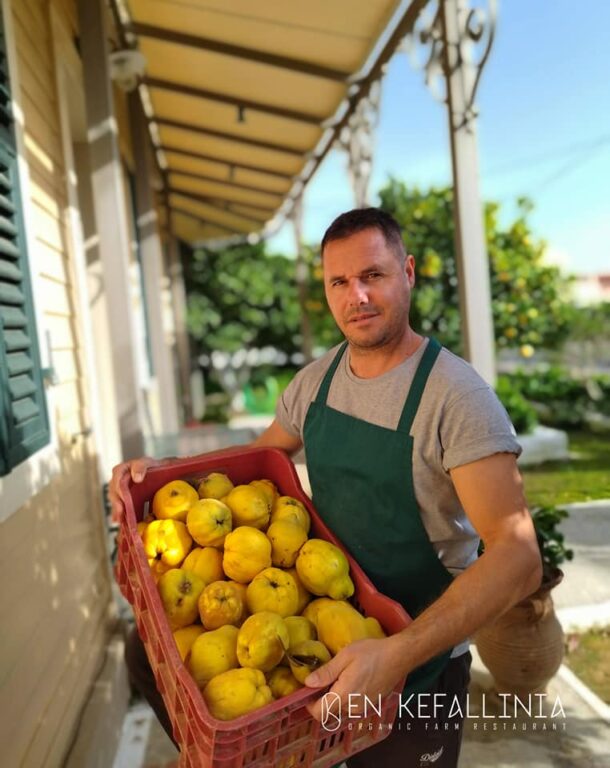 Cooking demonstration: Traditional Kefalonian meat pie at the garden – Lunch
Walk among lavender paths and feel the forgotten pleasures of the countryside. Stroll in the old olive grove and meet the cute chickens of the farm.
Relax in the old-styled atmosphere of a wooden traditional Kefalonian house (est. 1954) and enjoy the gastronomic demonstration of Kefalonian meat pie.
Experience first-hand the local culture and cuisine. Insider tips and recommendations from a real local chef Michael.
He is a farmer and passionate about Greek food and local fresh ingredients. For us, using only the finest ingredients as well as fruits and vegetables in seasons, is the essence of cooking. We developed our philosophy based on traditional, organic farming methods rooted in local climate and soil conditions. We firmly believe in healthy, sustainable lifestyle benefits in complete harmony with nature's cycles and ecosystem. Following our passion, we open the door of "En Kefallinia" and welcome each visitor like being at home. Using the highest quality of products blending with respect and love for culinary, we create all our unique dishes.
Programme:
bio farm tour, 30min
refreshing homemade lemonade
presentation, 30min
shopping-meal, 60min
Kefalonian meat pie served with green season salad (at the same plate-per person)
Bread, water, robola local PDO white wine (1ltr/4guests)
Dessert local yoghurt served with our bio fruit marmalade ( local premium yoghurt and selection of fruit marmalades like orange,fig )