This is a family-run farm of 30 acres and taverna, full of fruits, vegetables, vines a cheese-making facility, pigs, chickens, goats, rabbits, cows and many more masterpieces of the earth that will surprise you. The family organizes daily visits, you can learn about the procedures, participate, buy their products or just have a tasty breakfast, lunch or dinner in their taverna. Better reserve before you go, send us your request in the following form.
A cooking lesson or tasting of local products can be arranged upon request.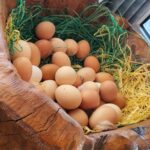 Send us a request to arrange a visit for you or combine it with any other activities that you want to participate. Hiking, horse riding are caving are a few activities that you can combine in the same area!