Kefalonia by Anna suggests…
Sesto Bar
Sesto bar is located above Koroni beach, a small secluded, sandy beach, 15km from Skala beach. The bar is perched on a hilltop with the most spectacular unspoilt views in Kefalonia and when the atmosphere is clear, Zante island is visible.
The best time to come is before the sunset, so you can enjoy it at his best! It is beautiful though in all times of day, for a coffee, lunch or a drink at night. Recommended dishes include freshly made beef burgers and hamburgers, pork or chicken souvlaki, fresh chipped potatoes and tomatoes from the garden. Try the mojito and strawberry sorbet….
Service and staff are friendly and the atmosphere magical. Not to be missed!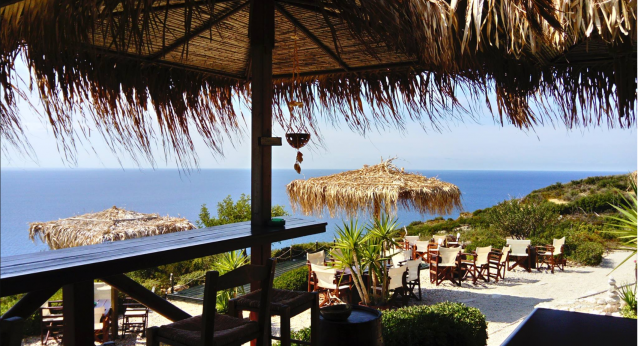 The Koroni beach is one of the nesting locations of caretta-caretta as it is calm and unspoilt!
A lot of people camp overnight on the beach to watch the full moon and enjoy a magical early morning swim! You can spend the day there swimming and exploring the area, there is a little river at the end of the beach with crystal clear water coming direct from the mountain springs! After that if you feel hungry you can climb up to Sesto again and try souvlaki or even better the burgers with greek salad and tsipouro (kind of local pomace brandy). All ingredients are from local producers!