Mountain Ainos, located 30 km from Argostoli, known as Monte Nero (Black Mountain), during the Venetian period due to thick forestation of the dark Kefalonian Fir tree (Abies Cephalonica), is the tallest mountain of the Ionian islands with an elevation of 1,628 metres (5,341 ft).
On clear days, the view includes the NW Peloponnese as well as the islands of Zakynthos, Lefkada, and Ithaca.
No ski resorts are found on this mountain range, but there are beautiful caves to be seen in the north. A road which passes over the mountain range connecting traffic from the southwestern to the eastern part of the island is one of the few roads going into the mountain range. Approximately 3,000 to 4,000 people live on the slopes of Ainos.
The easiest way to get to the summit is to drive along Mt. Ainos road from the North West to the transmitter station. Leave your car there and then continue along the dirt track on foot for about 10 minutes until you reach some steps to the right and a signpost. Go up these steps for another 10 minutes to reach the summit. A concrete post at the summit has a metal container strapped to it which contains a visitor book.
The forest flora includes many varieties of wildflowers, and other wonders hide there, like a large variety of orchids, of which are endemic, just like the violet of Kefalonia. You will also find mushrooms, and its fauna consists of various species of reptiles, birds such as the woodpecker, blackbird and hawk, as well as mammals.
As impressive as this forest might be you will also be amazed by your encounter with the small semi-wild horses (Equus caballus) which you will see mostly on the SE side of the mountain. Almost as rare as the golden-toothed goats are the wild horses of Ainos!
Mt. Ainos has first declared a National Park in 1962 and houses the heart of Kefalonia's biodiversity. Visitors and environmentalists flock to Mt. Ainos as it is the island's most precious reserve.
In 1962 the Greek government declared the Ainos forest a national park and thus protected it by law. Albeit classified as a "Lower Risk Near Threatened", Abies Cephalonica is on the 2007 IUCN Red List of Threatened Species.
Enjoy the following trails:
The Environmental Centre of Ainos – Chionistra is an ideal fairly easy, circular hiking path of 6,184m. You will enjoy a hike in nature and a wonderful view along the way, starting and finishing at the Environmental Centre of Ainos which you can reach by car on a paved road. This pleasurable walk will last approximately 1 hour and 30 minutes if you don't make any stops at the recreation areas you will meet along the way.
Vlachata – Environmental Centre of Ainos trail has a moderate level of difficulty and reaches 2,065m. length. Start your excursion near Arias Peak and enjoy your walk through the fir trees as well as the breathtaking views towards the S & SW part of the Ionian Sea. Your walk will last approximately 1 hour and 30 minutes and will end at the Environmental Centre of Ainos.
Digaleto – Megas Soros trail is 6,595m. long, it begins north of the Digaleto community and ends at Mt. Ainos' highest peak. It has an easy to moderate level of difficulty hiking trail and you will need approximately 4 hours and 30 minutes to complete it. Enjoy your walk in nature as well as the wonderful view towards the Ionian Sea and the Peloponnese.
Epano Eza – Melissi trail is of moderate difficulty and reaches 2,596m. in length. Your hiking experience will last about 1 hour and 30 minutes in a dense forest of Abies Cephalonica fir trees from Epano Eza to Melissi locations.
Kissos – Petasi – (Nyfi) – Megas Soros – Kissos trail has parts of easy to moderate level of difficulty although considerable hiking experience is required at some locations due to steep slopes. This circular hiking trail has a length of 8,640m. and you will need about 4½ hours. On your way, you can visit the Petasi and Nyfi caves. When you reach the peak of Megas Soros you will be overwhelmed by the panoramic view of the neighbouring mountaintops Kroukoumpia and Chionistra as well as the islands in the south Ionian Sea and the western part of the Peloponnese. You will access the trail by dirt road.
Info based on Wikipedia and Foreas Ainou site
For more info check www.foreasainou.gr
For information on the trails have a look at the following link http://www.studioskefalonia.com/images/info/files/5.pdf
Contact Info
Please mention Kefalonia By Anna when you contact
Foreas Ainou
Check this video for Ainos trail: Megas Sorros -Petasi -Melanitsa, 22km approx 7 hours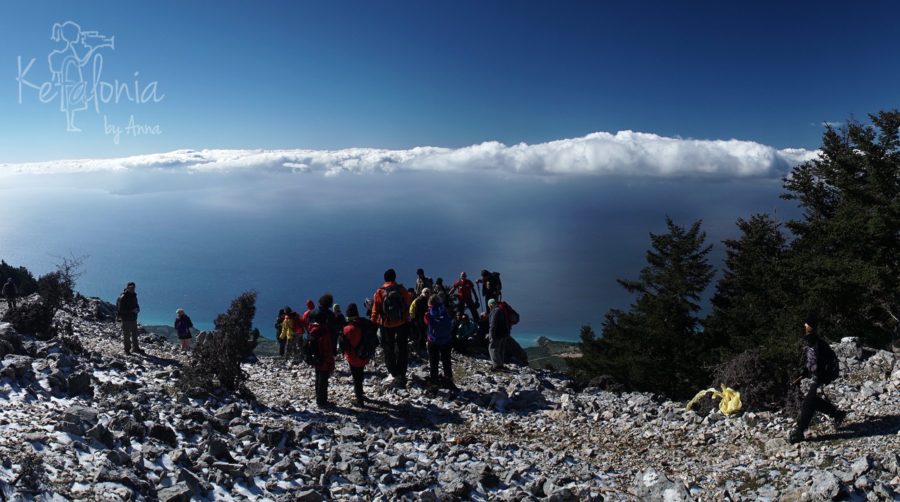 The guided option from an experienced guide is highly recommended, as a more exciting and certainly safer option. Whatever your interests and level of fitness we can arrange your ideal hiking day or even holiday in Kefalonia. Contact us to book a unique day out in Kefalonian nature!