A special day!
In 1584, a petition was submitted by the nobles of Kefalonia to the Venetian Senate for the foundation of a new fortress, as the Castle of Saint George could not defend the whole island against the Turkish threat and the pirate raids. The building started in 1593 under the supervision of Ambrosius Cornelius. Its 2000 metres of walls follow the contours of the terrain and form an irregular rectangle of 44,000 sq. meters, reinforced at five points by bastions, virtually running around the naturally impregnable peninsula. Parts of the walls and an arched entrance gate are the main preserved sections.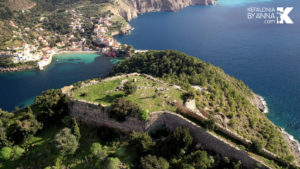 Within the ruins, the guest can find some interesting structures, such as the small church of Agios (Saint) Markos and the house of the Venetian High Commissioner. A little lower down the hill, there is another chapel dedicated to Prophet Elias, which also contains a beautiful wooden carved iconostasis. The strategic location of the Castle allowed supervise the whole sea area, and from here you can get a beautiful view of the bay.
Until 1956, the Castle of Assos was used as a place for political prisoners, who lived there and cultivated vineyards and cereal.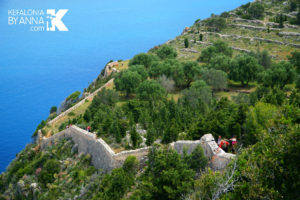 The latest inhabitants lived within the castle walls up until the late sixties. They were known as the Kastrini people and were groups of large families who lived from cultivating olives and grapes.
For lovers of hiking, I recommend you spend a day at the village of Assos and enjoy the magical trail around the Venetian Castle. Try to do the trail either early in the morning, or later in the afternoon when the sun is not so strong. Take a hat, water and sun protection as most of the route is not shaded.
In order to climb up to the castle and walk to reach the western point and return to Assos village you will need approx. 2 hours. Park your car in the parking spaces available at the bottom of the castle and then walk up the pedestrian road. Before you arrive at the peak you will see a sign guiding you to the left (see photo on the right) follow it to arrive at the south gate which offers amazing views. On the way back you can use the main gate as an exit. The views of the Assos picturesque village, port and the nearby isolated beaches are breathtaking!
The castle is open daily with no entry fee.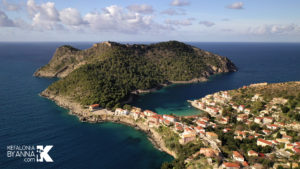 The guided option from an experienced guide is highly recommended, as a more exciting and certainly safer option. Whatever your interests and level of fitness we can arrange your ideal hiking day or even holiday in Kefalonia. Contact us to book a unique day out in Kefalonian nature!