In winter it usually snows on Ainos and it can become very cloudy and misty obscuring the magnificent panoramic sea views. This year the winter has been quite mild and there was no trace of snow until yesterday, so we managed to get to the peak without difficulties and take some nice shots to share with you.
Ainos has several beautiful trails, one of the easiest takes you to its peak, Megas Soros (1628m) where you actually feel like you're entering paradise.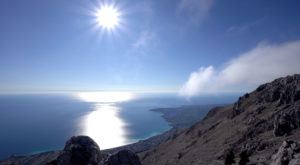 It's a scenic, sign posted trail. Before you reach the summit the clouds pass by so quickly they create a sense of mystery and euphoria. It is not by chance that the conquerors of the past mentioned, enjoyed and wrote about the mountain, also called as the "big" or "black" mountain. It is no coincidence that our ancestors built the alter of Jesus at the peak of Megas Soros and gave it the name of the mountain, Αινήσιος Δίας, Ainisios Dias (Zeus of Ainos).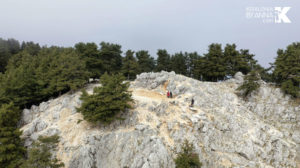 Once you reach the summit, the views will leave you speechless. This part of the mountain is quite deserted and the height is such, and the sea views so panoramic, that you will be awed, feeling so close to the sky, feeling one with the universe. On a clear day you can admire the views of the little neighbouring islands as well as parts of the west coast of the mainland and the Peloponnese.
Don't miss this trail on your next visit to Kefalonia.
Outdoor Activities have left a visitors book here where you can share your impressions and read what other people felt too!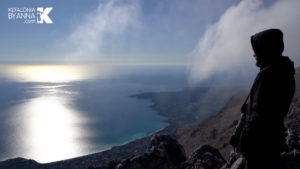 The guided option from an experienced guide is highly recommended, as a more exciting and certainly safer option. Whatever your interests and level of fitness we can arrange your ideal hiking day or even holiday in Kefalonia. Contact us to book a unique day out in Kefalonian nature!