Assos is a charming little harbour village located 36 km north of Argostoli and 16km from Agia Efimia, and has less than 100 permanent inhabitants. Tiny and secluded, it is a romantic setting and my favourite shelter, both in winter and summer!
The magic starts long before you arrive in the village.  Once you start descending the hill towards Assos you will have to stop in several spots to admire a breathtaking view of the peninsula, the castle and the surrounding vegetation of cypress and pine in the background, and of the indigo-blue waters of the Ionian Sea!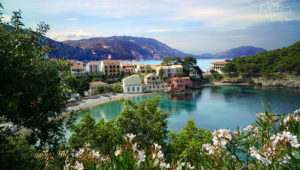 Amphitheatrically built around the peninsula Assos has extraordinary scenic beauty, rendering the village an idyllic setting for a relaxing/romantic vacation.
The village retains its basic original traditional Ionian architecture, thanks to the French that came to aid the people to rebuild their houses after the 1953 earthquakes. The square is dedicated to the French and is known as Paris Square with a commemorative plaque dedicated to them.
The village square is situated near the waterfront where you will find the village war memorial as well as an anchor and an old cannon. Around it, you will find a selection of tavernas, a seaside cafe offering all amazing views of the harbour and the Assos Castle on the opposite hill. The pebbly beach at the front has shallow waters ideal for children, so you can have a swim around the protected gulf, reach the opposite side and relax at the sunbeds. The sea is always calm here.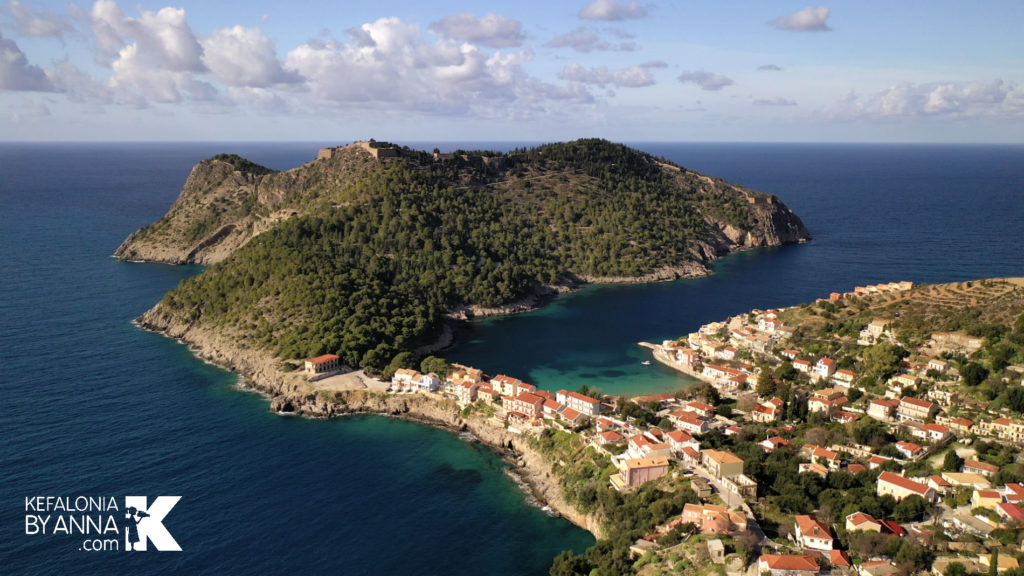 The village offers a lot of accommodation options for every budget, two mini markets and a cute souvenir shop called Lemon Tree gift shop .
To visit Assos village it is necessary to have a vehicle as this small lovely place is relatively isolated.
You can hire a boat from the port and explore the beaches to the north or some of the most beautiful beaches of the island to the west like Myrtos, Vouti, Fteri and Amidi and many isolated in between.
If you enjoy walking I strongly recommend you walk up to the castle, explore it and enjoy amazing views of the village as well as of the sunset – if you manage to walk to the west side of the castle (check relevant post and video). The castle of Assos was of significant strategic importance. It was a stronghold of the Venetian army, built in the late 15th century to protect inhabitants from pirate raids. Today, one can see remnants of the wall and other parts of the castle and, of course, the church of Plakoula and the ruins of Saint Marco.
The Βarcarolle (or Varkarolla) Festival is held every year on the 24th of August in this beautiful village and it is combined with the religious celebration of Saint Cosmas of Aetolia, if you are on the island it is worth coming to participate on it