This charming and friendly team offer a special voyage of excitement and discovery for friends and families (even with young children) on their traditional Greek wooden boat called a Kaiki .
From the moment you arrive on board you will be totally looked after, as the group sizes are kept small to ensure a warm and friendly atmosphere.
The day trip is based on the discovery of the island's natural history and the amazing marine life. You will have the chance to swim, snorkel or just spend the day relaxing on board, soaking up the beautiful scenery. For those nervous of snorkelling but willing to have a try, lessons are given in the shallow waters.
The highlight of the day is to help collect examples of marine life, which will be displayed in the on board aquarium. This gives everybody the chance to experience the marine world even without getting wet.
At your lunch stop there will be time to relax and enjoy their sumptuous buffet washed down with a refreshing glass of wine or soft drink. During the afternoon you will be heading of to more exciting destinations for swimming and snorkeling. Their favourite last stop is the bay of the wrecks where in the clear waters you can snorkel in the remains of mysterious shipwrecks.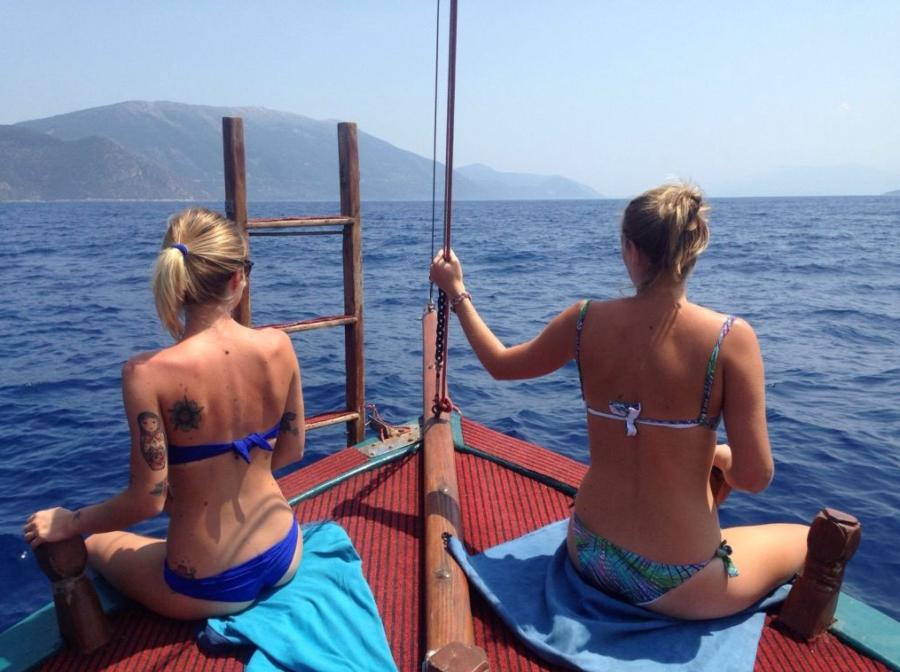 The Unique Marine Adventure
Things to bring: – swimming costume, towels, suncream, light jumper (in low season).
You leave Fiscardo at 9am and return at 4pm.
NB: All routes are subject to weather conditions.
Why travel with the masses when you can privately charter a vessel and have a day, half a day or even an evening, tailor made for you and your group.
Imagine an evening cruise with dinner on the beach under the stars. Or perhaps a day of exploring the fantastic coastline with your very own private guide. Or just lounging around on an idyllic beach all to yourself.
Groups of up to 17 can be catered for. Please email them for more details on specific requests or itineraries.
Prices on application.
All private charters are subject to conditions.
Aperitif on the beach
Departing from Fiscardo harbour at 5.30 pm, this stunning evening cruise to an enchanted beach where will be offered an aperitif accompanied by many appetizers, white wine and soft drinks.
During the aperitif it will be possible to have an amazing view on the sunset on Ithaca.
Return to Fiscardo around 9 pm .
Romantic Dinner on the beach
Ionian Discoveries is ready to offer you the wonderful experience of a "Dinner on the Beach".
Depart time at 6 pm and return at 9.30 pm.
The dinner will be on one of the most beautiful beaches of the Ithaca channel.
You can choose between three types of menu : fresh sea food, meat and vegetarian.
Every type of menu it's composed by three courses plus dessert, wine and soft drink included.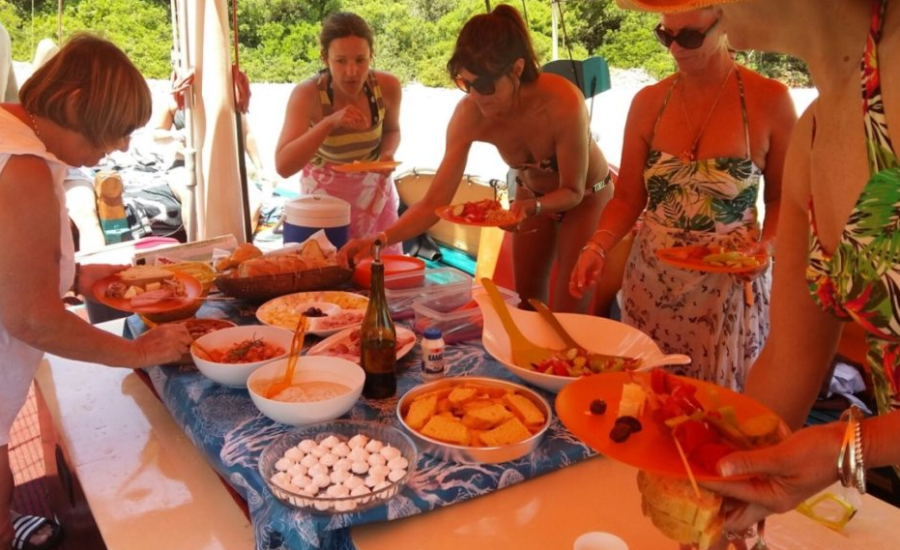 If you need more information for this service or you want to make a reservation preferably complete the form below or give us a call on +30 6977410877