Poros is an attractive coastal village located 45 km southwest of Argostoli, (the capital) and 35km from Agia Efimia. It is the main port of the island connecting it with the mainland (to the port of Kyllini in the Peloponnese). Arriving in Poros can be an impressive welcome to the visitor as the small picturesque village is surrounded by the unique landscape of little hills with lush green vegetation. Decorated with a few beautiful shallow, sandy beaches and offering all amenities, it's ideal for families with small children and/or older people.
The long beach that lies in front of the village and stretches to the north is an organised beach, close to tavernas and cafes, ideal for those seeking relaxation. Aragia or Ragia is sandy with a few white stones contrasting the green colour of the crystal clear waters, ideal for an early morning swim. If you take the beautiful coastal road towars the famous resort of Skala, you can also stop in the little coves of Limenia, where a lot of the locals take their swim.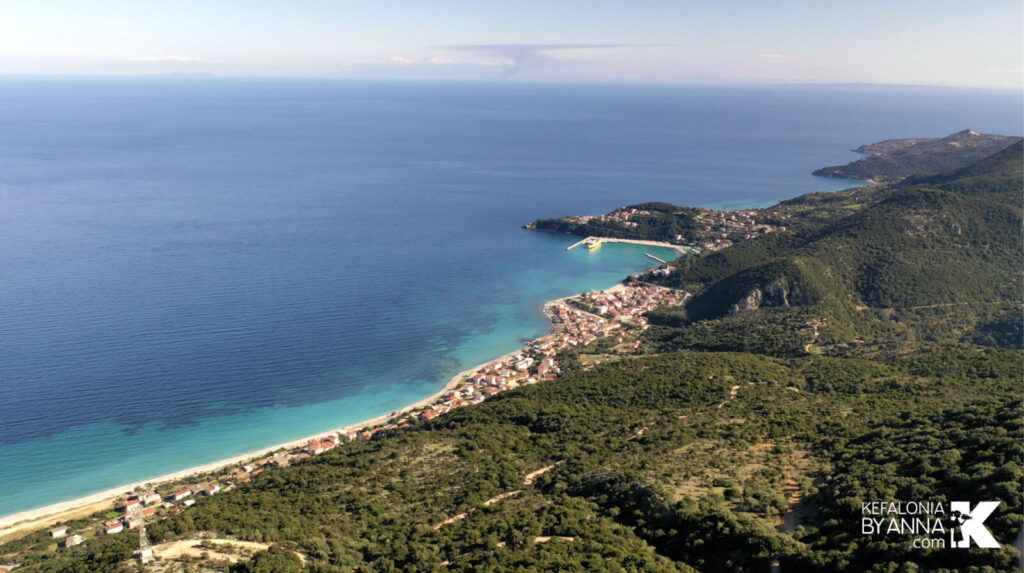 In the area, there are several great attractions and hiking trails. The Monastery of Atros, the oldest on the island, built in the 8th century, is a rare example of monastic architecture offering a breathtaking walk and amazing views of Poros.
Between Poros and Skala, one can find some amazing trails that lead to the waterfalls of Gradou and Potisti.
Among them is the impressive Drakaina Cave dated from the late Neolithic age and situated on the steep slopes of the impressive Gorge of Poros.
At the entrance of Poros, arriving from Argostoli, you can stop at the important archaeological excavation in the village of Tzanata. The Mycenaean Tomb of Tzanata is the biggest in the Ionian Islands, discovered in 1992. It is well preserved, has a height of almost four meters and a diameter of seven meters and is dated between 1350 and 1100 BC.  Many important people are bound to have been buried with some interesting and valuable artefacts, which include royal seals and gold jewellery – including a gold brooch matching a description of Homer's of Odysseus leading to the claim that it could be the tomb of Odysseus of Ithaca.
Finally, Poros offers a selection of accommodation options as well as a variety of good tavernas and cafes most of which offer great sea views. In the summer several festivals and events are held in the main square of the village.