Grab you camera or your binoculars and head off to one of the best vista points on the island!
There are of course many countless fabulous views but these are the best top 10 on the island! Take your partner, family or friends and enjoy the best views, if you have a camera or phone, this is a god chance to get the best shots.
You can pin-point the locations on the map by number.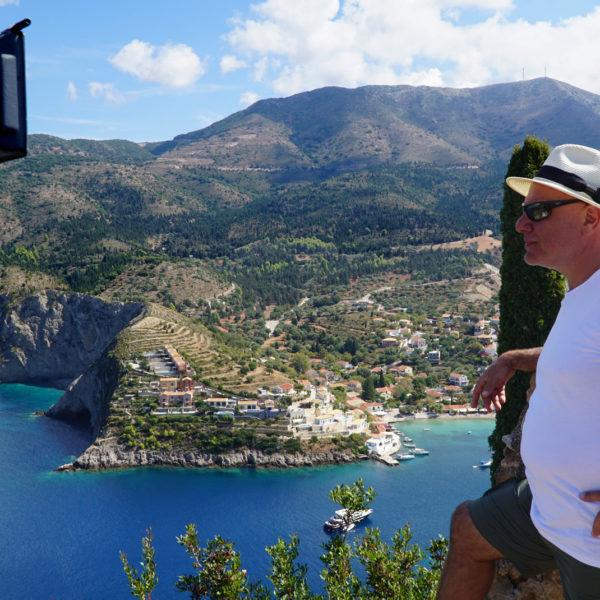 1. Assos Castle – climb up to the castle for fantastic views of Assos village, harbour and the isthmus. Exploring further inside the site will reveal outlooks over towards the north of Erissos peninsula and towards the coastline to Fiskardo.
Location: Erissos Region
Best Time: the village is filled with light from around 11-18.00 depending on the time of season, remember the sun sets behind the castle so at sunset part of the village is in shade
2. Myrtos – the two view points above Myrtos beach, one at either side on the main road, offer incredible views of Myrtos and the surrounding environment but from different perspectives. Both viewpoints have off road parking areas and the most Southern one has a telescope. The colours of the sea are stunning and on a clear day you can see the north of Erissos, Assos, the beach itself, Zola, and the cliffs at Fteri & Amidi depending on which side you stand.
Location: Pylaros Region
Best Time: After 11:00 there is plenty of sun on the beach
3. Kipouria Monastery – enjoy the sunset from this dramatic viewpoint, an overhanging cliff 100 metres above sea level. The view is to the west and there is a courtyard for guests to attend one of the most spectacular sunsets of Kefalonia. Travel a few more meters north and get a bonus view of Platia Ammos, one the most impressive beaches on the island (unfortunately inaccessible since the earthquake of 2014)
Location: Paliki Region
Best Time: Amazing during sunset
4. Junction above Koutavos lagoon. There is a small viewpoint at the junction that faces Argostoli with the lagoon, the Drapano Bridge and the gulf in between. The view is good during the day but it's even more special at night when you can see the capital lit up. You can walk to the view point taking a stroll over the pedestrianised Drapano Bridge from Argostoli turning right at the road junction up the hill towards towards the traffic lights – the view point is in front of you.
Location: Argostoli Region
Best Time : Early morning and Sunset
5.Saint Georges Castle and Kastro village – this historic site and its surrounding pretty village gives rise to a tremendous view of the south of the island, from here you can see the coastline and the villages in between. The castle is definitely worth exploring too.
Location: Argostoli Region
Best Time: all day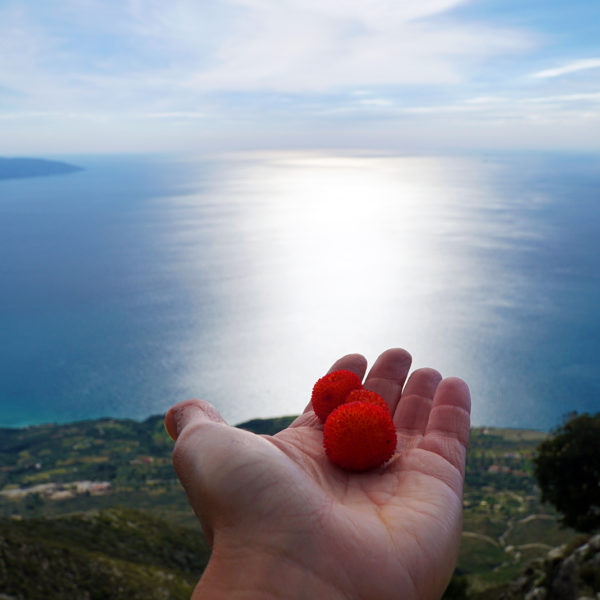 6.Trail connecting Vlahata village with the church of Agrinia – from this track you can see stunning panoramic views from Katelios to Argostoli, as well as coming accros some tiny hamlets and churches including Zoodohos Monastery and the church of Agrinia famous for the little snakes that appear in August for the Assumption of Virgin Mary . The trail is best tackled on foot or by 4×4 vehicle only!
Location: Omala Region
Best Time: All day & sunset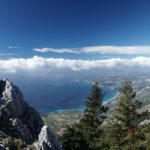 7. Ainos Mountain – from the very top of the mountain, on a clear day, the view of the Southern coast and the Paliki Peninsula are fabulous! On the roads and footpaths up the northern side mountain you can also see glimpses of Agia Efimia, Ithaka and the mountains behind Sami. On clear days, the view from the summit includes the NW Peloponnese as well as the islands of Zakynthos, Lefkada, and Ithaca.
Location: Omala Region – various access points from different regions
Best Time: early in the morning or afternoon, if its not very cloudy
8. Atros Monastery sits at an altitude of 760 meters above the bay of Poros and offers magnificent views of Poros and its harbour and of the Ionian Sea. The view is especially beautiful during sunrise. You can take the Atros Monastery Trail and enjoy a picnic and the serenity of the area.
Location: Elios-Pronnoi Region
Best Time: In the morning (especially sunrise) until around 15.00
9. Agrilia Monastery Mother of God, near Sami. Stroll around this mountain top monastery where the views to Antisamos beach as well as to Sami, Agia Efimia, the gulf and Ithaca are breathtakingly beautiful. The gate to the monastery might be closed but you can still enter by sliding the gate open – please remember to close it after yourself. There is an old tower here and an interesting little church.
Location: Sami Region
Best Time: Between 11:00-16.00 depending on the season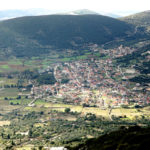 10. Church of Holly Virgin of Lamia, Dilinata – a fabulous panoramic view taking in Lixouri, Argostoli, Zakynthos, villages, bee hives, herds of animals, olive groves and mountains.
Location: Omala Region