Whether it's an adventure you seek or just a leisurely paddle, Fiskardo Kayak's range of kayaks will cater to all needs and levels of experience. Rent a kayak to all the best beaches, sea caves and beautiful bays.
Fiskardo Kayaks strives to offer guests a truly memorable, fun day out on the water with countless nearby beautiful secluded blue bays and pebble beaches to visit and explore. They are proud to offer only the best in kayaks and equipment with all relevant gear needed for a safe, fun and comfortable adventure.

Fiskardo Kayaks is located at Faros Suites hotel, next door Porto Fiscardo & Zavalata holiday apartments. Fiskardo Kayaks is a kayak rentals agency, offering kayakers/visitors to Fiskardo the opportunity to rent their very own kayak for a fun day out on the water visiting the many beautiful turquoise bays and popular beaches as well as the unseen beaches/bays of Fiskardo and surrounding areas (Emblisi beach, Kimilia beach, Dafnoudi beach, Foki beach and sea caves). They seek to provide both regularly experienced kayakers, as well as beginners with only the best in quality, and most reliable kayaks and relevant gear/equipment needed for a safe paddle around Fiskardo (paddles/lifejackets/spray skirts etc)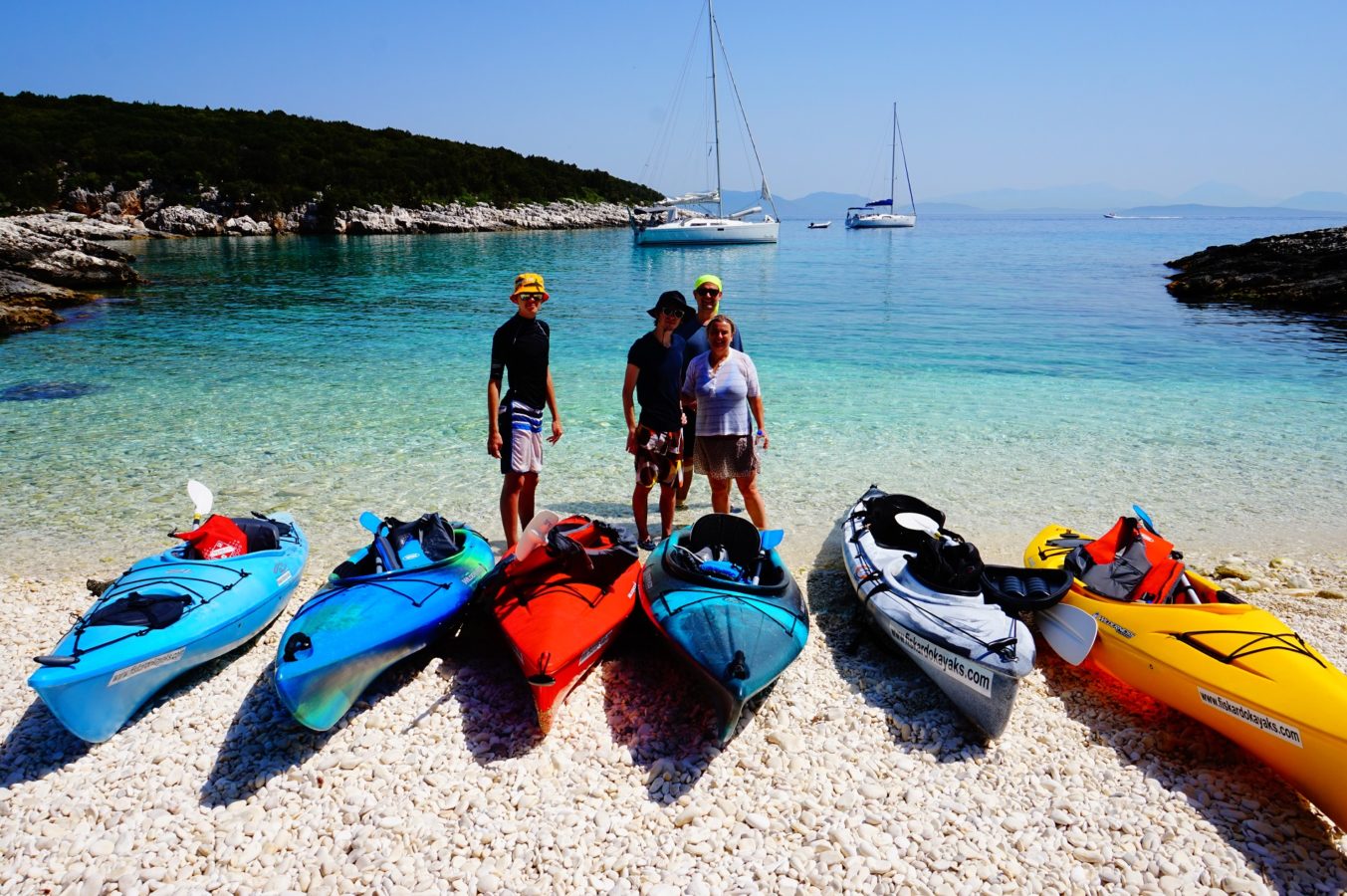 All of their days open are weather dependent and at the order of the local port police (should the weather be bad), so they kindly ask please always check the weather and make sure to call us ahead before you visit them. All kayaks and gear rented will be delivered to you at the nearby beach of Elia (50m away) after the payment/indemnity form signing has been completed at their office.
Open : 8:30 am – 7:00 pm
All kayak rentals include the specified kayak of choice, paddle, buoyancy aid (life jacket) and free of charge a dry bag for personal belongings.
For group bookings, they kindly ask that you contact them at least 1-2 days in advance due to the limited availability of kayaks. For group bookings, they cater for a maximum of 7 guests in varied kayaks (single/tandem).
Important, kayaking is a water sport, so please be prepared to get wet as well as spend time under the sun, so do not forget to take a hat, sunblock, glasses, a t-shirt (optional) a towel and water to drink.
They look forward to welcoming all guests and they will do their very best to ensure guests have a safe, fun and memorable paddle – adventure out on the water. Don't delay booking your adventure now, limited availability.