Activities
The region of Sami offers terrific walking and hiking paths. You can drive to Ancient Sami and the monastery but there is a walking trail through some fabulous areas. The challenging hike to Koutsoupia beach is fabulous and less challenging the 7 mills trail  takes you through historic areas with the remains of watermills and a beautiful arched stone bridge. A flat, easy, off road and sea-side path leads from Sami to Karavomilos, where you can stop off for swimming in the sea or feed the birds at the lake.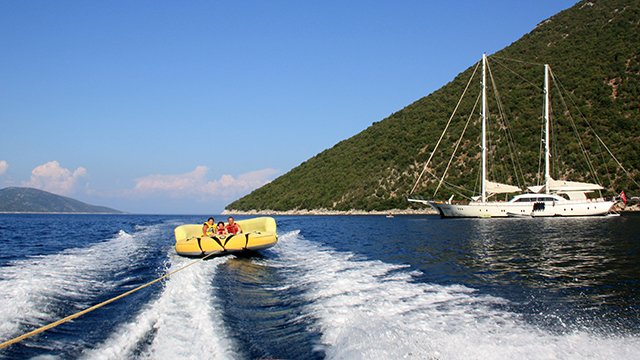 Explore the area with an animal and take a trek with the Bavarian Horse Riding Stable, Kefalonia Horse Riding Stable or the Donkey Trekking Stables.
From Sami you can rent a self-drive boat from Pirates Rent a Boat or Kefalonia Compass Rent a Boat or take or a day trip on the Sami Star. Hop over to the neighbouring island of Ithaka for the day using a ferry boat.
If you want to explore the island or Ithaka without driving taking an excursion is a great way to do it! We can arrange four different excursions that include pick-up and drop-off from convenient locations in Agia Efimia, Karavomylos and Sami; Fiskardo by Night, North of Kefalonia, Island Highlights, and Mythical Ithaka!
Water-sports are available on Antisamos beach from quiet peddle boats to fast action inflatable rides and water skiing.
Join the experienced local guides at Sami Trekking who organise walks, treks, running trails and cycling trails for all levels of fitness and experience. If you want to explore some of the caves, check out Wild Nature Expeditions, if you would like to dive them contact Aquatic Scuba Diving Club.
Food & Drink
Dine right at the sea's edge under eucalyptus trees at Karnagio Taverna. They serve traditional, homemade fare – it's well known for its casseroles – and it's exactly what comes to mind when you think of an idyllic Greek tavern right down to the blue chairs! Robolis Taverna is located in the small village of Poulata and serves meat from goat, pigs and sheep raised in the village, it's a very traditional place to experience. For a snack or lunch visit Mangiare in the square at Sami; they serve great souvlaki, gyros, snacks and drinks by the sea-side. A perfect location for people watching and boat watching, it's popular with locals and visitors alike. In the back streets of Sami find Stoa Handmade Pies & Coffee, a bijou café selling traditional hand-made sweet and savoury pies and great coffee. Watch Anastasia make the pies from scratch in the kitchen. Vegetarian friendly. Kraken bar has a colourful little garden in the back street, Manifiko bar is open all year round and has tables inside or by the sea.
Shopping
Dana is the owner of the shop-gallery IN Gallery in Sami, she is an accomplished artist herself and she makes unique religious iconographies, original oils of Kefalonian scenes, custom paintings, hand painted ceramics and much more! Her shop is a fine art shop offering a huge selection of paintings, handicrafts, jewellery and ceramics all created or carefully chosen by it's charismatic owner. Visit Kostas Annikas Deftereos at his shop-museum which is always full of colours, to admire his olive tree wood turning, wire and drift wood works of art. He has always an interesting story to tell, something surprising and a way to make you smile.
Services
Car, Scooter, bicycle, boat, yacht, taxi hire
Rent a car Kefalonia is a family company and its members are always ready to welcome you with a smile and courtesy as well as to answer all your questions. You will have excellent friendly service, you will receive your car without time-consuming procedures and you will always find options depending on your needs.
Kefalonia Taxi Transfers is the oldest taxi company on the island. They have friendly drivers that can collect you on the spot or arrange an appointment for another hour or day. All taxis carry a maximum of four passengers and their luggage, mini-bus also available.
Kefalonia Taxi Service is a reliable Kefalonian taxi company with excellent service, the best executive cars, punctual and experienced drivers. They provide a reliable and good service, reasonable prices with helpful, English speaking drivers.
Kefalonia Yachts provide private yacht charter.
Private Catering
Viva Personal Chef: If you want to be pampered, relax and enjoy traditional Greek food without leaving your accommodation, Chef Viva is here to make your dream come true!
Beauty & Wellbeing
Take a class of Yoga with Marco and learn skills to be more peaceful, serene and to focus better on what it's really important for you during your holidays; and after the holidays, at home, during your daily life: emotions, self love and positive attitude towards others.
Kefalonia Morfeas Massage Salon offers services in a peaceful and comfortable salon, or the comfort of your home/hotel/ villa/yacht by certified massage therapist Constantinos Stavriano. He has a diploma in Swedish massage, Traditional Thai massage and has taken courses in Therapeutic, Lomi-Lomi and Deep Tissue massage.