Pirates rental boats are located at the heart of Sami port at the east of Kefalonia.
Their motorboats are waiting to welcome you! Take your family or friends on a relaxing and fun cruise around Kefalonia and Ithaca! Those bays are beautiful with an amazing landscape and crystal clear waters which will definitely amaze you !!
Visit the coast between Agia Sofia, Horgota, Robolis, Hagiana, Agia Efimia, Sami, Paliouras and Spilia, Xilomata, Koutsoupia or visit the beaches of southeast Ithaka, Kako Lagadi and Andri and explore the crystal clear waters of the area with the pebbled beaches,  some accessible only by hiring a boat!!! Contact us to book one for a great day out!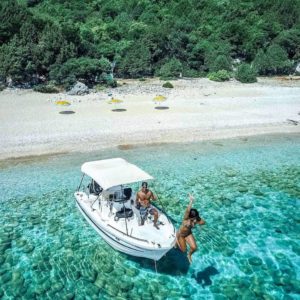 If you need more information for this service or you want to make a reservation preferably complete the form below or give us a call on +30 6977410877