Welcome to the world of Sami Star Cruises!
Their experienced and kind captains along with an enthusiastic crew will take you on unique cruises in the spectacular Ionian Waters.
No trip to Kefalonia is complete without a cruise to Ithaca, the island named after Ithacos, son of Poseidon , God of the sea.
Spending one day in Odysseus homeland, departing from the cosmopolitan port of Sami, you will be surprised just how much you can see and experience in one day!
Sit back and enjoy the scenery of the beautiful island waterways, on our new traditional cruise ship Sami Star II.
Combine that with sparkling, emerald waters, fresh salt air and soft summer breezes that inspired Homer in the past.
Discover hidden, unspoilt beaches with crystal, sapphire waters, moor harbours untouched by ferries, anchor in bays inaccessible to cars, taste the traditional Greek cuisine in local taverns, sightsee your way through Odyssey's island history.
Daily departures make it easy to fit a cruise into a vacation schedule.
Their goal in Sami Star Cruises is to provide you with an experience you will remember for a lifetime. There's a reason why their guests return time and time again! Join them and find out why!
Enjoy your Cruise!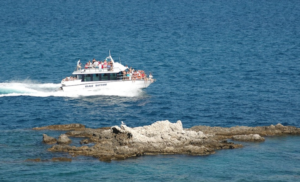 If you need more information for this service or you want to make a reservation preferably complete the form below or give us a call on +30 6977410877