Activities
If your kids want some excitement visit Aqua Park – a water park with waterslides and other activities nearby to Xi beach.
At Xi Beach you can have fun with Baywatch Beach Bar & Watersports with inflatable rides, jet skis, and waterskiing and also enjoy a lunch, dinner or drink! Or give yourself a natural clay mask.
If you feel energetic you can go beach hiking at Fteri with Wild Nature Expeditions.
If you prefer to visit Fteri by boat, join Captain Simos on his fishing boat Melissa from the port of Agia Kyriaki for an unforgettable boat trip to explore both Fteri & Amidi beaches or to the other side of the gulf towards Myrtos and Assos . Other fishing tours take place in traditional fishing boats from Lixouri and from the port of Zola you can hire Captain Nick of Zola Cruises.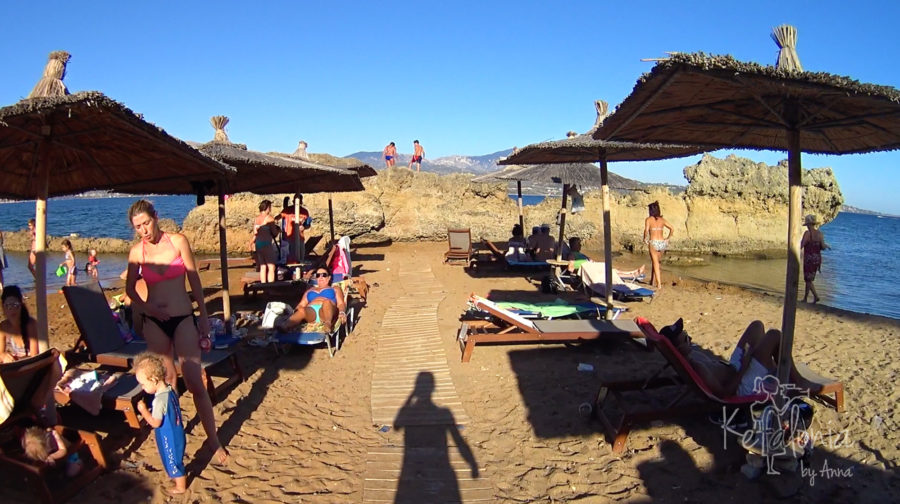 Explore the coast aboard the Lady O with Enalios Cruises and visit Manias Beach and Vardiani Island, leaving from Lixouri. Other vessels set sail from Argostoli but call into several locations on Paliki.
You can watch turtles hatching on Lepeda Beach – check before you go to meet volunteers who can answer your questions. During the summer months volley ball tournaments are held on Lepeda beach and it has a fun, lively atmosphere and the moon rise from here is fabulous. There's a lovely taverna on the beach.
Companies offer sea kayaking at Lixouri or Kyriaki.
Food & Drink
Paliki has a good selection of places for eating by the seaside as lots of tavernas here are located right on, or very close to, the beach. These are a few we have selected that stand out from the crowd!
Tuck into meatballs, fried tomatoes and little fried fish with beer on the sand, at the rustic Lepeda Taverna, it's ideal for relaxing after a swim at Lepeda Beach, great for kids and in the evening you can watch a beautiful moon rise! On Petani beach you can eat freshly prepared dishes at the laid back open-air Erasmias – it is especially good for fish and seafood. A great place to stop after visiting Petani or Agia Eleni beaches is the interesting Ladokola stin Plagia Restaurant at Damoulisnata where you will find traditional food made by the mother of friendly and humorous twin brothers served in a nicely decorated place. Kaliva tou Psara (Fishermans Hut) is a traditional fish taverna at the port of Agia Kyriaki, serving fresh fish, chips and Greek salad, it has fabulous sea views but you need to book large fish in advance. Located on the sandy shores of Porto Atheras beach is Taverna Drosos. It's ideal for families with kids and offers great local homemade dishes in a laid back atmosphere with beauty sea views. Vatsa Taverna serves fresh fish served right on the sand at Vatsa beach! It's perfect for lunch and early evening and you will find homemade, freshly prepared food.
Services
Car, Scooter, bicycle, boat, yacht, taxi hire
Rent a car Kefalonia is a family company and its members are always ready to welcome you with a smile and courtesy as well as to answer all your questions. You will have excellent friendly service, you will receive your car without time-consuming procedures and you will always find options depending on your needs.
Kefalonia Taxi Transfers is the oldest taxi company on the island. They have friendly drivers that can collect you on the spot or arrange an appointment for another hour or day. All taxis carry a maximum of four passengers and their luggage, mini-bus also available.
Kefalonia Taxi Service is a reliable Kefalonian taxi company with excellent service, the best executive cars, punctual and experienced drivers. They provide a reliable and good service, reasonable prices with helpful, English speaking drivers.
Kefalonia Yachts provide private yacht charter.
Private Catering
Viva Personal Chef; If you want to be pampered, relax and enjoy traditional Greek food without leaving your accommodation, Chef Viva is here to make your dream come true!
Beauty & Wellbeing
Take a class of Yoga with Marco and learn skills to be more peaceful, serene and to focus better on what it's really important for you during your holidays; and after the holidays, at home, during your daily life: emotions, self love and positive attitude towards others.
Kefalonia Morfeas Massage Salon offers services in a peaceful and comfortable salon, or the comfort of your home/hotel/ villa/yacht by certified massage therapist Constantinos Stavriano. He has a diploma in Swedish massage, Traditional Thai massage and has taken courses in Therapeutic, Lomi-Lomi and Deep Tissue massage.