There are some extremely varied beaches on the peninsula ranging from the rugged and beautiful to the flat and sandy. Notable beaches here include Xi, (and the adjacent) Megas Lakos and Manias beach, Petani, Lagadakia, Vatsa, Platia Ammos, Lepeda, Agia Eleni and Vouti. Hike or sail to breathtaking Fteri and Amidi or relax at Atheras bay.
Lixouri town has some wonderful architecture to explore – it was rebuilt after the earthquake of 1953 but retains a unique charm. The mansion of Typaldoi-Iakovatoi (now a library) survived the earthquake; cultural events are held here during summer.
Important sights in the area include the ancient city of Pali which was probably a Corinthian settlement which was situated at the entrance of Lixouri (today is called Kolona), the church of Agios Charalampos (Patron Saint of Lixouri) and the statue of the poet and satirical author Andreas Laskaratos, who wrote about the life in his home town. The statue has its back turned to Argostoli, giving a humorous touch to the old rivalry between the two cities.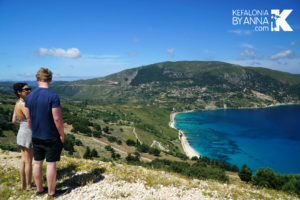 Take a look at the stunning cliff-side location of Kipouria Monastery. It is overhanging a cliff that crashes into the Ionian, 100 meters above the sea level, in a unique landscape. It has view to the west with a courtyard for guests to attend one of the most spectacular sunsets of Kefalonia. This beauty and serenity of the location together with its spiritual treasures constitutes the Monastery a supreme attraction for the visitor. Platia Ammos, one of the best beaches on the island is below here but can only reached by boat at the moment.
One more of nature's paradoxes to discover on Kefalonia is Kounopetra – A huge rock was moving in a very slow and continuous movement until August of 1953, when a big earthquake struck the island of Kefalonia, a sign post explains this geological phenomenon.
Don't miss the romantic sunset and the wild scenery from Gero Gobos lighthouse.
Paliki is a bird watchers paradise! At the entrance of the peninsula hundreds of streams create a beautiful scenery and interesting eco system of 120 acres, the wetland of Livadi. From an easy roadside location you can observe a lot of bird species such as swans, egrets, fasonetes.