Total serenity and beauty!
You can easily reach exotic Vouti beach located at the west part of the gulf of Agia Kyriaki on the Paliki peninsula. If you are coming from the north you will head to the junction of Divarata (Siniori) and from there you will take the road to Lixouri. After a few km you can stop to admire Myrtos beach from above and you will continue towards Agia Kyriaki, a traditional fishing port with a nice beach. If you come from the south you take the main coastal road from Argostoli to the north of the island and you will find the sign of Zola on your left.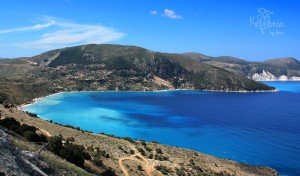 At Agia Kyriaki you will find a sign towards Vouti (the road at the end is sandy, so take care when driving), you can park next to the little Kiosk that offers refreshments, snacks and sandwiches. Have a at look both sides to choose where you prefer to go; one side is now partly organised with sunbeds and the other is not.
Both sandy beaches are very beautiful and separated by impressive rocks. It is a mix of fine shingle and sand. These beaches are for those seeking serenity and isolation on their holidays (even in August it they don't get very busy).
There is a limited natural shade under some rocks and trees, but you better bring an umbrella if you want shade. This beach is great for snorkelling too.
The sun at this beach leaves relatively early around 17.00, so if you want to enjoy the sun have this in mind when you go.
To watch the Magical Windy Summer days video press here