A couple of kilometres outside of Poros at Tzanata are the largest vaulted Mycenaean tombs of the area. There is evidence that this tomb was built on another, smaller tomb as the stone used in the earlier tomb had been incorporated into this one.
The Monastery of Atros, the oldest on the island, built on the 8th century, is a rare example of monastic architecture offering a breathtaking walk and amazing views of Poros.
Located on the sea bed just off the coast at Poros lies the HMS Perseus submarine which sank on 6th December 1941 after hitting an Italian mine. The submarine was recharging her batteries 3km off shore when the devastating explosion took place.
There is a small Folklore Museum housed in the old primary school in Ratzakli, near to Skala.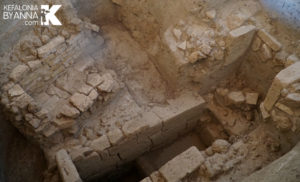 Between Skala and Katelios you will find the beaches of Kaminia and Mounda where the famous turtles Caretta Caretta lay their eggs. In the summer season volunteers from the Katelios Group staff information desks in the village of Katelios and on Mounda beach. Visit the stunning Koroni Beach and watch the glorious sunset. At Kaminia beach you can visit the remains of the old ceramic kilns (Kefala's Kiln), and at Skala there is a wonderfully preserved mosaic floor at the Roman Villa. Unique to the island is the Archaic Temple of Apolo & St George's church in Skala, as it is the only site found like it from this period. The remains of Old Skala can be seen above the new village, it's worth walking around the old streets and historical buildings to get a feel of a traditional village and there are spectacular views from here.
Try not to miss the impressive Church of Panagia (Virgin Mary) Lagouvarda at the little village of Markopoulos – every year, from around the 6th until the 15th of August, a mystical phenomenon takes place there as dozens of harmless little snakes fill the Temple of Panagia.
Visit the Zoodochos Pigi (life-giving source) monastery and stream above Arginia where if you are lucky, you can see the wild horses of Ainos that come here to drink water.
Each August, around the feast of the Assumption on the 15th, snakes appear at the church in the tiny settlement of Arginia to rest on the icon.