The beaches are huge attraction in this area; from the isolated and simply stunning Dafnoudi , Kimilia and Emblissi beaches, to the beautiful Alaties and Agia Jerousalem to the impressive Foki beach where you can relax under the olive trees. Other notable beaches include Horgota and Agia Sofia – they may bring back memories from your childhood. Assos has a pebbly beach with shallow waters ideal for children, the sea is always calm here.
Fiskardo is a vibrant and cosmopolitan harbour, surrounded by Venetian-style houses painted in pastel colours. During the summer season, the harbour is filled with vessels from small sailing boats to large yachts all nestled together a few feet from seashore restaurants, cafes and bars plus high end souvenir shops and Fiskardo at night takes on a special atmosphere, where guests and celebrities stroll along the port. The prices in Fiskardo are a little higher than the rest of the island because of its exclusivity and attraction to the rich and famous!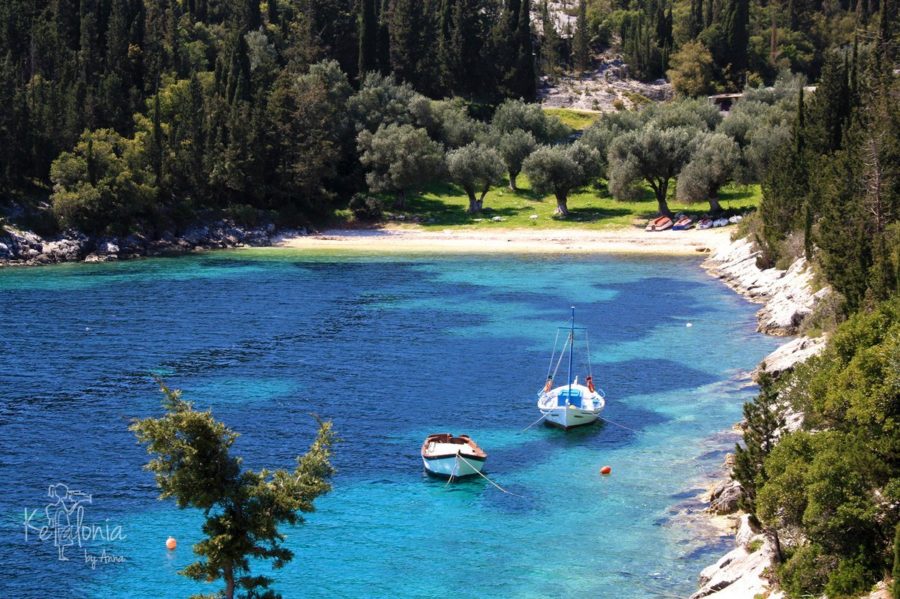 The Venetian Lighthouse & Byzantine Basilica is accessible by foot just around the harbour. The almost perfectly preserved Roman Cemetery was discovered in 2006 and is well worth a visit.
Assos offers extraordinary scenic beauty, rendering the village an idyllic setting for a relaxing or romantic visit. To visit Assos village it is necessary to have a vehicle as this small lovely place is relatively isolated. The village square is situated near the waterfront and around it you will find amazing views of the harbour and of the Castle on the opposite hill. Spend some time and stroll up to the unique Venetian castle as it offers some great views of the peninsula, the village and if you manage to reach the western part of it you can watch a great sunset. The church of the Prophet Elias can be found about half way up the footpath to the castle, it was built in 1888 on the ruins of another small church dating from 1500.
St. John Chrysostom a little church at Vari, hosts impressive painted wall icons, dating from 1755.