Activities
For walkers and hikers Erissos is perfect! There are three beautiful signposted paths from Fiskardo, including the easy Lighthouse Walk (Faros walk to the Venetian lighthouse and Byzantine Basilica), The Cypress Trail and the Battery Trail. Also explore the possibility of walking the more strenuous Drapanitika, Assos village and Castle trail.
In Assos during the summer season some great concerts take place on the way up to the castle. The Βarcarolle (or Varkarolla) Festival is held every year on the 24th of August is one of the most impressive local customs, deriving from the Venetians, as the serenaders get into a beautiful fishing boat parading in the port and sing local songs with their guitars and mandolins surrounded by lighted torches, numerous smaller boats and hundreds of visitors and locals gathering around the coast that night to admire them.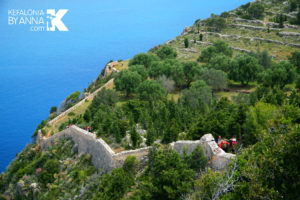 You can rent a self-driven boat for a day from one of the hire companies, try Regina's boats, a kayak from Fiskardo Kayaks or have a unique marine experience with Ionian Discoveries, or rent a yacht for a day and snorkel, visit the nearby beaches and get a lunch on board on a special boat tour or, if the weather permits, discover the north of Ithaca, Afales Gulf. Explore the coves and coastline on a Stand Up Paddle board (SUP) available from Ionian SUP. Try some underwater exploration with the diving school. Prime Sailing on daily trips from Fiskardo to the surrounding areas, with the possibility of visiting Ithaca – Frikes or Kioni. You could also rent an e-bike from Ionian Discoveries and cycle around the area with some powered help! If you are in Assos you can rent a self-driven boat, hire a captained boat, get a water taxi transfer or charter a traditional sailing vessel from Conteco – Rent A Boat.
Food & Drink
Alati All Day Bar and Restaurant is situated in an idylic spot at the top of Alaties beach. Friendly staff serve drinks and food and they have daily specials. Enjoy amazing sunsets with a cocktail, they also organise parties! At Odysseus Taverna, right on the beach at Agia Jerousalem, Odysseus and his mum make homemade dishes – mainly serving lunch after a morning swim. It's a very friendly, laid back place. Cafe sto Niohori is a traditional Greek coffee shop in the tranquil village of Niohori – a nice stop on the way to Fiskardo. Fabulous views of Ithaka from the village.
For an excellent live music venue in a traditional village building visit Danny at The Fishbone Bar in Fiskardo. They have facilities for jamming sessions and they are also a televised sports venue. They serve coffees, cocktails, drinks and snacks. Καπηλιο Νικολέτα Erissos (Kapilio) is excellent for homemade authentic food, in a nice atmosphere with great views and good prices.
Shopping
In the main square at Assos visit Lemon Tree, a lovely gift shop selling handmade objects from all over Greece, plus local spirits and a large selection of tasteful souvenirs. In central Fiskardo call into Liveloula Collection or Emilia Shop for an array of accessories, clothes, shoes, jewellery, hats and nice sandals! Fiscardo Chandlers supply wide selection of marine and chandlery items, plus popular products and equipment for fishing, scuba diving, snorkelling and other outdoor activities. If you feel like shopping for yourself, or are looking to buy a special present, browse the upper floor of Fiskardo Etc where you will find plenty of options for gifts and accessories, shoes, bags, jewellery, scarves, summer dresses and clothes, kids' clothes and games, Greek deli products, etc…
Services
Car, Scooter, bicycle, boat, yacht, taxi hire
Rent a car Kefalonia is a family company and its members are always ready to welcome you with a smile and courtesy as well as to answer all your questions. You will have excellent friendly service, you will receive your car without time-consuming procedures and you will always find options depending on your needs.
Kefalonia Taxi Transfers is the oldest taxi company on the island. They have friendly drivers that can collect you on the spot or arrange an appointment for another hour or day. All taxis carry a maximum of four passengers and their luggage, mini-bus also available.
Kefalonia Taxi Service is a reliable Kefalonian taxi company with excellent service, the best executive cars, punctual and experienced drivers. They provide a reliable and good service, reasonable prices with helpful, English speaking drivers.
Kefalonia Yachts provide private yacht charter.
Private Catering
Viva Personal Chef; If you want to be pampered, relax and enjoy traditional Greek food without leaving your accommodation, Chef Viva is here to make your dream come true!
Beauty & Wellbeing
Take a class of Yoga with Marco and learn skills to be more peaceful, serene and to focus better on what it's really important for you during your holidays; and after the holidays, at home, during your daily life: emotions, self love and positive attitude towards others.
Kefalonia Morfeas Massage Salon offers services in a peaceful and comfortable salon, or the comfort of your home/hotel/ villa/yacht by certified massage therapist Constantinos Stavriano. He has a diploma in Swedish massage, Traditional Thai massage and has taken courses in Therapeutic, Lomi-Lomi and Deep Tissue massage.