Melomakarona and Kourabiedes are traditional desserts prepared primarily during the Christmas holiday season. Kourabiedes are sweet white buttery, crunchy cookies and Melomakarona are brown, honey-soaked delicious cookies. Christmas time in Greek culture is about gathering with our loved ones. Family and food are the main ingredients of this period!
Kourabiedes and Melomakarona can be found in every house in Greece during Christmas and are normally placed on a beautiful plate as a decoration in the living room as a treat for guests. They are great for breakfast or afternoon tea as well!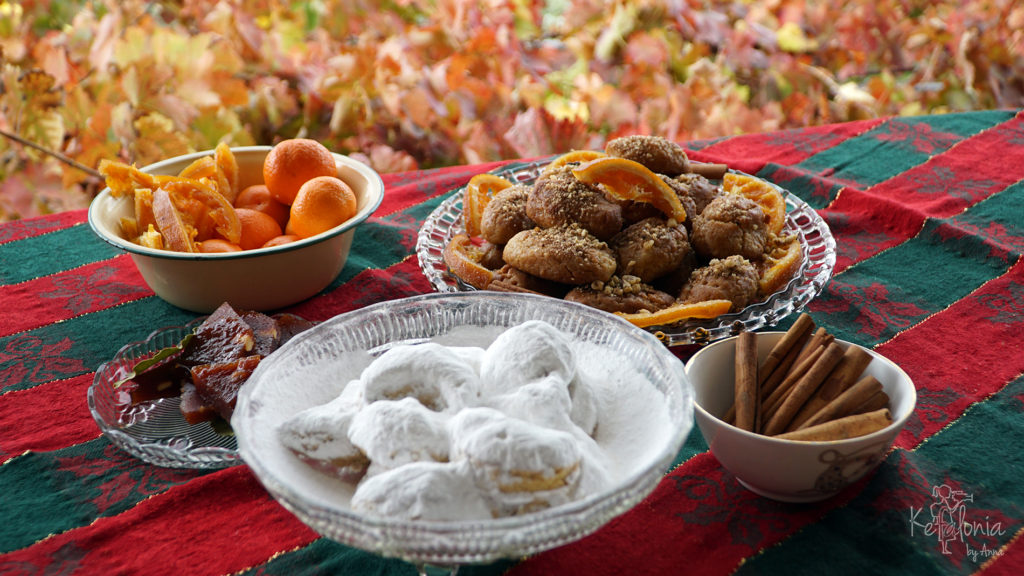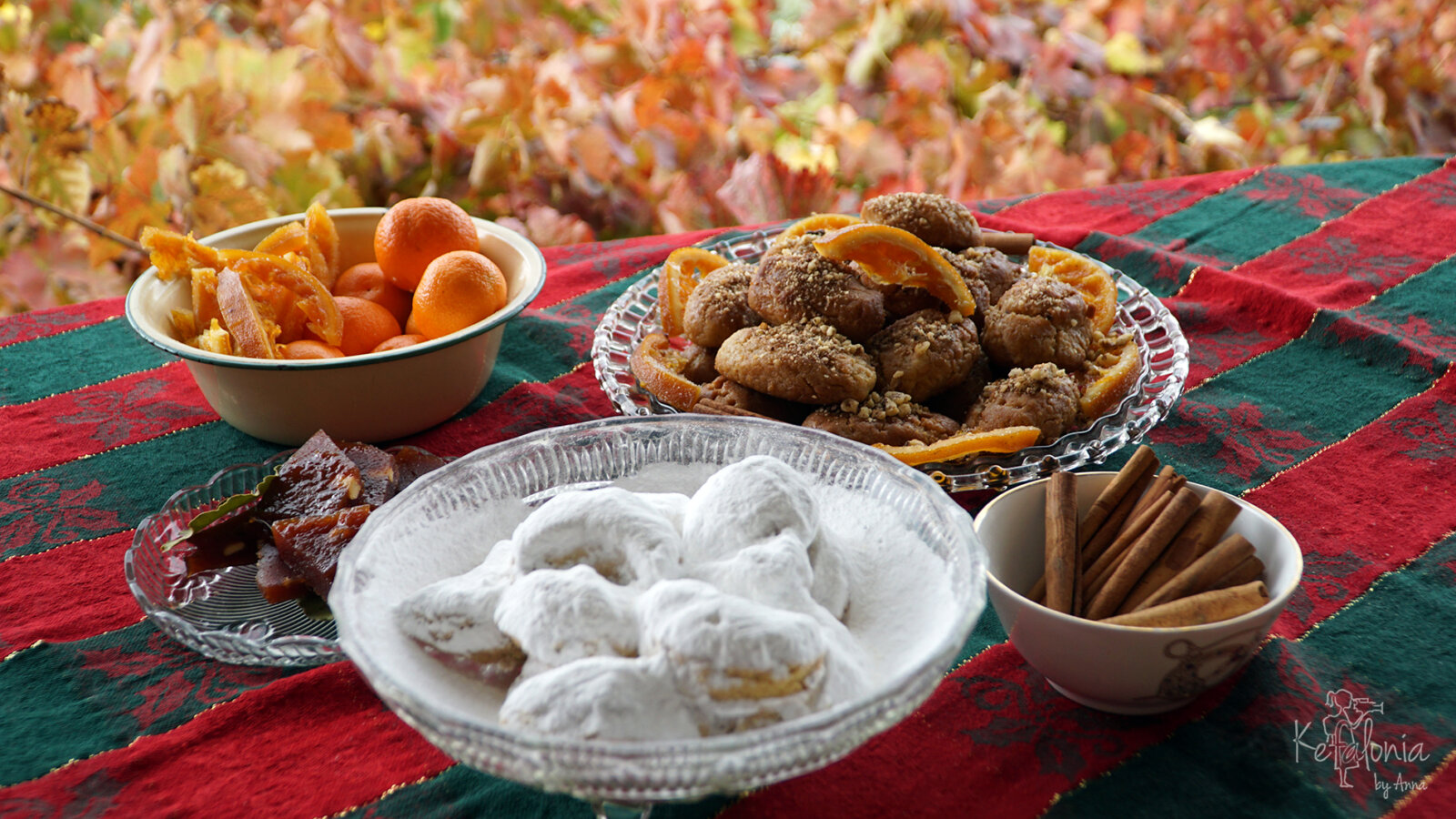 This year I had the pleasure to be hosted by Viva Karousos and her lovely parents at their home in Pylaros (all three are very experienced chefs). They were getting ready for Christmas season!
Mr. George had collected and cracked their own almonds and walnuts, Mrs Maria had collected the oranges and tangerines from their garden. Most of the ingredients are produced by them or their neighbours! Extra virgin olive oil from their olive trees (every year olives are picked during this season) and great thyme honey from local producers are used. They may not have chickens but they have generous neighbours that have treated them to a dozen of local free range eggs, milk and fresh butter. If you are interested in Local Kefalonian products, check my video.
By the end of the procedure the house had a wonderful Christmas aroma! A combination of cinnamon, orange, clove and vanilla can easily tempt your appetite and boost your spirit.
If you have not included Kefalonia on your travel plans this Christmas, maybe you can organise a trip for next year! In my article you can find a list of reasons to do so!
Thank you Viva Karousos & family for your unique hospitality and kindness and of course for sharing with us your experience!
For those wanting to give it a try, here are the recipes:
Kourabiedes
Ingredients:
300g fresh butter
120g blanched roughly chopped almonds
1 teaspoon baking powder
1 teaspoon vanilla
1 teaspoon salt
110g icing sugar + more for dusting
½ glass of ouzo
600g all-purpose flour
2 egg yolks
Method:
In a mixer using the whisk attachment, beat the butter with sugar at least 20 minutes on high speed. Adding slowly the yolks, ouzo, baking powder and salt. Continue beating on medium speed, add the almonds, icing sugar and flour. The mixture should be soft but not sticking to your hands.
Mold into balls the size of a small egg and push with your finger in the middle, to form a little dimple (this will help to hold a bit more icing sugar on top of each kourabie). Bake for 30 minutes in a preheat oven at 170 C.
When cool place them on a tray with icing sugar and then using a sieve dust the tops with more icing sugar.
Place them on a nice dish to decorate your house!
Melomakarona
Ingredients:
For the cookie dough:
1 ½ teacups of olive oil
1 ½ teacups of tea sunflower oil
1 cup of fresh orange juice
½ cup of sugar
½ teaspoon ground cloves
3 teaspoons ground cinnamon
1 teaspoon baking powder
grated zest of 2 oranges
3 teaspoons of brandy
1kg all-purpose flour, maybe it needs more or less (depending on the weather!!!)
For the syrup:
500ml of water
800g sugar
150g honey, preferably local
3 cinnamon sticks
3 whole cloves
1 orange or tangerine (cut in half)
chopped walnuts and cinnamon for the end
Method:
For the syrup:
Boil all the ingredients for 20 minutes, apart from the honey.
Add the honey and mix till combined.
For the cookies:
Preheat the oven to 190 C
In a bowl add the olive oil, sunflower oil and sugar. Mix, using a hand whisk, until the sugar melts. Add the other ingredients. Finally, add flour and the baking powder.
Mix by hand, very gently and for a very short time. Mold cookie dough into oval shapes. Try to keep them as similar as possible.
Bake for about 20-25 minutes, until they are crunchy and dark golden brown. Leave them to cool down. Soak the cookies in the medium temperature syrup, for approx 1 min and place them on a plate.
Drizzle with chopped walnuts.
The cookies can be preserved for many days (ideally in a tin box).