One of the most well-known traditional products of Kefalonia are the vibrant, deep red, caramelized roasted almonds called Mántoles which traditionally are colored using a kind of seaweed. Other delicious sweets produced on Kefalonia are Pastélia (a candy bar made of sesame seeds and thyme honey), Komféto or Pastokydono (quince paste with almonds), Mantoláto (soft nougat with a dough made of sugar, honey, eggs and almonds) and Amygdalotá (a treat prepared with finely chopped or ground sweet and bitter almonds and sugar, flavored with scented rose flower water or orange blossom).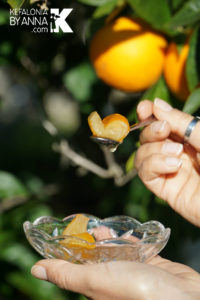 Desserts include Ryzógalo (rice pudding), Amygdalópita (almond pie), Karydópita (walnut pie), Galaktoboúreko (milk pie), Marmeládes (jams), Moustópita (cake with wine must), Xerotígana (fried pastries dipped in honey and sprinkled with crushed almonds), Myzithrópita (a myzithra cheese based cake), Loukoumádes (leavened and deep fried dough, soaked in honey, coated with cinnamon), and Halvás (semolina pudding sweetened with syrup and studded with nuts and raisins adopted into the Greek culture from Arabic cuisine).
"Glyká tou koutalioú" (spoon sweets) are fruits cooked in sugar and preserved in a heavy syrup, a traditional and delightful Greek custom offered to guests as a symbol of hospitality. The spectrum of spoon sweets follows the seasons: pomegranates, quinces, pears and apples in the autumn; bitter oranges, orange peel, lemons or lemon peel, bergamot, citrons, tangerines and grapefruits in winter; strawberries, apricots and green, unripe figs in spring; mulberries and other berries, watermelon rind, plums, cherries, sour cherries, and grapes in summer. Flower spoon sweets are also prepared, mainly rose petals and lemon blossoms, and are two of the rarest and delicious.