In Thiramonas, a small picturesque village of southern Kefalonia, Nikos Petrakopoulos carries on a centuries-old family tradition. As a descendant of the Melissinoi and Solomoi families, he aspires to leave his personal mark on the island's cultural promotion, building on its wine-making wealth and rare local grape varieties.
With organic practices and handcrafted processes, we offer a rare collection of young and aged wines in a limited number of bottles.
The house in Thiramonas, which now accommodates our small winery, was once the Solomos family's farmhouse. The family had always used the ground floor as a cellar for the production and storage of wine, which it had been bottling for its own use since the 1950s. The house collapsed with the devastating earthquake of 1953 and was completely rebuilt in 1955, using stone and following the old, minimal and noble architecture of the Venetian era. The arcs, large windows and stone-built steps are distinctive elements of this rhythm, while the "goulostroto" (cobblestone) in the main courtyard from the 1800s, as well as certain pieces of the furniture – heirlooms from the 1700s, have been preserved.
During the summer months, our quaint courtyard is turned into a wonderful space that is ideal for learning about and tasting wine. We will be more than happy to give you a tour, offering a comprehensive winemaking experience.
The building is surrounded by a 1,500 m2 yard which encompasses a substantial orchard and other age-old trees. The courtyard, laid out with dry-stone walls and stone-built terraces on multiple levels, forms an ideal environment for our visitors' wine tasting. It also includes two old cisterns, along with remnants of the family's stone-built oil mill. The building's ground floor now houses the vinification and aging areas, while the second floor comprises the family's summer residence. To meet our modern needs, we have expanded into another two neighboring houses. Tzogia's home, a typical auxiliary building, and Giannis' home, with the huge, centuries-old olive tree in its yard. Both were built after the '53 earthquake for the immediate housing needs of the island's populace.
Opening Hours: 10:00-17:00 Mon-Fri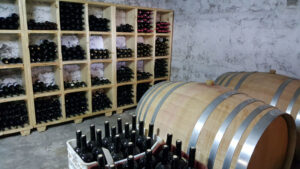 Map
If you need more information for this service or you want to make a reservation for wine tasting preferably complete the form below or give us a call on +30 6977410877