The village of Old Farsa lies 11 km north of Argostoli. Take the coast road north from Argostoli (Epar.Od. Argostoliou) towards Farsa. The village stands on the opposite side of the Paliki peninsula and has amazing sea views and a unique sunset. On reaching Farsa village take a right turn uphill, park and walk to the ruins (look at the map below). Records of Old Farsa village exist in Venetian archives dating back to 1678.
I recommend visiting one or two of these abandoned villages, like Old Vlahata or Tarkasata during your stay to get an idea of the architecture and the atmosphere of the past, as unfortunately most parts of Kefalonia have lost their pre-earthquake color.
History says that most of the inhabitants were immigrants from Crete and that they lived on the slopes of the mountain and not close to the main road so they could be protected from pirates. The houses were built using local materials, stone, sand and lime.
The devastating earthquake of 1953 (7.2 Richter) severely damaged many of the village buildings (there were at least 150 houses at the time), but didn't totally destroy it, and like Old Vlachata many of the remains are still visible today. Most of the inhabitants moved to the new Farsa village built at a lower altitude, but many old houses were left standing but inhabitable.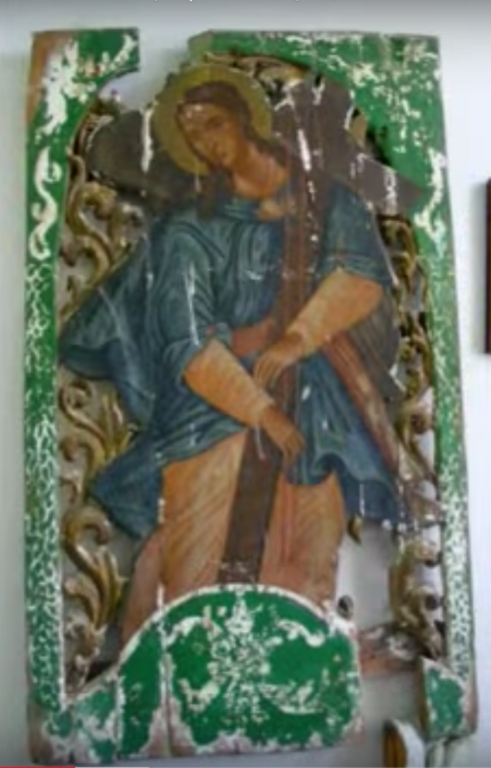 The bell tower of the Church of the Virgin Mary still stands amid the grass covered paths, though a new building has been built on the ruins of the old church. Tradition says that a shepherd from Lixouri has noticed a light coming out of the bushes for some days and he came to search and found an icon and built the church at the location.
There are many remnants of the old village left to explore, the water cisterns were left full by the old villagers so that grateful passers by may have a drink. There were two olive presses at the time, equipment from one can still be seen today. Grape presses can still be seen in many houses. The village had a main square near the church and also a smaller one.
Old Farsa is an atmospheric place to visit to watch the sunset through the ruins. Exploring the paths in and around the village gives us a great insight into the life of a traditional Kefalonian village, it's architecture/infrastructure, its agriculture, and it's social and cultural activities.
Dr. Nicholas Zaferatos, an environmental studies professor in the Huxley College at Western Washington University has made an important study with his students on the renovation of the old village.
Some info is taken from Kefalonitika Nea and their video for old Farsa