One very early morning in September we set off in the dark to join Simon, a Field Leader, from Wildlife Sense (a research and conservation project to study and protect Kefalonia's endangered loggerhead sea turtles) at Megali Ammos beach by the airport. Simon was carrying out an early morning inventory of one of the loggerhead turtle nests – he is part of a larger team of volunteers that covers 11 sandy beaches between Avithos and Lassi that during nesting season who follow tracks and find characteristics of nests and then mark, monitor or re-locate them. If necessary eggs are moved to safer areas away from people, lights and near to the sea, Megali Ammos has an ideal area for this.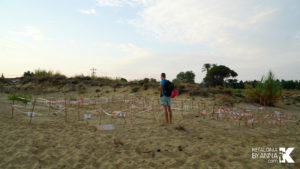 We watched as Simon and his team identified the nest to be inventoried (the inventories occur every 7 days) and then carefully dig to uncover the eggs to see if they had either hatched, were going to hatch or were not going to develop. As each egg was removed a small black mark was made on the top of each one so that the orientation of the eggs was preserved when returned to the nest as the hatchlings hatch upwards and dig out of the sand. The egg chamber was measured and documented. Each egg was then carefully examined and divided into potential hatchlings, empty or hatched eggs, and eggs that hadn't developed. There were 46 eggs in this nest – 8 had already hatched and 38 remained unhatched. Out of the 38 Simon had to decide which eggs were potential hatchlings and would be returned to the nest and which eggs would not develop, 7 eggs were thought to be potential hatchlings. The remaining undeveloped eggs were carefully torn open and thoroughly examined to look for clues as to why they were not viable. Everything was documented before the discarded eggs were disposed off and the potential hatchlings were returned to the nest and reburied.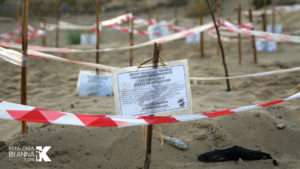 Although we didn't witness a hatching it was a really interesting and exciting procedure to observe. In the hours and days after we had visited there were many hatchlings making their way to the sea from the beaches!
Inventories are carried out regular and locals and visitors are invited to watch, you can find the dates and times for scheduled inventories on their Facebook page. Wildlife Sense have other groups surveying the south of the island, you can read more about their work here. Read our interview with Wildlife Sense about the future prognosis for the turtles and how you can help.