This is an excellent dish for breakfast (although breakfast in Kefalonia is usually not so complicated!) and also makes an ideal lunch served with crusty fresh bread. When ever possible use local free range eggs and garden vegetables.
Ingredients:
1 small onion, finely chopped
1/3 cup olive oil
100g feta cheese, crumbled
3 ripe tomatoes, finely chopped
5-6 eggs, beaten
salt & pepper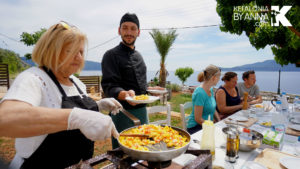 Method:
Heat the olive oil in a frying pan and sauté the onion until translucent.
Add the chopped tomatoes and continue frying for a further 5 minutes.
Add salt & pepper (to taste) to the beaten eggs.
Add the eggs to the frying pan and stir with a wooden spoon then add the feta until cooked through.
Serve with fresh bread. Bon Appetit, Καλή όρεξη!