It has been a little more than a year ago when we saw a photo on facebook of 3 puppies (2 white curly haired ones and one black) looking for home. I called the woman that uploaded the post and asked her about them. She said they have already taken the white ones but the black puppy was still there as its sisters where more beautiful…
We have been thinking of adopting a dog for many years. I already new the important work of the local charities Ark (Animal Rescue Kefalonia) and Kefalonia animal Trust as well as of many individual people that save stray dogs and cats on the island, where there is not much done by the local authorities. At the moment there are some programmes of neutering that are supported from some municipalities also but there is great need of a more organized plan about stray animals and animal rights on the island.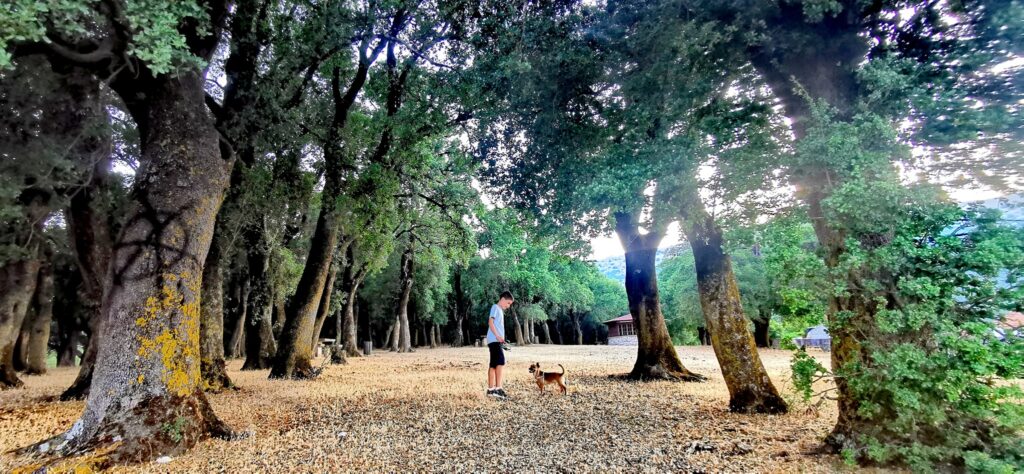 It would be great if you are willing to support these groups. If so please contact them directly (you will find more info by clicking the links). They are in need of food, medicines as well as volunteers to help taking care of the animals.
My son and I agreed that we were ready to adopt a puppy, even though my only experience with animals at home was with cats. It was the 25th of April 2022 when we drove towards Petani beach to collect her, I will never forget the lady that was taking care of her till then was crying while we put her in the car… The other lady that was the intermediate and had herself many dogs, told me "if you cannot manage with her, don't abandon her but bring her back…"
It may have taken me many years to decide it but there was no chance I would abandon her once we welcomed her home. My son named her Louisa and as we do not know the exact day of her birth we put the 2/2/2022 as her birthday, so today she is becoming 1 year old!
She was very scared and quiet at the beginning and she followed me wherever I was going for the next 2-3 months. Babis, the trainer said she is a very energetic dog that needs to ease off her energy by a lot of running, sniffing and exploring around! So that is what we do! Now we explore the island together, we sniff and discover new places every day to share them with you! Louisa has become now a member of the family!
During this last year we have been walking around most of the island, Assos, Fiskardo, Skala, Trapezaki, Pessada, Sami, Ainos mountain, Omala, Poros, rivers and peaks, seas and lakes, rocks and woods! 
Louiza is the best friend one can have! If you have the time, space and you love animals, contact the charities to adopt a stray animal and get a real companion!
Here are a few photos to celebrate her first year with us!