From this rock, 10 or so years ago, I surrendered unconditionally to my beloved sea. With a long and deep dive we were united forever. Here I made my first dreams, I put my tiny son, in the transparent waters, I shared, with both of them, many fairy tales but also many of my truths.
There we took the most beautiful swims and dives, we spilled the rock with watermelon and strawberry juices, we discovered its most beautiful hiding places, we chewed grits that come out of its clefts and horseshoes that stick to it, we chased crabs, caressed every part of it, sometimes we slipped …
Here I learned that agaves (immortals) and loves eventually die and some others are reborn,
I saw them with my own eyes falling down.
But the inexhaustible sun that falls on this rock reheated my body and soul, the reflections on its white spots sometimes blinded me.
It rained on us, the sea turned gray, became one with the sky, I saw the rock dressed in white from the snow and red from the mud, I saw the clearest waters become like blood from the floods, the properties of my neighbors floating, August calm waters to be transformed into huge waves, cyclones to follow the dead calms of September and to move whole parts of it … and us.
I saw it change, I saw me changing also…
I admired the most beautiful sunrises, while my son was going to school with the soundtrack of the wooden boat that was picking up its nets.
I saw birds standing on it to gaze at the sea, turtles and dolphins swimming, I also saw my son slowly swimming away, laughing with his friends on a nearby rock.
I shed many tears on this rock for what I lost or thought I had, I drowned my grief in long dives, the waves washed us away so I managed to make new dreams, now recognizing that nothing stays the same, not even the rock.
I threw a line and by chance I did not catch anything, I sang softly, I fell asleep at noon but also at night, I saw the most beautiful moons coming sometimes from the mountains and others from the sea, stars shimmering in the night sea, only there I obeyed the new commands and I restricted my movements, I spent endless hours of quarantine on it just looking at the horizon, I saved countless photos of it on my camera and in my soul.
This rock and its turquoise waters inadvertently became my most loyal companions, medicine without side effects and certainly long before me and for many years after, many others like me will stand on it, dream and cry …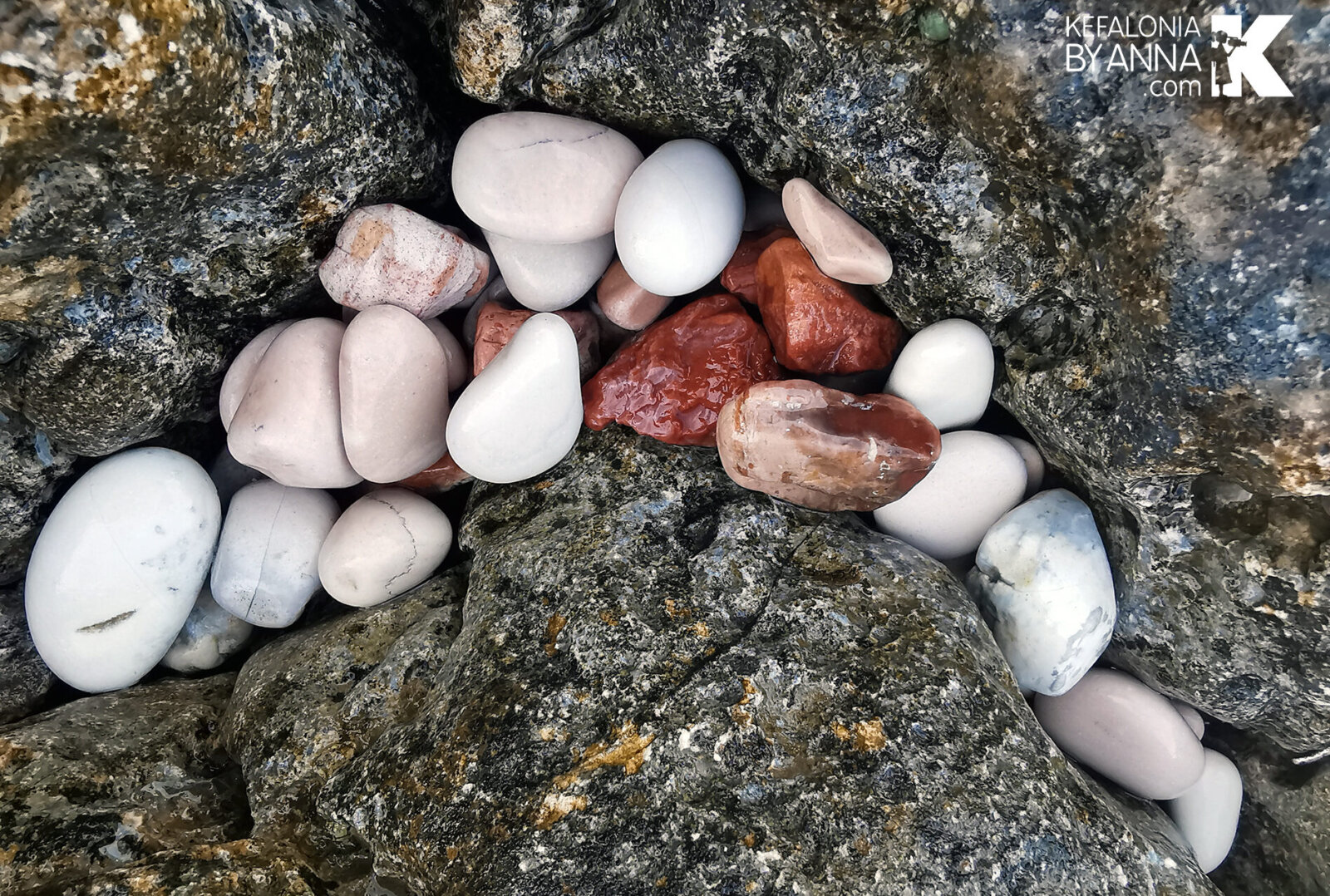 In greek
Από αυτόν το βράχο, 10 και κάτι χρόνια πριν, παραδόθηκα άνευ όρων στην αγαπημένη μου θάλασσα. Με ένα μακρύ και βαθύ μακροβούτι ενωθήκαμε για πάντα. Εδώ έκανα τα πρώτα μου όνειρα, έβαλα τον γιο μου, μια σταλιά τότε, στα διάφανα νερά του, μοιράστηκα, και με τους δυο, πολλά παραμύθια αλλά και πολλές αλήθειες μου.
Εκεί κάναμε τα ωραιότερα μπάνια και βουτιές, ποτίσαμε τον βραχο με χυμούς από καρπούζια και φράουλες, ανακαλύψαμε τις πιο όμορφες κρυψώνες του, τους θησαυρούς του, μασήσαμε κρίταμα που βγαινουν στις σχισμές του και πεταλίδες που κολλάνε πάνω του, κυνηγήσαμε καβούρια, χαιδέψαμε κάθε σημείο του, κάποιες φορές γλιστρήσαμε…
Εδώ έμαθα πως οι αθάνατοι και οι έρωτες τελικά κάποια στιγμή πεθαίνουν και κάποιοι άλλοι ξαναγεννιούνται,
τους είδα με τα μάτια μου να πέφτουν κάτω.
Ομως ο ανεξάντλητος ήλιος που πέφτει πάνω του μου ξαναζέστανε το κορμί και την ψυχή μου κι ας με τύφλωναν καμιά φορά οι αντανακλάσεις πάνω στα λευκά σημεία.
Μας έπιασε βροχή, έγινε η θάλασσα γκρι, ένα με τον ουρανό, είδα τον βράχο ντυμένο στα λευκά από τα χιόνια και κόκκινο από τις λάσπες, είδα τα πιο καθαρά νερά να γίνονται σαν αίμα από τις πλημμύρες, τις περιουσίες των γειτόνων μου να επιπλέουν, λαδιές του Αυγούστου να μεταμορφώνονται σε πελώρια κύματα, κυκλώνες να διαδέχονται μοναδικές άπνοιες του Σεπτέμβρη και να μετακινούν ολόκληρα κομμάτια του… και δικά μου…
Τον είδα να αλλάζει, μαζί κι εμένα.
Θαύμασα πάνω του τις πιο όμορφες ανατολές πηγαίνοντας τον γιο μου στο σχολείο με υπόκρουση τους ήχους της ξύλινης βάρκας που μάζευε τα δίχτυα της.
Είδα πουλιά να στέκουν πάνω του για ν' αγναντέψουν τη θάλασσα, χελώνες και δελφίνια να κολυμπάνε, είδα και τον γιο μου σιγά σιγά να απομακρύνεται κολυμπώντας, να γελάει με τους φίλους του σε διπλανό βράχο.
'Εριξα σ'αυτό το βράχο πολλά δάκρυα γι αυτά που έχασα ή που νόμισα πως είχα, έπνιξα στενοχώριες σε μεγάλα μακροβούτια, ξεπλύθηκα μαζί του και έτσι έκανα νέα όνειρα, αναγνωρίζοντας πια οτι τίποτα δεν μένει ίδιο, ούτε καν αυτός.
Έριξα πετονιά κι από τύχη δεν έπιασα τίποτα, σιγοτραγούδησα, με πήρε ο ύπνος μεσημέρια αλλά και νύχτες, είδα τα πιο όμορφα φεγγάρια να βγαίνουν άλλοτε από τα βουνά κι άλλοτε από την θάλασσα, αστέρια να λαμπυρίζουν στην σκοτεινή θάλασσα. Εκεί μόνο υπάκουσα στις νέες εντολές και περιόρισα τις μετακινήσεις μου, πέρασα ατέλειωτες ώρες καραντίνας πάνω του απλά κοιτώντας τον ορίζοντα, έσωσα αμέτρητες φωτογραφίες του στη μηχανή και στην ψυχή μου.
Ο βράχος αυτός και τα γαλαζοπράσινα νερά του γίναν άθελά τους οι πιο πιστοί μου σύντροφοι, φάρμακο χωρίς παρενέργειες και σίγουρα πολύ πριν από μένα και για χρόνια πολλά μετά, πάνω του θα στέκονται, θα ονειρεύονται και θα κλάψουνε κι άλλοι πολλοί σαν και μένα…