The outbreak of Covid-19 has caused a very difficult period for everyone, and the island is no exception. By now we are usually 'open for business' but strict measures have prevented that happening thus far, fortunately those strict measures have kept Greece and Kefalonia very safe so that we will be ready sooner, rather than later, to welcome our friends old and new. New guidelines for the easing of the lockdown are due to be announced next week in Greece. We hope that any new measures will continue to keep both the island and its visitors safe, it's incredibly important that we all remain well and we will not open without ensuring everyone's wellbeing.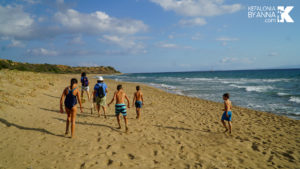 Meanwhile nature continues to thrive – the swallows are diving in the sky, the sounds of bleating lambs fill the air, and the sun is shining! All around is green with colourful bursts of flowering plants, trees and wild blooms. The air is pure and as the sun heats up the day the scent of herbs becomes prevalent. The sea is crystal clear and already warming up ready for you to dive into!
Due to the lack of traffic – both local and foreign/foot and vehicle – the local councils have taken advantage of the situation to have carried out some great improvements. The harbour side in Argostoli has seen major renovations, road works, airport development, cleaning, painting, playground building and so on have all been going on. Property and businesses owners, and locals, have been improving, gardening, cleaning and renovating too!
We hope that the numbers of Coronavirus cases continue to drop and that the strict measures on movement of people are adhered to so as to ensure our island's and its visitors safety.
So until then we will wait for you, keep your dreams alive!