We all want to help reduce waste don't we? and if we can save some cash whilst we are doing it even better!!! You don't have to be an experienced eco-warrior… here are a few simple suggestions to reduce your costs and waste on holiday and recycle!
Water
Yesterday I was asked 'Am I drinking tap water?' my answer was 'Yes!'
They were surprised and a little curious as to why then, after all of these years visiting, they'd only bought bottled water.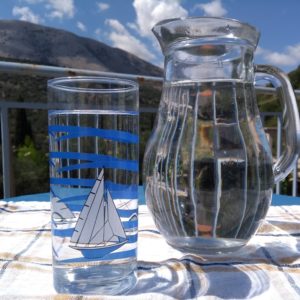 I think as visitors to a foreign country we were always told to "never drink the tap water", which in a lot of cases is very true. But here in Kefalonia, (apart from the northern region of Erissos where water comes a from de-salination process) water comes from springs via various water towers and EU Drinking Water Directives are adhered too. If you feel safer drinking bottled water that's fine, but if you want to reduce some plastic waste and/or save some money it is worth investing in a good re-useable water bottle that you can carry around with you and top up from the tap. You can take empty water bottles to the recycling bins, reduce the bulk of plastic bottles by first removing the lid, then crushing downwards from top to bottom. The bottle is designed to concertina, then pop the lid back on.
Air Conditioning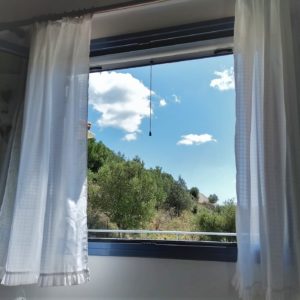 Although it's tempting to put the air conditioning (A/C) on during hot weather, it's not always the best solution. Try opening windows and doors to gain a through draft which is much more healthy for you, as you are not exposing yourself to drastic temperature changes, and definitely better for the environment. Having the window open also gives you the added bonus of the aromas of flowers and herbs wafting in! Most modern A/C units have a simple fan option which produces a cooling draft, but if you must use it try setting the temperature to a few degrees lower than the room temperature currently is. Not only will the room be more comfortable but it will reach a cooler temperature quicker. Always turn off the A/C if you have windows or doors open and if you leave the building.
Shopping bags
If you didn't bring one with you pop into a store and buy yourself a reusable shopping bag! Not only are you helping the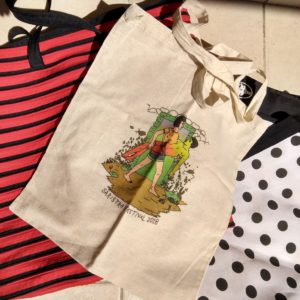 environment by reducing the use of plastic bags but you will be helping the local economy. There are many tourist stores, accessory shops and supermarkets selling a wide range of bags – and you get to take a souvenir home with you too! If you can't take your new bag home gift it to someone as you leave! At many supermarket checkouts you will find alternatives to disposable plastic bags, they are cheap, strong and often humorous.
Self-catering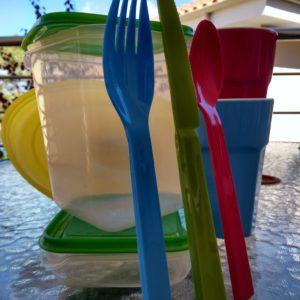 Check with your accommodation before you arrive to see if they have plastic storage boxes for your use on holiday. If not there is always something you can pack into one (or more) to bring with you. Then when you are here you can keep leftovers in your fridge, take picnics out with you, or take snacks such as cut up fruits that are usually messy to do at the beach, without the use of disposable plastic bags and clingfilm wrap. If you buy fruit and vegetables recycle the paper bags to make lunch bags for your picnics. Also consider buying a quality picnic set to bring and re-use on holidays, you can also use them at home or work.
Drinks & drinks containers, etc
Did you know that the majority of Greek beer bottles carry a deposit (Mythos, Amstel etc)?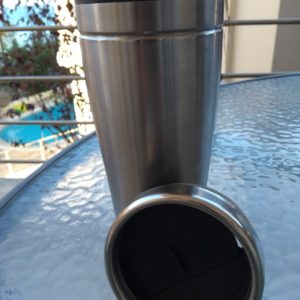 Check the bottle before you recycle them to see if a deposit is available then simply return them to the store where you purchased them for your refund. We've already mentioned using a sturdy water bottle, but how about bringing your own portable coffee cup,or buying one once you arrive? Every day I see 'disposable' coffee cups scattered on the roadsides and beaches and filling the recycle bins. Most takeaway places would be happy to fill your coffee cup (within reason – don't bring a growler!) to reduce their costs and waste. And, please, refuse a plastic straw!!!
Maps, books & leaflets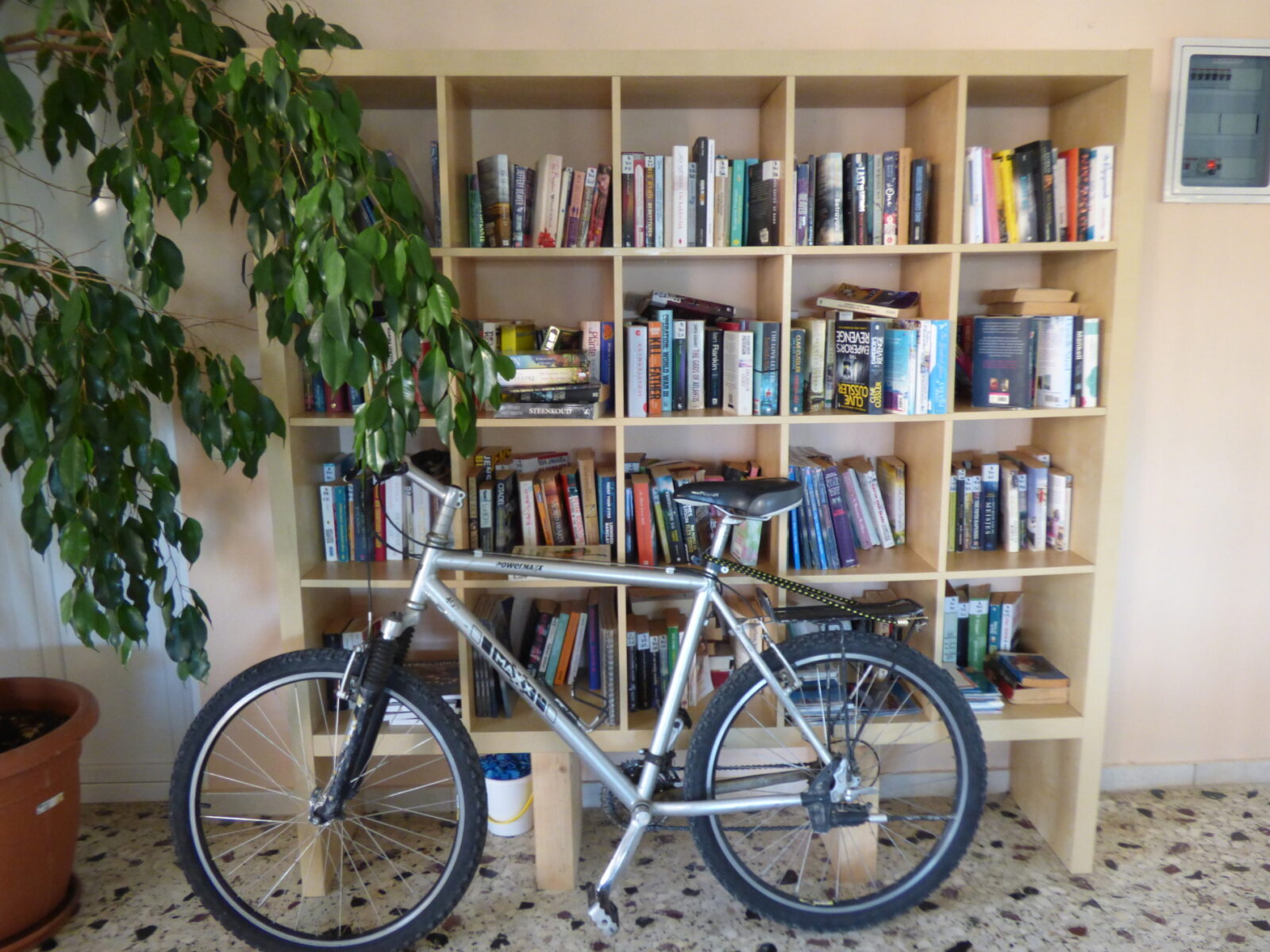 If you have finished reading your books (obviously it doesn't apply to e-Readers!)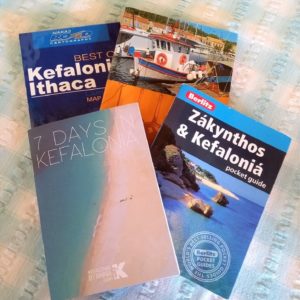 leave them for the next people, or find one of the book swaps in cafes/bars/accommodation. The same applies for maps and guide books – owners of your accommodation often like to build up a 'library' for their future guests. Leaflets and business cards cost a lot of money to produce in Greece compared to other countries so if you're not really interested don't pick them up, or if you have found something useful leave it in your accommodation for the next guests.
Beach toys, umbrellas & sea shoes
Inflatable toys, umbrellas and sea shoes can all be re-used. Take them home and save yourself some money by reusing them again next year (after all inflatables and sea shoes are not particularly bulky or heavy items), or ask fellow holidaymakers or locals on the beach if they would like your inflatable toys/umbrellas when you are leaving. Alternatively ask at your accommodation for them to be given to the next guests, or ask your accommodation neighbours. Sharing is caring!
Which is the correct bin to use?
The green bins are for rubbish and items that can not be recycled (check labelling). The blue bins are recycling bins – the one with the yellow lid for paper & cartons and the one with the red lid is for metal & plastics – if you are not sure check the illustrations on the front.
PLEASE, PLEASE, PLEASE think about the environment – recycle and reuse! Think carefully about reducing your waste! Take your recycling to the recycling bins! If you have the time collect rubbish that others have left behind and help to keep our beaches, villages and roadsides beautiful!
By Sarah O.
Photographs by Anna Votsi & Sarah O.