This is an experience not to be missed!
I had the luck to take this stunning 3 day cruise on one of the most beautiful boats, touring around the breathtaking islands of the Ionian Greek sea!
(the cruise could be arranged as a full experience or combined with some land accommodation for a longer holiday)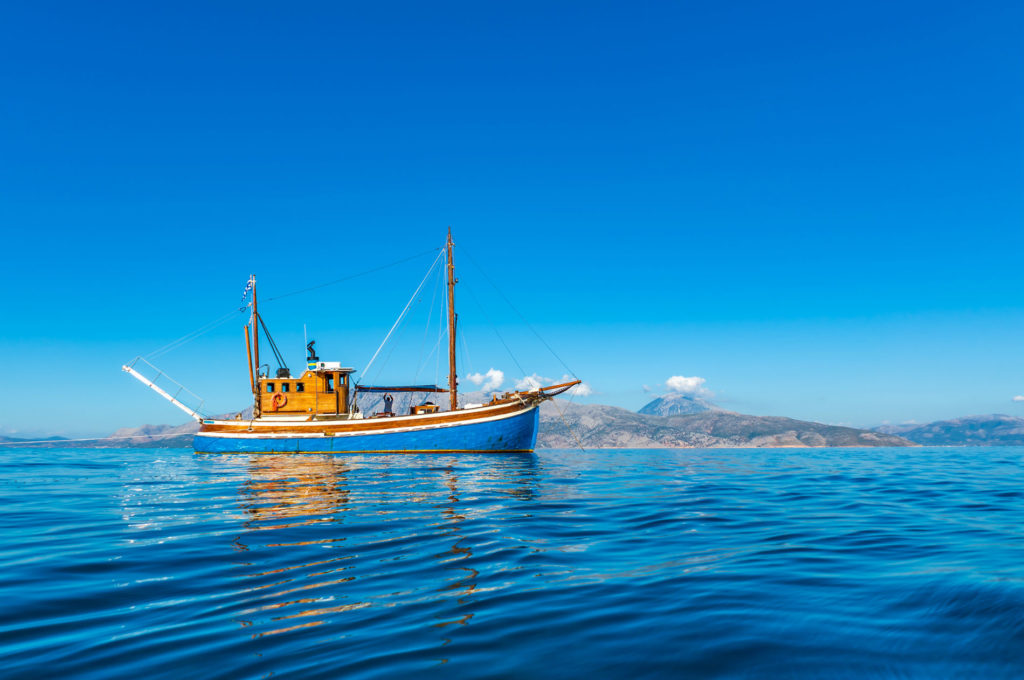 Christos (Chris) is a friendly and insightful man that has chosen a restored and transformed historic wooden fishing boat to provide a unique cruise experience that will stay memorable for many years to come.
During my years living in Kefalonia I have had the chance to join many of the different cruises offered in the Ionian Sea. My experience with Captain Chris though was so different and unique! The cruise combines five very special characteristics that makes this cruise stand out from the crowd…
1.Chris is a friendly and experienced Captain whose extensive travels around the world have given him the perfect combination of knowledge to successfully create a special experience for his guests. Chris has a wealth of expertise, and will give you insider tips and interesting information about the places that you visit. He is a great company and an asset to the cruise whether you are the social type or if you want to have private time with your loved ones. His crew are discreet and helpful as well.
2.The boat is a traditional wooden fishing boat from the 1950s. It is 16m long, and has been especially designed and lovingly transformed, with huge attention to detail, into a beautiful floating home. Spacious and comfortable you'll want to take time to appreciate all of the little details! Its spacious deck gives you a lot of space to relax on the sunbeds to enjoy the sun or get some shade, the external table is spacious to eat in comfort and if you have kids the vessel has a wooden rail that allows you to relax that your kids are safe The entire interior is wooden, there is a spacious bathroom, 1 bedroom that sleeps 4 guests and a big sitting area that can sleep an extra 3 guests. The human speed of the boat (compared to the common speedy vessels) in combination with the characteristic rhythm of the fishing boat engine succeeds in making the perfect atmosphere to relax.
3. Your meals are home made and freshly prepared on board, generous and delicious they are created using local ingredients and recipes. Captain Christos and his crew will treat you to a gastronomic experience, sampling the region's traditional foods, ranging from freshly pickled samphire to local cheeses and delicious spanakopita, most of it sourced locally either from friends in Lefkas or from family back at Christos's home in northern Greece.If you prefer to disembark onto one of the islands for the day, Chris will be happy to arrange transportation for you and will give you tips and maps and can suggest what to explore. If you decide to eat out, he can suggest the best well hidden tavernas for you who have carefully selected to be an extra experience.
4. Points of interest are carefully selected on the chosen route, after thorough investigation – secret caves, hidden beaches, amazing clear waters, observation of rare animal species – complete an authentic experience that compares no other. During your trip and depending on the length of it you could visit, Kalamos, Kastos, Meganisi, Lefkada, Ithaca, Zante, Kefalonia, and cruise around Scorpios (famous Onassis private islet…) Most of the islands are only an hour or two apart, and there's always a secluded anchorage on the way to break the journey with some swimming and snorkelling.
To get the most out of your trip I recommend spending a minimum of 3 days onboard this boat but the best option would be a week stay, if you want to explore the area without missing a moment of your holidays. Enjoy the best sunrises, the best morning swims, the awakening of nature, the birds flying around you, the fish, dolphins, seals swim around you, and if you want a break from sea life, Christos is happy to arrange transport at any of the islands to see the sights or visit a taverna in a mountain village. It's the perfect way to step off the treadmill of day-to-day life and experience a simpler way of living, closer to nature. Or you can stay onboard for the whole trip and relax observing people from far, swim at endless isolated beaches, visit selected caves, observe beautiful landscapes or visit rare geological phenomena, eat authentic Greek tastes on board whilst enjoying the sea around you, have a cocktail and watch the beautiful sunsets and relax under the stars on the deck.
5. The cruise can be combined with several extra activities on or around the boat such as snorkelling, yoga, cooking classes, kayaking, massage etc all arranged for you (at an extra cost).
This cruise is ideal for large or small families, or large or small groups of friends. The price of the cruises are extremely competitive compared to an average villa rental and the experience is priceless! Included in the price is your accommodation, meals, transport and fuel.
If you are spending more than 3 days or a week for your holidays this summer you could combine the trip with a few days in an accommodation in Kefalonia so you can explore this magic island from the land too and/or with some daily visits in the neighbouring islands.
I can highly recommend this cruise having spent some of the most relaxing and interesting days at sea ever!
For more information and prices send us your request with number of guests, dates and special interests on kefaloniaactivities@gmail.com