If you have not yet booked your holidays, just to remind you that the 2023 summer season is just a month away, so contact us to organize your trip, from accommodation to activities, tours and special days out!
Following a short winter and very mild temperatures, yesterday it was Clean Monday, which in the Orthodox Christian Church marks the end of the Carnival celebrations and the beginning of Great Lent, until Holy Easter. 
For me, it marks the beginning of Spring, the best season on this island!
By custom this day is celebrated throughout Greece with families and friends, spending a day in nature, enjoying a fasting menu and flying the kite.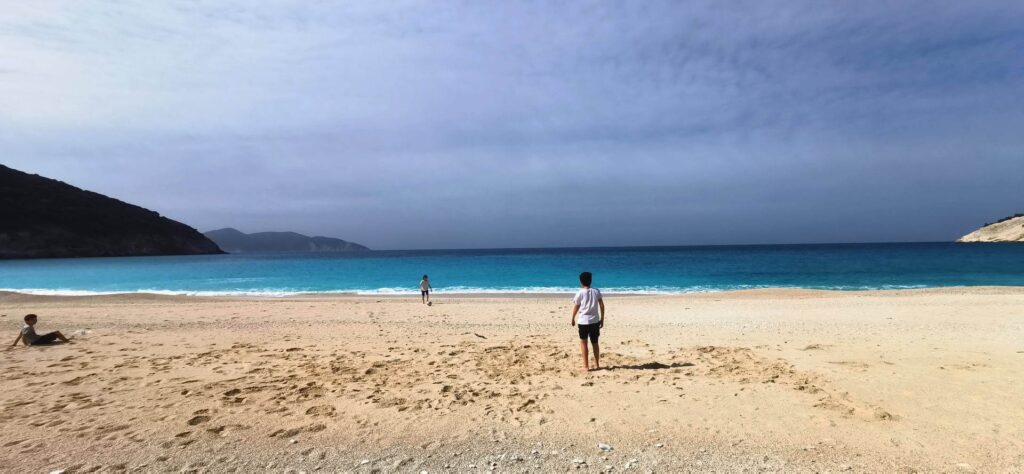 That is what we did! We chose Myrtos for the day, we prepared some dishes and we met friends to have a pic nic on the beach.
Everybody brought a different dish so we had a bit of everything, one can enjoy this special day! Octopus pasta, fish roe salad (taramosalata), squids and shrimps, olives, wine leaf rolls (dolmadakia), lagana bread (unleavened bread) and halva for dessert!
The weather was perfect, nature is at its best with the flowers and the trees blooming.
It was very refreshing catching up with friends in front of the beautiful palette of colours Myrtos beach generously offers, hearing the waves smoothly touch the coast, taking off our shoes and feeling the energy of the sun from underneath, playing with the children as a child… All of us, even our dog, Louisa, had a great time running around enjoying a sunny day!
For those who were more sociable, plenty of events took place all over the island. The events are gatherings and feasts in the villages or the capital of Argostoli, with live traditional music, dances and food in tavernas or outside. You may still see people wearing carnival masks and costumes on Clean Monday. Everyone is looking for the best way to celebrate the day.