Kefalonia is a paradise on earth waiting to be discovered, the western beaches are usually nice and calm.
Whether you are looking to relax on an exotic secluded beach or explore hidden coves, you can book one of our affordable, brand-new boats and discover all of the unique treasures that can only be admired and accessed by sea.
Our team will be right here for you, guide you for the basics and be always aware until you return safe and happy.
No motorboat license is required, our boats are equipped with 15HP and 30 HP power motors, ideal for a relaxing trip without the need of a boat-driving license. They can accommodate up to 4 passengers and they all have sun awning, inox ladder, cushions, GPS, 3D map .Simple and easy to drive, we will definitely train you and give the necessary demonstration upon rental of the boat, right there before you take off, being the captain. The boats are ideal for families, small groups, friends and for romantic sea escapes.
Safety is our number one priority and we always take seriously our job, in order for you to have a unique experience with us.
Deluxe 30HP Motorboat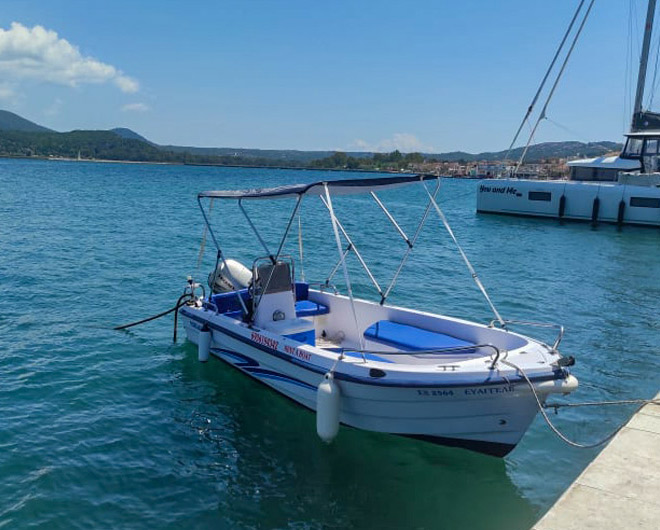 Up to 4 persons / No license required
Boat length: 4.70
Boat width: 1.85
Main engine 30hp
Auxiliary engine: 3.5hp
Fuel: 25 ltr
Fuel reserves: 12 ltr
Sun awning
Pillows
Inox ladder
Refrigerator
GPS
3D map of the area
Central console-steering wheel
Adult life jackets 5
Children's life jackets 2
Standard 15HP Motorboat
Up to 4 persons / No license required
Boat length: 4.40
Boat width: 1.60
Main engine 15hp
Auxiliary engine: 3.5hp
Fuel: 22 ltr
Fuel reserves: 12 ltr
Sun awning
Pillows
Inox ladder
Refrigerator
GPS
3D map of the area
Central console-steering wheel
Adult life jackets 5
Children's life jackets 2
Booking terms
Start time 09.00 return time 17.00 in case the tenant does not show up at the next hour, the boat will be released and the deposit will not be refunded.
Before leaving the port, a full demonstration of the boat and how to do the basics is performed, for about 15 minutes
You receive the boats full of fuel and on the return only the fuel you have consumed is paid.
A rental contract is completed to inform the public about damages.
All boats have an emergency telephone.
In case of damage the lessor will have to pay the corresponding amount, but also on the days when the boat will be out of operation if any.
Rental age over 24 years.
Excursions are subject to change due to poor weather conditions