Mythos Weddings was formed in 2007 to provide couples from across Europe the wedding of their dreams. Couples from United Kingdom, Scandinavia, Russia, Italy and other countries, choose every year Mythos Weddings to organize the most beautiful day of their lives.
Our experience, coupled with the disarming beauty of the island and our highly qualified team can guarantee a beautiful and perfectly organized wedding.
You dream it, we make it true!


Mythos honors the institution of marriage and considers the wedding day to be one of the most important days in a person's life. That's why our dedicated team is always available and willing to support you in all of your choices. The immediacy and hospitality of our people will make you feel comfortable to share your thoughts and will help you in every decision you make so that your wedding be as you dreamt it.
You can have your wedding at the sea in a picturesque location, at a church or at your villa. Mythos has thorough knowledge of all the special locations on Kefalonia and has exclusivity in the organization and carrying out of weddings at some wonderful churches and villas on the island, be it an open wedding or a closed reception with numerous guests! Its specialized staff is ready to fully deliver the event of your dreams on the beautiful island of Kefalonia or to suggest places for the ceremony and the reception that you had not hitherto imagined.
Mythos will carry out all the preparations of the wedding, from setting the scene of your choice to the last detail of the paperwork so you can enjoy this unique day relaxed and carefree. As soon as you arrive on the island everything will be ready for the wedding day and we will guide you through each step of the process so you can enjoy the ceremony and the presence of your beloved ones.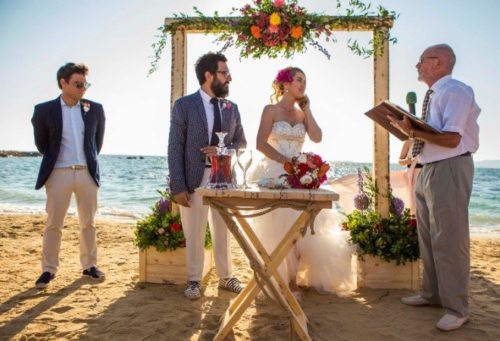 Contact Info
Please mention Kefalonia By Anna when you contact
Mythos, wedding planning