The island of Kefalonia is, of course, surrounded by water! The coastline is varied and offers wild nature, cliff faces, beautiful pebbly coves and stunning sandy beaches. There are also magnificent lakes and rare geological phenomena to explore as well as the more man-made water parks and swimming pools. An abundant amount of water based activities exist to suit all tastes and budgets, ranging from boat tours, fishing trips and private boat hire to diving, and fun and extreme water sports! Whatever your preferences – extreme or sedate, on the sea, under the sea, or in the pool – there is something for you…
Boat tours & fishing trips
Enjoy a wonderful maritime experience on the beautifully restored 1950's wooden fishing boat – Ionian Spirit. The welcoming crew of Ionian Spirit will make sure that you have the best possible experience of nature and culture in an informative, adventurous and comfortable trip.
From Katelios you can experience traditional fishing with nets or longline with an organised tour with Fishing Tourism Kefalonia "Dimitrios-Efthimia", then enjoy a swim whilst lunch is prepared onboard, and afterwards explore some of the more isolated beaches.
Join Captain Gerasimos Mourelatos a fisherman for 40 years in Kefalonia with Poseidon Fishing Tourism, Lixouri. Setting sail around 8.30 in the morning and returning at around 4pm. Pick up and drop off at the Lixouri Harbor or Argostoli Harbor. Day includes collecting the catch, laying the nets and lunch. Look out for turtles and dolphins
Fishing Tourism in Kefalonia "Michalis" – Captain Michalis takes passenger on his traditional wooden Greek fishing boat, leaving from the port of Agia Pelagia in Svoronata . Guests are invited to join in with collecting the catch if they wish, after which lunch is served and you can visit isolated beaches before returning. He also specialises in fishing trips for swordfish.
Leaving from Agia Kyriaki Port at Zola village with Captain Dionisis Kefalonia Fishing Tours, who has already cast his nets the previous night, guests are invited to join in with collecting the catch if they wish to. After the fishing guests can swim and relax on the one of the isolated beaches if they prefer while lunch is prepared.
Also leaving from Agia Pelagia is the Atlantis semi-submarine. Take an illuminating look at the beautiful seabed of Kefalonia and the creatures that lurk beneath the surface of the sea during a tour in a semi-submarine towards Zeus, the King of the Gods islet and, in our long tour, to White Rocks Beach!
Join Captain Simos from the lovely small harbour at Agia Kyriaki on his fishing boat "Melissa" and have a choice of two routes exploring the eastern side of Paliki Peninsula, visiting remote beaches and stopping in the bay of Atheras or Assos.
Leaving from Fiskardo the charming and friendly team at Ionian Discoveries – Marine Adventure offer a special voyage of excitement and discovery for friends and families (even with young children) on their traditional Greek wooden boat called a Kaiki.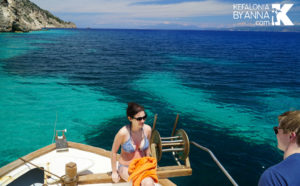 Daily Cruises, Sami Star have experienced and kind captains along with an enthusiastic crew, leaving from the port of Sami to will take you on unique cruises in the spectacular Ionian waters to Ithaca.
Every morning the Romantika, Daily Cruises sets sail from the harbour at Agia Efimia to tour nearby beaches, coastline and to nearby islands.
Kefalonia Cruise – Lady O offer several day trip options cruising from Argostoli or Lixouri ports, on their 60ft vessel Lady O, including a naturist cruise, a sunset cruise and a BBQ cruise.
Prime Sailing based in Fiskardo harbour offer day trips around Fiskardo and to Ithaka. There is the option as well of visiting Livadi bay, the isolated beach of White Rocks, the islet of Vardiani or Rabbit Island and the red sandy beach of Xi aboard the Caramela.
You can enjoy traditional Greek food and plenty of wine on a Dreamy Cruise, sailing daily from Argostoli with brother-in-laws Vagelis and Thanasis. They offer several options for trips.
Take a trip with Captain Petros on the family owned wooden boat the Queen Bee, leaving from Argostoli harbour. Intimate daily and sunset cruises take place to explore the coastline with a maximum of 25 guests, plus home cooked food and refreshments are served onboard.
Join Captain Makis Glass Bottom Boat on his famous beach barbecue with the special glass bottom boat along with sizzling souvlaki and famous Kefalonian wine on the stunning beaches.
Captain Vangelis Special Cruises welcomes you on board to discover some of the hidden and unreachable beaches of Kefalonia, Ithaca, Fiscardo, and Zakynthos on his daily cruises. Capt. Vangelis' forty years of experience, his meraki (passion), his love for Skala, guarantees a very special day for you and your family or friends.
Argo Daily Cruise, Skala has trips to southern beaches of Kefalonia, Fiskardo and further afield to Zakynthos and Ithaka on a traditional wooden boat. Special cruises can also be arranged including BBQ, sunset and VIP trips.
Take a daily cruise, a sunset cruise, a private cruise or a cruise to Zante with Lixouri Cruises by Gloria on this beautiful and comfortable boat. Visit Vardiani Island, isolated beaches, swim and snorkel and have a wonderful homemade lunch on board.Enjoy the romance of sunset and evening swimming on the sunset cruise. The boat is available for private groups too.
Private boat charters and self-driven rentals

Discover Koutavos Lagoon in Argostoli and meet the turtles with Argostoli Lagoon Activities it's a fun way to see our birds and wildlife close up in the nature reserve.
You can charter the vessel of Kefalonia Yachts and choose on of their unique itineraries – whether it's breath-taking natural beauty, intriguing historical heritage or adrenaline pumped adventure your looking for!
Charter the cruise boat Lady O from Kefalonia Cruise -Lady O for a private tour, a few days a conference or business meeting! The 60ft vessel has cabins, a bathroom and a galley. They also offer wedding packages.
Regina's Boats, based in Fiskardo is a fun and exciting way to explore Kefalonia with you as the Captain! Choose your own itinerary and enjoy swimming, snorkelling and exploring the seas in one of their rental boats.
At the small jetty in front of Hotel Boulevard in Agia Efimia Johnny at Boulevard Boats has 6 boats of 15 hp, 4.3 meters length, which take 5 people each. Johnny has a wealth of information on places to visit – there is a great selection of cruising options from Agia Efimia -and he can even organise drinks and sandwiches to put in the fridge on board.
Yellow Boats have offered rental services since 1998 in Agia Efimia and provide a great alternative way to explore the region. Most of the beaches you will reach are not accessible by car or by foot – 12 secluded and isolated wonderful coves and rock formations can be explored this way.
Pirates Rent a Boat, Sami provide 4.85 & 5.10 meters boats, SUZUKI 30 HP, TOHATSU 30HP, engines 2018-2019 models, auxiliary 5 HP, canopy, umbrella, cooler box, insurance and GPS services. Visit places with a unique beauty that you have access ONLY by hiring a boat!!!
Kefalonia Compass Rent a Boat, Sami have boats are designed for families, couples and groups of all ages, perfect to enjoy a day out for sightseeing, swimming, fishing or snorkelling. Be your own captain and explore the beautiful coastline by boat from Sami harbour.
Conteco – Rent a Boat is the only boat rental in the heart of beautiful Assos at Kefalonia island. They run a fleet of brand new, well equipped and highly maintained rental boats. A great opportunity to discover the most beautiful parts of Assos and surrounding private beaches.
Water sports
The Aquatic Scuba Diving Club in Agia Efimia offers a full range of training courses and dive packages for qualified divers and complete beginners. The islands characteristic giant rocks, great caves, reefs, walls, wrecks and rich underwater life provide numerous exciting dive sites for divers of all levels.
Fiskardo Divers is a PADI Dive Centre run by a Master Scuba Trainer with extensive dive experience who has taught scuba diving in Fiskardo since 2000.
Blue Manta Diving & Aquanautic Club, Skala, offers all diving courses, diving for qualified divers and beginners and snorkelling for all, with the highest safety and quality standards in a small, friendly dive club.
Whether its adventure you seek or just a leisurely paddle, Fiskardo Kayak's range of kayaks will cater for all needs and levels of experience. Rent a kayak or book a guided tour (extra charge) to all the best beaches, sea caves and beautiful bays with one of their local guides.
Explore the local coves and coastline on an eco-friendly stand up paddle board from Ionian SUP, you can rent their equipment from 1 hour to 7 days, they'll deliver to your beach of choice.
Sea Kayaking Kefalonia' is a sea kayaking outfitter based at Trapezaki, near Argostoli. They organise day and multi-day kayak trips in the crystal clear and warm waters of Kefalonia, Ithaca and the broader area of central Ionian Sea, as well as sea kayak courses in Kefalonia and Athens.
Just a few kilometres from Lixouri, at the Ionian Sea Hotel, you will find Aqua Park where you can have fun at the 5 spectacular waterslides and two swimming pools. Its ideal for families – you can get meals and drinks there too.
Kefalonia Water Sports lies on the Makris Gialos beach in Lassi, Argostoli. You can have fun by taking a ride on various inflatables and other skis and boards.
You can hire an Electric Boat, a Hydro Bike or a Pedal Boat from Argostoli Lagoon Activities and get out onto Koutavos Lagoon
Extreme Watersports is located on Antisamos Beach for activities such as jet ski, wakeboard/kneeboard, water ski, crazy sofa, tubes and sliders, banana, rides, pedal boats, sub-wing, and more!
Dolphin Ski Club run by Mike & Mike (partners since 1986) is located on Skala Beach. They offer a friendly professional service, and have all the latest equipment and rides available including boat hire, inflatable rides, skiing, wakeboard, parasailing and more.
At Xi Beach you can have fun with Baywatch Beach Bar & Watersports with inflatable rides, jet skis, and waterskiing and also enjoy a lunch, dinner or drink!