The island of Kefalonia is, of course, surrounded by water! The coastline is varied and offers wild nature, cliff faces, beautiful pebbly coves and stunning sandy beaches. There are also magnificent lakes and rare geological phenomena to explore as well as the more man-made water parks and swimming pools. An abundant amount of water based activities exist to suit all tastes and budgets, ranging from boat tours, fishing trips and private boat hire to diving, and fun and extreme water sports! Whatever your preferences – extreme or sedate, on the sea, under the sea, or in the pool – there is something for you…
Boat tours & fishing trips
From Katelios you can experience traditional fishing with nets or longline with an organised tour with Fishing Tourism Kefalonia "Dimitrios-Efthimia", then enjoy a swim whilst lunch is prepared onboard, and afterwards explore some of the more isolated beaches.
Fishing Tourism in Kefalonia "Michalis" – Captain Michalis takes passenger on his traditional wooden Greek fishing boat, leaving from the port of Agia Pelagia in Svoronata . Guests are invited to join in with collecting the catch if they wish, after which lunch is served and you can visit isolated beaches before returning. He also specialises in fishing trips for swordfish.
Join Captain Simos from the lovely small harbour at Agia Kyriaki on his fishing boat "Melissa" and have a choice of two routes exploring the eastern side of Paliki Peninsula, visiting remote beaches and stopping in the bay of Atheras or Assos.
Leaving from Fiskardo the charming and friendly team at Ionian Discoveries – Marine Adventure offer a special voyage of excitement and discovery for friends and families (even with young children) on their traditional Greek wooden boat called a Kaiki.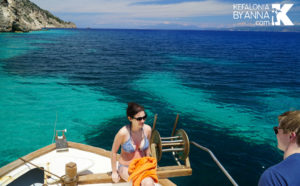 Daily Cruises, Sami Star have experienced and kind captains along with an enthusiastic crew, leaving from the port of Sami to will take you on unique cruises in the spectacular Ionian waters to Ithaca.
Every morning the Romantika, Daily Cruises sets sail from the harbour at Agia Efimia to tour nearby beaches, coastline and to nearby islands.
Kefalonia Cruise – Lady O offer several day trip options cruising from Argostoli or Lixouri ports, on their 60ft vessel Lady O, including a naturist cruise, a sunset cruise and a BBQ cruise.
Private boat charters and self-driven rentals

Discover Koutavos Lagoon in Argostoli and meet the turtles with Argostoli Lagoon Activities it's a fun way to see our birds and wildlife close up in the nature reserve.
You can charter the vessel of Kefalonia Yachts and choose on of their unique itineraries – whether it's breath-taking natural beauty, intriguing historical heritage or adrenaline pumped adventure your looking for!
Charter the cruise boat Lady O from Kefalonia Cruise -Lady O for a private tour, a few days a conference or business meeting! The 60ft vessel has cabins, a bathroom and a galley. They also offer wedding packages.
Regina's Boats, based in Fiskardo is a fun and exciting way to explore Kefalonia with you as the Captain! Choose your own itinerary and enjoy swimming, snorkelling and exploring the seas in one of their rental boats.
At the small jetty in front of Hotel Boulevard in Agia Efimia Johnny at Boulevard Boats has 6 boats of 15 hp, 4.3 meters length, which take 5 people each. Johnny has a wealth of information on places to visit – there is a great selection of cruising options from Agia Efimia -and he can even organise drinks and sandwiches to put in the fridge on board.
Water sports
The Aquatic Scuba Diving Club in Agia Efimia offers a full range of training courses and dive packages for qualified divers and complete beginners. The islands characteristic giant rocks, great caves, reefs, walls, wrecks and rich underwater life provide numerous exciting dive sites for divers of all levels.
Whether its adventure you seek or just a leisurely paddle, Fiskardo Kayak's range of kayaks will cater for all needs and levels of experience. Rent a kayak or book a guided tour (extra charge) to all the best beaches, sea caves and beautiful bays with one of their local guides.
Just a few kilometres from Lixouri, at the Ionian Sea Hotel, you will find Aqua Park where you can have fun at the 5 spectacular waterslides and two swimming pools. Its ideal for families – you can get meals and drinks there too.