The mountains, coastline, beaches, lakes and valleys of Kefalonia make for an exciting playground of land-based activities.
Towns and villages, fantastic beaches, rural countryside and tourist resorts offer a massive array of things to do ranging from the sedate and relaxing to the extreme and adrenaline fuelled!
Horse riding & donkey trekking
Connie, the owner of the Bavarian Horse Riding Stables, just outside of Sami, is the perfect guide and a great professional. A ride will give you a unique view of Kefalonian nature, you will travel through valleys, hills and woods and you can even swim with the horses! Beginners, Experienced, Young and old riders are welcome – ride using English and Western Saddles. The stables also provide lessons in Dressage and jumping.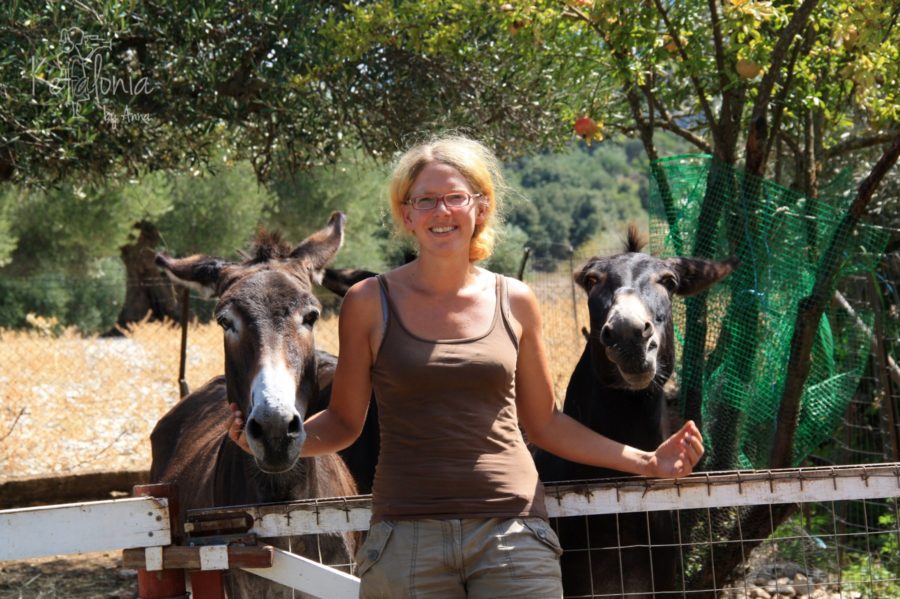 Pantelis Deftereos is the owner and manager of Kefalonia Horse Riding Stable located just outside of Sami. From a young age, he has been involved with horses, caring for them, training them and riding. Horses are his passion, his hobby and his life. You can enjoy the harmony of nature, take the mountain trails, and ride through the local forest and olive groves with him. From beginners to advanced riders welcome. Come visit the stables and learn more about the care and life of horses as well as riding as a hobby or professionally.
Get off the beaten track together with Katerina and her donkey ladies Grisella, Wiolätta, Dora and Louise at Donkey Trekking Kefalonia, and discover the beauty and rich history of Kefalonia the traditional way. Enjoy amazing views over the bay of Sami, evergreen valleys of the area and dive into the history of the island.
Extreme sports
Let the team at Wild Nature Expeditions show you an alternative way to explore the island's beauties; they offer a wide selection of activities including caving, hiking, Jeep safari, rock climbing, coastering, star gazing and guided tours.
Hiking, walking & cycling
Rent an eBike (electric bicycle) and discover secret and unspoilt areas of Erissos, north Kefalonia. From amateur to professional cyclists Ionian e-bikes provides the opportunity to have fun and explore without the use of environmentally unfriendly vehicles. Many itineraries are available.
Explore the region of Sami on well maintained and modern mountain bikes from Bikexpert – Contessina. Explore Antisamos Beach, Ancient Sami, or ride to Agia Efimia! The staff will be happy to inform you about nice routes around the area! There are so many places within reach to ride to. Safety helmets and child seats are available.
Hire a bicycle or scooter from Ainos Bikes and Scooters in Argostoli and explore the region and the island more fully. They offers all types of bicycles and a wide range of models: BMX , DIRT , mountain biking, hiking, City, Road, FULL SUSPENSION , e- bike, etc and many children's bikes (from the age of two years).
Guided hiking and cycling tours are available with Wild Nature Expeditions – they can take you to some fabulously remote beaches and up onto Mount Ainos.
Wineries and food
Taste unique Kefalonian wines and learn everything about the winemaking, as you move between vineyards and wineries, in an intimate small group (max. 10 people) or private wine tour / excursion with Julia, an expert wine guide at Kefalonia Wine Tour.
The winery and vineyards of the Robola Cooperative are set amongst the rolling hills in the picturesque Omala Valley in the Robola Zone.
The winery and vineyards are open to the public every weekday for free tastings and purchase and is located night to Saint Gerasimos Monastery.
Experience Kefalonia through creating & tasting a selection of Greek meze dishes. Held outdoors, in a beautiful sea-side garden taste your way through local products with the Taste Kefalonia Food Experience!
Would you like to know more about making organic soap from local produce? Or learn how to make cheese in the traditional way? Ever wondered how we milk the animals? Contact me for a tailor made experience.
Have a look at our Guide to Local Products and Crafts to see the variety of food, drink and crafts available on the island.
Other tours
Book a taxi for a day, or a half day, for an exclusive island tour with Dimitra or Cosmas! They have extensive local knowledge, know out-of-the-way places, traditional places, and take all of the worry out of driving and navigating the island. Sit back, relax and take in the scenery! Dimitra and Cosmas can collect you from your holiday accommodation, your cruise ship or your yacht.
If you want to explore the island or Ithaka without driving taking an excursion is a great way to do it! We can arrange four different excursions that include pick-up and drop-off from convenient locations in Agia Efimia, Karavomylos and Sami; Fiskardo by Night, North of Kefalonia, Island Highlights, and Mythical Ithaka!
Kefalonia has always been an attractive destination for family holidays making the opportunity for combining quality family time with fun activities easy. It is ideal for travellers with children that are looking for some stress free time connecting with their family whilst exploring the island. Older family groups can also find plenty to do! Activities are wide ranging from exciting day or night time tours on land or sea to fun in the water and everything in between!