Kefalonia has always been an attractive destination for family holidays making the opportunity for combining quality family time with fun activities easy.
It is ideal for travellers with children that are looking for some stress free time connecting with their family whilst exploring the island. Older family groups can also find plenty to do! Activities are wide ranging from exciting day or night time tours on land or sea to fun in the water and everything in between!
Land tours
Connie, the owner of the Bavarian Horse Riding Stables, just outside of Sami, is the perfect guide and a great professional. A ride will give you a unique view of Kefalonian nature, you will travel through valleys, hills and woods and you can even swim with the horses! Beginners, Experienced, Young and old riders are welcome – ride using English and Western Saddles. The stables also provide lessons in Dressage and jumping.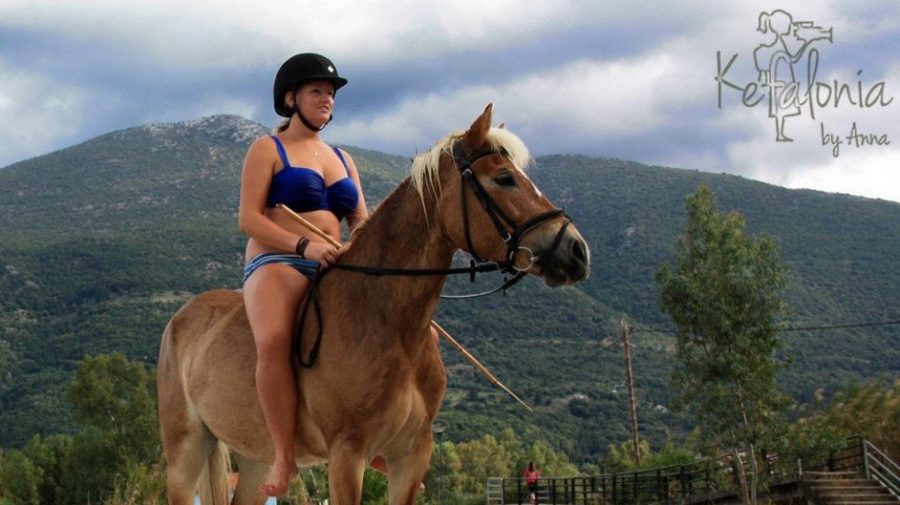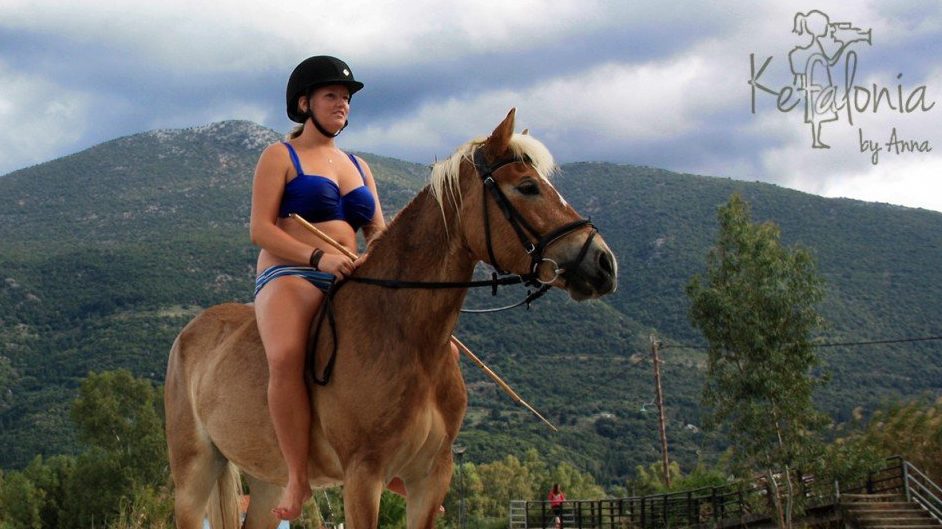 Pantelis Deftereos is the owner and manager of Kefalonia Horse Riding Stable, located just outside of Sami. From a young age, he has been involved with horses, caring for them, training them and riding. Horses are his passion, his hobby and his life. You can enjoy the harmony of nature, take the mountain trails, and ride through the local forest and olive groves with him. From beginners to advanced riders welcome. Come visit the stables and learn more about the care and life of horses as well as riding as a hobby or professionally.
Get off the beaten track together with Katerina and her donkey ladies Grisella, Wiolätta, Dora and Louise at Donkey Trekking Kefalonia, and discover the beauty and rich history of Kefalonia the traditional way. Enjoy amazing views over the bay of Sami, evergreen valleys of the area and dive into the history of the island.
Join the team at Wild Nature Expeditions for a Jeep safari, an exciting and educational night on Mount Ainos stargazing, or an Island Tour in their off-road vehicle.
Water sports
The Aquatic Scuba Diving Club in Agia Efimia offers a full range of training courses and dive packages for qualified divers and complete beginners. The islands characteristic giant rocks, great caves, reefs, walls, wrecks and rich underwater life provide numerous exciting dive sites for divers of all levels.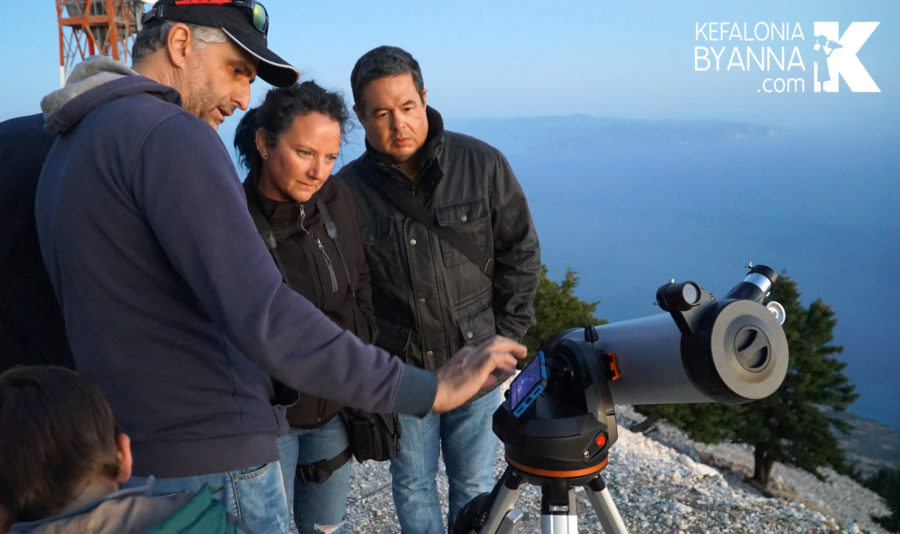 Whether its adventure you seek or just a leisurely paddle, Fiskardo Kayak's range of kayaks will cater for all needs and levels of experience. Rent a kayak or book a guided tour (extra charge) to all the best beaches, sea caves and beautiful bays with one of their local guides.
Just a few kilometres from Lixouri, at the Ionian Sea Hotel, you will find Aqua Park where you can have fun at the 5 spectacular waterslides and two swimming pools. Its ideal for families – you can get meals and drinks there too.
Explore the local coves and coastline on an eco-friendly stand up paddle board from Ionian SUP, you can rent their equipment from 1 hour to 7 days, they'll deliver to your beach of choice.
At Xi Beach you can have fun with Baywatch Beach Bar & Watersports with inflatable rides, jet skis, and water skiing and also enjoy a lunch, dinner or drink!
Boat tours & fishing trips
Enjoy a wonderful maritime experience on the beautifully restored 1950's wooden fishing boat – Ionian Spirit. The welcoming crew of Ionian Spirit will make sure that you have the best possible experience of nature and culture in an informative, adventurous and comfortable trip.
From Katelios you can experience traditional fishing with nets or longline with an organised tour with Fishing Tourism Kefalonia "Dimitrios-Efthimia", then enjoy a swim whilst lunch is prepared onboard, and afterwards explore some of the more isolated beaches.
Fishing Tourism in Kefalonia "Michalis" – Captain Michalis takes passenger on his traditional wooden Greek fishing boat, leaving from the port of Agia Pelagia in Svoronata . Guests are invited to join in with collecting the catch if they wish, after which lunch is served and you can visit isolated beaches before returning. He also specialises in fishing trips for swordfish.
Join Captain Simos from the lovely small harbour at Agia Kyriaki on his fishing boat "Melissa" and have a choice of two routes exploring the eastern side of Paliki Peninsula, visiting remote beaches and stopping in the bay of Atheras or Assos.
Leaving from Fiskardo the charming and friendly team at Ionian Discoveries – Marine Adventure offer a special voyage of excitement and discovery for friends and families (even with young children) on their traditional Greek wooden boat called a Kaiki.
Daily Cruises, Sami Star have experienced and kind captains along with an enthusiastic crew, leaving from the port of Sami to will take you on unique cruises in the spectacular Ionian waters to Ithaca.
Every morning the Romantika, Daily Cruises sets sail from the harbour at Agia Efimia to tour nearby beaches, coastline and to nearby islands.
Kefalonia Cruise – Lady O offer several day trip options cruising from Argostoli or Lixouri ports, on their 60ft vessel Lady O, including a naturist cruise, a sunset cruise and a BBQ cruise.
Prime Sailing based in Argostoli harbour offer day trips to Livadi bay, the isolated beach of White Rocks, the islet of Vardiani or Rabbit Island and the red sandy beach of Xi aboard the Caramela.
You can enjoy traditional Greek food and plenty of wine on a Dreamy Cruise, sailing daily from Argostoli with brother-in-laws Vagelis and Thanasis. They offer several options for trips.
Private boat rentals
Discover Koutavos Lagoon in Argostoli and meet the turtles with Argostoli Lagoon Activities it's a fun way to see our birds and wildlife close up in the nature reserve.
You can charter the vessel of Kefalonia Yachts and choose on of their unique itineraries – whether it's breath-taking natural beauty, intriguing historical heritage or adrenaline pumped adventure your looking for!
Charter the cruise boat Lady O from Kefalonia Cruise – Lady O for a private tour, a few days a conference or business meeting! The 60ft vessel has cabins, a bathroom and a galley. They also offer wedding packages.
Regina's Boats, based in Fiskardo is a fun and exciting way to explore Kefalonia with you as the Captain! Choose your own itinerary and enjoy swimming, snorkelling and exploring the seas in one of their rental boats.
At the small jetty in front of Hotel Boulevard in Agia Efimia Johnny at Boulevard Boats has 6 boats of 15 hp, 4.3 meters length, which take 5 people each. Johnny has a wealth of information on places to visit – there is a great selection of cruising options from Agia Efimia -and he can even organise drinks and sandwiches to put in the fridge on board.
Hiking, walking & cycling
Rent an eBike (electric bicycle) and discover secret and unspoilt areas of Erissos, north Kefalonia. From amateur to professional cyclists Ionian e-bikes provides the opportunity to have fun and explore without the use of environmentally unfriendly vehicles. Many itineraries are available.
Explore the region of Sami on well maintained and modern mountain bikes from Bikexpert – Contessina. Explore Antisamos Beach, Ancient Sami, or ride to Agia Efimia! The staff will be happy to inform you about nice routes around the area! There are so many places within reach to ride to. Safety helmets and child seats are available.
Hire a bicycle or scooter from Ainos Bikes and Scooters in Argostoli and explore the region and the island more fully. They offers all types of bicycles and a wide range of models: BMX , DIRT , mountain biking, hiking, City, Road, FULL SUSPENSION , e- bike, etc and many children's bikes (from the age of two years).
Guided hiking and cycling tours are available with Wild Nature Expeditions – they can take you to some fabulously remote beaches and up onto Mount Ainos.