Argo Daily Cruises takes you to the amazing blue seas of the Ionian, presenting you with unique experiences and leaving you with the most memorable summer memories. Our traditional wooden boat departing from Skala beach offers you the opportunity to visit the famous island of Zante. You will see the most beautiful beaches, and the Shipwreck and explore the great Blue Caves while swimming.
We also offer you cruises to the mythical island of Ithaca, the green island known as the island where Odysseus was from. You can swim in one of the most beautiful beaches, the Gidaki as well as wander around Vathi and the small Venetian Streets.
If you love adventure and nature, we highly recommend our day trip to the unexplored beaches of Southern Cephalonia: Kako Lagadi, Mini Mirtos (Koutsoupia), and Makria Petra.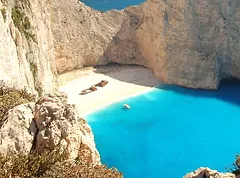 ZAKINTHOS
Enjoy travelling with our traditional wooden boat to one of the most impressive beaches of Zante, the "Shipwreck", also known as the "Navagio". It is located on the northwest side of this beautiful island and it is only accessible by boat. It was created in 1980 when the ship "Panagiotis" sunk in this famous gulf due to the terrible weather conditions in the area as well as mechanical impairments. It was transporting illegal cigarettes to international waters at the time of the mishap.
While visiting this incredible beach, the "Shipwreck", don't miss the opportunity to swim in the spectacular deep blue waters. Admire the tall, magical cliffs and explore the interior of the ship as though it were an adventure!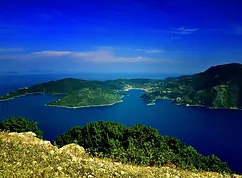 ITHAKA
Ithaki is one of the 7 Ionian islands which are located in northeastern Cephalonia. It is named after the first person who settled on this beautiful island, Ithaka, the son of Poseidon and Amfimelis.
Homer of the Odyssey, the mythical legend, described this island as three things: Destination, Nostalgia and Love. After the Trojan War, Homer wanders around for ten years until he finally reaches his beloved motherland.
Visit the beaches which are full of white pebbles. You won't get enough of diving into the deep, calm and emerald, water. Observe the evergreen vegetation that reaches the coast. The scenery is unique and unforgettable.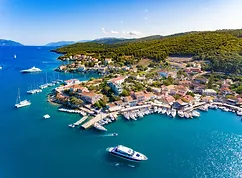 FISKARDO
Fiscardo is located on the northern tip of Kefalonia in an area so beautiful that the Greek government has protected it by law. Around Fiscardo, dense forests reach down to innumerable small coves where pebble beaches are lapped by crystal clear water.
Uniquely in Kefalonia, Fiscardo retains the architecture and ambience of a by-gone era – a time when the Venetians ruled Kefalonia. The picturesque harbour is surrounded by Venetian-style houses painted in pastel colours, in summer the harbour is filled with vessels from small sailing boats to large yachts all nestled together a few feet from pavement restaurants and cafes specialising in traditional Greek cuisine.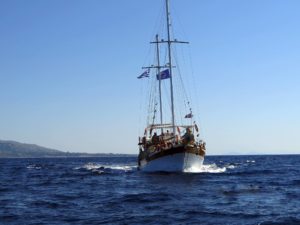 If you need more information for this service or you want to make a reservation preferably complete the form below or give us a call on +30 6977410877