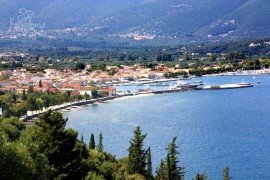 The region of Sami is located on the central east coast of Kefalonia, and is characterised by lush green mountains, rugged coastline, beautiful beaches and bustling traditional villages.
The town of Sami is the second major port of the island, offering both direct ferry routes to the mainland, Ithaka and Italy. Because Sami is centrally located it's an ideal base from which to explore the island. Sami town, and it's surrounding areas, provided many backdrops and scenery for the movie Captain Corelli's Mandolin. Sami is a modern village with everything you need  from a pharmacy and a medical centre, to ATMs, a post office, police, coastguard and a fire department. There are a plenty of shops to buy souvenirs and jewellery, supermarkets and grocery stores.
Karavomilos is the second biggest village in the region, offering a quiet low key atmosphere, located along the coastline. You will find a couple of tavernas here, plus a bakery and mini market. Two more notable villages in the region are Grizata and Digaleto.
There are plenty of things to do and see in the region of Sami. One of the most beautiful beaches on Kefalonia can be found here – Antisamos beach is perfect for snorkelling and water sports and is just outside of Sami village. You can relax at Mojito Beach-Bar Restaurant right on the beach. Other notable beaches in this region include Paliouras, Sami beach and Koutsoupia
Towering above Sami is Ancient Sami, one of the most important archeological discoveries of Kefalonia,  and Agrilia Monastery both offering fine views over Sami, towards Ithaka and beyond. You can drive to Ancient Sami and the monastery but there is a walking trail through some fabulous areas. Close by you will also find the church and ruins of Agios Fanentes. If you like walking there is also the 7 mills trail that will take you through historic areas with the remains of watermills. Located close by to the watermills are the Bavarian Horse Riding Stable and a Donkey Trekking Stables.
There is a waterside footpath that takes you from Sami to Karavomilos (approx. 1.2km one way), you can wander between the tall eucalyptus trees, and if you want, you can have a quick swim at Sami beach or if you prefer a pool, you can have a drink or snack at Karavomilos camping.  The footpath ends at Karavomilos Lake where you can see the old watermill, here the water has traveled from Katavothres (Argostoli) through the mountains in a display of rare geological phenomenon. If you prefer to cycle rent a bike from Sami.
For those of you that love natural phenomena Sami offers three outstanding places to visit – Karavomilos Lake, Melissani Lake and Drogarati Caves. Seventeen cave sites have been recorded in the area – a rare occurrence in Greek geomorphology – and significant in tracing the area's prehistoric period. If you want to explore some of the caves check out Wild Nature Expeditions. More sedate attractions include the Casa-House Museum in Karavomilos, a gentle 25 minutes seas-side stroll from Sami village, or a day trip on the Sami Star.
There are many places to eat and drink in Sami, and the wide waterfront tree-lined bay offers amazing views to Ithaka.  You can sit and watch the world go by whilst enjoying local cuisine at it's best. Enjoy some Greek fast food at Mangiare, or a lunch or dinner at Contessina, Karnagio, or Melissani Taverna. There are also a couple of unique places to drop into in the back streets, including In Gallery fine art and local craft shop.
There are many options for accommodation in the region of Sami. From luxury hotels to rented rooms it has everything to offer, take a look at my selections below.