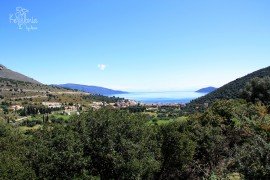 The region of Pylaros is located in the north-central part of the island. The landscape is dominated by a valley formed between two mountains, Agia Dynati and Kalon Oros with amazing coastline at either end.
The largest settlement in Pylaros is Agia Efimia, other notable villages here include Makriotika, Divarata, Antipata, Logarata, Markata, Vasilopoulata,  Potamianata, Anomeria, Krini,  Xeropotamos, Drakopoulata, Feredinata, Dendrinata,  and Siniori (Divarata).
Agia Efimia was traditionally a fishing village and retains it's charm with it's bustling harbour and welcoming local population. It's an ideal base for staying and exploring the rest of the island, offering the visitor plenty of amenities. The Agia Efimia Chandlers is a good place for boating and water sports supplies, clothing, tools and equipment.
There are plenty of things to do and see in Pylaros. One of the most stunning beaches in Greece, if not the world, can be found here – beautiful and breathtaking, any visitor to Kefalonia should not leave without seeing, Myrtos Beach. It's ultra blue waters are amazing, and although it gets very busy in the high season, it is a large beach with space for everybody. Other beaches in the area can be found in Agia Efimia and along the coastline between Pylaros and Sami including Lithovatis, (Agia Efimia),  Agia Efimia Beach, and Agia Paraskevi…there are many nameless coves and beaches to discover.
You can take an organised boat tour from the harbour at Agia Efimia, or rent a small hire boat from Boulevard Boats to explore the seas yourself! If you prefer to see what's below the surface you can go diving with Makis, a professional instructor, at Aquatic Scuba Diving Club. For something a little different and delicious join in the cooking lessons offered at Sea Rock ws and learn about local dishes and products and then eat them!
There are many walking trails in this area, they include Agia Efimia to Themata Monastery , Traces of Old Agia Efimia, walking paths to Myrtos, in Drakopoulata, and in and around the valley. Visit the Roman Villa, whilst in Agia Efimia.
Makriotika, at the heart of Pylaros, is the only village that has maintained a lot of the color and character of the pre earthquake times, it offers a nice walk.
There are many places to eat and drink in Pylaros. It is said that in Falari they produce the best Greek Feta cheese, if you are coming early in the season we could arrange for you to visit Stamoulis cheese factory. For lunch, or especially a moonlit dinner, I recommend walking around the bay at Agia Efimia and trying Sea Rock ws or Amalia and then enjoying a drink at Carena and watching the world go by. Divarata village offers a couple of options too, try Maklithari Taverna in Makriotika for dinner, or Myrtillo for drinks, snacks and local produce. In Divarata you will find local cuisine served at Myrtos Beach Prime, just beyond the main platia.
There are many options for accommodation in the region of Pylaros and it is the ideal base to explore the island from north to south, take a look at my selections below.