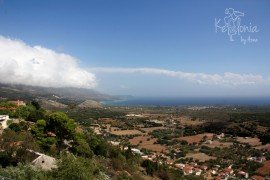 The region of Livathos lies southwest of Argostoli, on the central south coast of Kefalonia. The landscape is mostly level, with small farms and eucalyptus, olive, palm trees, vegetables and citrus with locals engaging in farming and fishing. One side of the region is dominated by the slopes of the mighty mount Ainos, while the other is blessed with a magnificent coastline with sandy beaches.
There are approximately 4000 permanent residents in the region, and it is home to the largest British ex-pat community of the island.
Its largest towns are Peratata, Pesada, Svoronata, Vlachata, Lakithra, Metaxata and the resort of Lourdas.
There are plenty of things to do and see in the region of Livathos. The area has a wealth of historical monuments to visit including the Mycenaean tombs at Mazarakata and Lakithra, and Byron's Rock.  Visit the village with the Church of the Evaggelistria, The Monastery of Saint Andreas Milapidia, with the Byzantine Museum, and the Sissia Monastery. For something a little different you could go with Fishing Tourism in Kefalonia "Michalis" for a day out on a boat or take cooking lessons at Chez Vassiliki.
Some of the best sandy beaches of the island can be found in Livathos  – Ai Helis, Ammes, Avithos, Lourdas, Trapezaki, Saint Thomas and Paliolinos. Most beaches here are shallow and sandy and very safe for children.
There are many impressive colourful villages with particular architecture (both old and new) like Kalligata, Kourkoumelata, Metaxata, Svoronata, Pessada, Spartia (visit Isalos Taverna whilst you are there), and Mousata. Taking a drive around the region and you will find many more.
In the pretty village of Minies you can take a wine tasting tour at Gentilini Winery & Vineyards, and maybe purchase some of their wines for a romantic picnic on the sandy beach there.
There are many places to eat and drink in Livathos, from rustic local dishes to more elegant dining.  Watch the sunset from the terrace at La Mer, Lourdas, or try Mexican fare at Mescalero Café-Bar at Lakithra.
There are many options for accommodation in the region of Livathos, take a look at my selections below