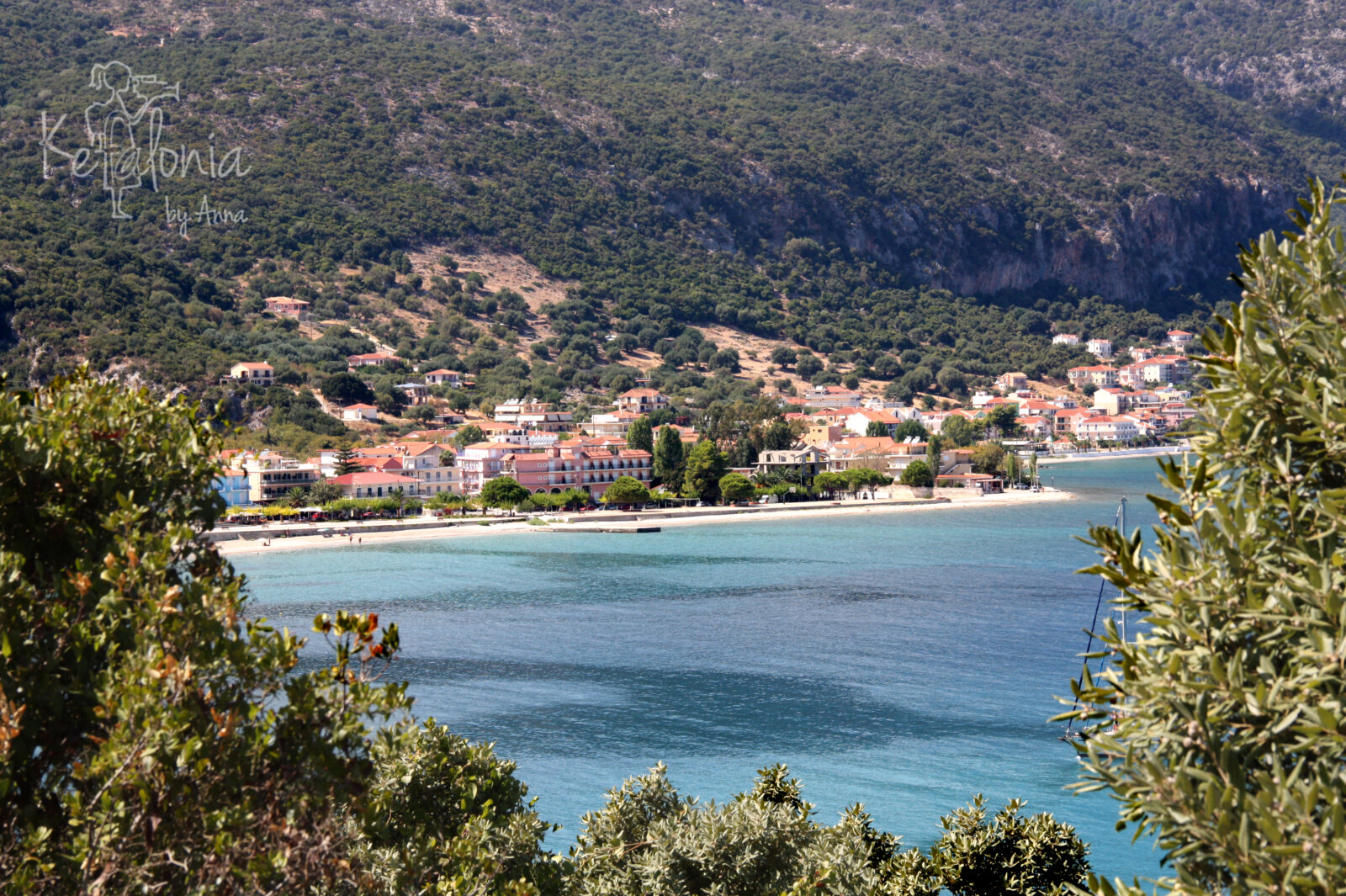 Located on the south-east of the island, the region of Elios-Pronnoi is a beautiful area with lush vegetation and many archaeological sites. Here you will find several mountain ranges, including the eastern part of Mount Ainos.
The popular resort of Skala is here, with it's long sandy beach and lively tourist area it offers something for everyone. The organised beach can get crowded in high season, but it's possible to walk a bit further at the two ends and find some quiet areas. Skala offers a variety of souvenir shops, places to eat, and mini-markets.  Boats depart to Ithaca, Zante (Zakynthos) and daily tours stop to Karavomylos, Fiskardo and some beaches in between, take a look at Captain Vangeli's Special Cruises for a fun, organised day trip. There is a ferry service to Kyllini and then by bus to Ancient Olympia. You can rent as well a self driven boat for the day to explore the nearby beaches or just have fun choosing between various watersports on the beach.
Moving further west from Skala along the coast you will reach the beautiful seaside village of Katelios. Traditionally a fishing village Katelios sits in a lush valley and the center is nestled in a beautiful bay with wonderful views to Zakynthos. It's an ideal retreat for nature lovers and couples. Take a day trip with Fishing Tourism Kefalonia Dimitrios-Efthimia departing from Katelios harbour.
Another important town in this region is the tourist resort and port of Poros, located on the east coast. An attractive coastal village ideal for older visitors, or those with children, Poros offers a long beach with many amenties for locals and visitors alike.
There are plenty of things to do and see in the region of Elios-Pronnoi.
Between Skala and Katelios you will find the beaches of Kaminia and Mounda where the famous turtles caretta caretta lay their eggs. Also drop in on the glorious Koroni Beach and stop for refreshments at Sesto Bar and watch the glorious sunset . At Kaminia beach you can visit the remains of the old ceramic kilns (Kefala's Kiln), and at Skala there is a wonderfully preserved mosaic floor at the Roman Villa. Try not to miss the impressive Church of Panagia (Virgin Mary) Lagouvarda at the little village of Markopoulos – every year, from around the 6th until the 15th of August, a mystical phenomenon takes place there as dozens of harmless little snakes fill the Temple of Panagia. A few km further you can visit the Zoodochos Pigi  (life-giving source) monastery and stream above Arginia where if you are lucky, you can see the wild horses of Ainos that come here to drink water. In the region there are several great hiking trails. The Monastery of Atros , the oldest on the island, built on the 8th century, is a rare example of monastic architecture offering a breathtaking walk and amazing views of Poros.
There are many places to eat and drink in Elios-Pronnoi. Makis Grill House in Skala, and Katelios Grill House and Alou Yialou in Katelios are worth a visit.
There are many options for accommodation in the region of Elios-Pronnoi too . Take a look at my selected villas on the area, below.